8/8/16
(Tumwater, WA) The winningest High School Football Coach in State History, Tumwater's Sid Otton has confirmed to Eli Sports that 2016 will be his final season. Coach Otton will enter his 49th season with a total of 384 wins to his credit. Otton has a huge lead over his nearsest competitors Bob Ames of Meridian with 302 wins and O'Dea's Monte Kohler who is 1 win shy of entering the 300 club with Otton and Ames at 299 and both are still active.
Otton's High School coaching career began 1967 as the Head Coach of Coupeville which was a B school in those days. He took a year off as a Grad Assistant at Utah State University in 1969 then returned to the High School ranks in 1970 as Head Coach of the Colfax Bulldogs.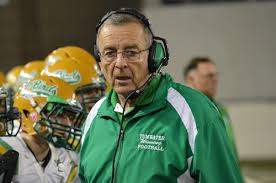 Coach Otton spent 4 season's in Colfax and was instantly successful going 7-2 his first season then 9-0 in 1971. The Bulldogs were named A-P State Champions. There were no play-off games in 1971 only a poll Champion. Otton and the Bulldogs then went 5-4 and 7-2 in 1973. The combined 28-8 with a State Championship caught the eye of then Tumwater Athletic Director Chuck Loete who hired Coach Otton to take over the T-Bird program as only the 3rd ever head coach in school history. Loete was the 1st coach from when the school opened in 1961 thru 1968. Rip Johnson then held the position from 1969-1973.
Coach Otton has been at the helm ever since and with all those wins has 5 more State Championships and 3 2nd place finishes including this past season where they lost to Prosser 22-15. Tumwater's last Championship was in 2010, a 34-14 romp over Arch Bishop Murphy.
Success wasn't fast at Tumwater for Otton with only 1 winning season and 1 play-off appearance over his first 6 seasons and a combined record 22-34 record. Only the 1977 season was successful during that stretch winning Otton's first league title in the former Black Hills league and advanced to the State Play-offs for the 1st time in school history but dropped in the opening round quarter finals to West Bremerton 20-0.
Otton's 1981 team got the T-Birds rolling winning their 1st State Play-off game in school history. Tumwater would get to their 1st "Dome" game in 1986 but lost to Burlington-Edison 6-2 in the Semi-Finals and finished the season 11-1. In 1987 the T-Birds won their 1st State Championship 13 years after Otton arrived at Tumwater. After an 0-3 start Tumwater reeled off 10 straight wins including the title game against West Valley of Yakima 21-14.
The T-Birds would win Title number 2 with maybe the most impressive of all the Tumwater teams who ran the table going 13-0 and cruising to the State Title 27-7 over Cheney in 1989, which was also the closest game for Tumwater that entire season.
Otton was just getting started with State Titles and won number 3 the following year also going undefeated beating Mount Rainier for the Championship 32-15. At one point during those 2 undefeated state title runs Tumwater ran off a 32-game winning streak.
The 4th Championship was in 1993 and a blow out win over Inglemoor 33-7. Most people will say the real State Title game was the Semi-Final that year against Newport. The Semi-final game came down to overtime and Tumwater won the game 31-30 and led for the only time in that contest when they scored the 31st point.
Tumwater then went through a period of winning several league titles and State appearances with the best finish in 1996 where they advanced to the Semi-finals. In 1997, Black Hills High School opened splitting the student body and it took time for the T-Birds to find their stride. 1997 would be the first losing season since 1979. The T-Birds would have only their 2nd losing season since 1979 in 2003.
Tumwater would crank up the machine again beginning in 2006 with 3 straight league titles and state play-off appearances in the semi-finals and quarter-finals before they would break through again in 2010 with their 5th Championship. Over the past 4 season's they have advanced to the State Championship game 3 times losing all 3 and to the semi-finals once.
Otton's totals are an incredible 384-129 with 6 State Championships, 3 runner-up finishes, 25 League Championships, 26 State berths, 3 undefeated seasons and 15 one-loss seasons.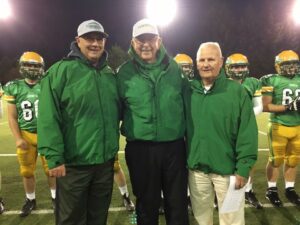 Coach Otton isn't the only one calling it a career, longtime and well respected defensive coordinator Pat Alexander vowed years ago he would not retire until Coach Otton is done, now will also turn in his clipboard. Coach Steve Shoun joined the program in 1982 and he too will step down following the season.
The T-Birds will return many from last year's team and are poised to make another deep run in this very special up-coming season. The Eli Sports Network will be celebrating this incredible 49-year run of Coach Sid Otton this entire season. We will broadcast each Tumwater game live along with our regular coverage of stories and photo's from each game. We will also run a season long series on the history of Tumwater Football under Coach Otton from the struggle of the early days to the finding their way to the top of the mountain. This is going to be a fun ride!
www.elisportsnetwork.com