10/22/2020
"Smile!" The Life and Love of Maxiumus Aunese
(at the bottom of this story is a Memorial Tribute Video and a Photo Gallery)
This has been a difficult summer to say the least. With all that is going on in the world we also tragically lost 4 young men who had big potential and no doubt huge futures. We were struck hard in early June when Kentwood's Tyrenn Smith was killed in a car accident on the eve of him reuniting with his mother, sister and niece in Phoenix. Just 5 days later Mt Si Senior Dillon Garnes passed away in his sleep for an undiagnosed heart condition. In early August, Eli Sevener a year out of Puyallup High School died due to the Covid virus.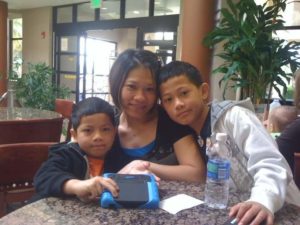 The Washington State Athletic community was still reeling from the death of Tyrenn and Dillon when just graduated Maximus Aunese died in a swimming accident in July. All four young men were between 17 and 19 years old. We had done a typical story on the passing of Max with a few details and a comment from his current coach James Jones. I am not a big fan of stories like that because I want to know what the world has lost when young, bright and talented young people are taken from us way too soon. At the same time I have a lot of respect for the families and I understand from 25 years of covering news that people and families have their way of coping with such tragedy so I never want to intrude on those private and personal moments for the sake of getting a story.
What I will do in these terrible situations is try to find a family friend that I can pass a message on to let the family know if they would like to have more than the typical news story on their loved one and that they can contact me and we can set up a day and time when they are ready and if not I totally understand and will respect their wishes. It took several months before the family and friends were ready for us to have a sit down "zoom" get together. It was a rainy Saturday and I had the privilege to talk with Max's Mom Mita, step-dad Goody, brother Martin, Aunt Fatia, family friend and coach Bryan Hooper and friend Colton Steepy.

We all laughed, cried and everything in between for more than 3 hours as these great people let me see and experience just a piece of an extraordinary young man through them. Coach Hooper at one point flatly said no matter what I write it will likely only scrape the surface of who Max Aunese is. (I take a personal privilege when I write of those who have left us too soon of writing about them in the present tense. It is my choice and it is done on purpose.)
It is not my intent or belief that I who only knew Max as a numbered jersey when we called some of his games as a Timberline Blazer can fully relate or begin to fully portray this young man nor am I going to try. What I can do though, is tell the world about Maximus and selfishly expose the tremendous loss we all suffer when someone like Max is taken from us way too soon. When I go about writing what I call a tribute such as this I take my time and I do not worry about how long or short it is going to be. My only goal is to give everyone who reads this a sense of who Max is and sense of why he is important to all of us.
So let's start from the beginning and Max was born on September 20, 2001 to Mita and his Dad Filipo Aunese in Fagaalu, American Samoa. His Mom named him Maximus and this part to me was pretty funny. I asked about the name and Mita had told me that faith is exceptionally important to their family along with their culture. So I thought immediately that the name Maximus was either a name from their faith or a product of their Samoan culture…it was neither.
Aunt Fatia had to threaten Mita into telling me where the name came from or she was going to tell. Fatia and Mita were actually first cousins but grew up together and were more like sisters and best friends. So Mita admitted that she was a huge fan of the movie "Gladiator", specifically Russell Crowe's lead character Maximus Decimus Meridius. Mita says the name and character personified how she wanted her son to be raised as strong, independent a leader and that is how Maximus Aunese was named.
The family moved to the United States in 2006 and soon after Mita and Filipo went their separate ways and Mita was a single parent. Mita was in the military and had her kids, Max and Martin in the Tacoma school system. She then met Goody who was also in the army. The two hit it off but were very careful about moving too fast as both were single parents raising 2 kids. Goody has a daughter Haley who is now 22 and son Jordan is now 19.
Eventually both families met and Mita and Goody advanced their relationship to marriage. The families then all lived together in Goody's home in Lacey. It appears that Haley got the best deal as she had her own room while all 3 boys were sharing one room. The boys did what both Mita and Goody had hoped and they really jelled together as brothers. Of course there were the usual brother vs brother disagreements but they were a family. Haley graduated first and graduated college with a degree in International Business and Jordan also graduated High School and is now working while planning his future.
Max graduated this past Summer during the crazy Covid time and was set to attend Arizona State University this Fall. He had thought about pursuing his athletic career but as you will read he had pretty much decided to focus on his goal of becoming a Physical Therapist. 
Max passed away from drowning on July 18, 2020 while swimming in a lake with friends in south Thurston County. He had swam across the lake with friends and when they decided to go back Max was one of the last ones to begin swimming back and by the time his friends had gotten to shore they noticed Max was not visible. First responders found him and tried to revive him. His parents said they had an autopsy and it was found he had an enlarged heart but it was impossible to know if that played a role and the official cause of death was accidental drowning.
In our interview I had the chance to talk with several loved ones and so I think the best way to represent what each said and how Maximus was important to them is to literally go one at a time.
Mita (Mom)
Through all the ups and downs that everyone encounters on this road of life there were some basic principals that Mita instilled in her boys that never wavered. It was the structure of respect from teaching her boys how to pray, put God first and the importance of family and the importance of family structure.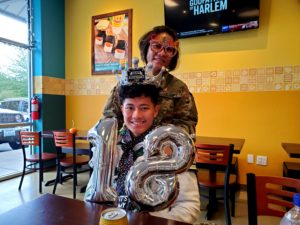 I asked Mita if Max ever got her mad if he had done something that really ticked her off and she said no. She couldn't remember at any time that she was ever mad at him. Sure there were times of frustration, irritation and disagreement but never anger. She said he was the definition of a Momma's boy. She smiled when she recalled that she would get text pictures of his tests when he got them back with his usual A grade. Mita says Max remains such a shining light in her life and through the sadness that is what gets her through these tough days.
Mita remains in the army reserve and her upbringing, her discipline she learned in the service she is a woman of actions and she commands respect. You know whose in charge when she steps into the room. Mita is a doer and leads by example. She let everyone else share a lot of stories and their feelings while she listened. Mita comes cross to me of someone who says and makes her impact on life in action and not words. I mention this because when I was finished I noticed I didn't have as much written for Mita than anyone else and then I realized that's probably not an accident. 
Mita puts everyone else first and later in this story you will first hand in an interview with Max's football coach Nick Mullen that it is clear Max was his Mother's son. I do know this, Mita is as strong a person as you will ever know and she taught and instilled her morals and beliefs into her boys. She may or may not be as surprised at how much her boys took her guidance to heart and live as she hoped and expected. She knows Max is with her and will always be with her and one day she will get to be with him again.
Martin (Younger Brother)
Martin is Max's younger brother and his death has hit Martin hard. Like all siblings there is also an order and Max being the oldest of the two and a natural leader Martin found himself dealing with several emotions growing up with Max.  Martin of course wanted to do things his way and Max trying to tell him how to do things at times led to arguments between the two.
Martin said he was the typical annoying little brother to Max but Max was always there when he needed him most. Martin actually felt jealousy toward his brother because of his accomplishments but that jealousy faded as they both got older and he understood Max was trying to help him be his own person. Martin said Max encouraged him to find his own path and make his own mark but that asking or getting a little help from others is ok too.
Martin says he couldn't have had asked for a better older brother and role model than Max. They prayed and sang together at Church, family holidays were always special and times they battled each other whether it be video games or while training together.
Martin says his most memorable moment with Max was when Martin got his first start in a varsity game on defense and even then Max was there to make sure he was ready to go. Max would look at him and yell "You Good"? or simply give him a thumbs up. Martin says those little gestures gave him so much confidence that Max will never know what it meant to him.
Martin says he was the lucky one that got to have the chance to be the brother of Maximus Aunese and that can never be taken away. Max is in his heart and is determined to represent himself and his brother Max, the last thing he wants to do is disappoint him, Martin says that simply is not acceptable. His love for his brother is forever.
Martin is much like his Mom where words are thoughtful and to the point and he focuses more on action. He internalizes and has this quiet energy. Max is more outspoken but still reserved compared to others until I am told he gets to know you and then Max is quite outspoken. Martin no question will carry Max with him in his heart especially when they can get back on the football field.
Goody Goodman (Stepdad)
After Goody and Mita began seeing each other both were guarded in moving to fast and they agreed to keep the kids out of their blossoming relationship. But over time when it was clear they were meant for each other they of course introduced each other to their kids and then all four kids met and surprisingly it was pretty seamless. They all just fit with that strong sense of family, order and respect there were no big problems.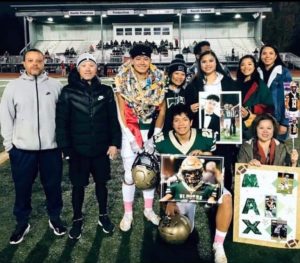 Goody says the first thing that stuck out about Max when he did get to meet him was his smile. This observation will repeat a lot as we talked with others. Goody says the smile was so engaging you just felt immediately comfortable with Max.
Goody says he always enjoyed his back and forth with Max when it came to battling between their teams with Max a fan of the New England Patriots and Goody the Dallas Cowboys. Goody says Max certainly had the upper hand with the Patriots over his Cowboys.
But more important to him were the Sunday night family dinners where they would talk football or the after one of Max's games they would breakdown what happened and focus on areas to improve. Goody says Max is always looking to do things better and improve.
Goody says Max is really good at a lot of things but he is great at being a human. He is proud to be Max's stepfather and was honored to support Max in everything he did and accomplished. Goody is proud of how these two families quickly blended together as one and how all of their kids have paved their own way with Max right out in front. Goody says "Max lives on" because his will would not have it any other way.
Aunt Fatia
Fatia and Mita although actually 1st cousins were raised as sisters and remain best friends although Fatia lives in Florida. They grew up together in America Samoa and have been linked forever since and that included their kids knowing each other and despite the distance Fatia said that her son Christian has maintained a strong friendship with Max. She said the two would check in with each other through X-Box.
Fatia says her relationship with Max and Martin was like with Mita, very close. Fatia says the two families made sure they kept those family ties strong with regular communication.
Fatia was always amazed with Max's drive to be better, being the best was a goal but it was being better that counted most to him. Fatia says she has never come across a young man so centered, so at peace with who he is and what he planned on being. Fatia says he is fearless, determined, brave and loving, welcoming and cared not only about family but his community. Fatia says Max simply cared about everyone.
Fatia says Max was adventurous, precious and a protector of his younger brother and his family. This tragedy has brought their families even closer together and the harsh lesson to learn is never waste time when it comes to being with your loved ones. Fatia says Max's presence is undeniable and though the heartache is crushing just appreciating Max and time together along with knowing she will see him again one day makes life tolerable during these tough times.
Colton Steepy (Friend)
Colton didn't get introduced to Max until his Sophomore year when Max was a Freshman and the first thing that he said you notice about Max is his smile. Colton says it was an injured knee that brought him and Max together as friends when Max hurt his knee right in front of him in a football game. It was when Max was going to get significant playing time but now had lost his season.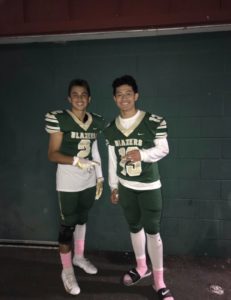 Colton said he visited Max and they began texting each other and staying in touch and their friendship grew over the misfortune of Max getting injured. Colton says you would like to think that we would have still become as close as we have but without that incident it is hard to say for sure. Colton says in true Max form he made the best of a bad situation and despite an injured knee he took it on as a challenge.
Colton said being friends with Max was pretty normal they talked about girls, school, what they wanted to do in life and the normal things friends in High School talk about. Colton was always amazed how could such an athlete like Max be such an awful basketball player. He laughed remembering Max's efforts on the hardwood where it was obvious he belonged on a football or soccer field or on the track.
Colton said the day of Max's passing Max had been after him to go swimming on that Saturday with the group. Colton said he was not in the best of moods and had had a bad night and wanted to take a nap. When he woke up he saw that he had multiple text messages and eventually facetimed with his friend Wyatt Gerkin and even though Wyatt had told him what happened it was all fuzzy and felt like a bad dream.
Reality hit Colton in the face when he drove out to where it happened and met up with a group of loved ones and friends that just kept getting bigger. Colton says he keeps replaying the last couple of days in his head asking why he didn't go? Could he had made a difference had he been there? So many questions. Colton says when he thinks of Max he is quickly reminded of why everyone was drawn to him when he remembers that smile.
Colton says his friendship with Max is cemented in his heart forever. He says Max was the first to be there to congratulate him on his first touchdown, he was the first to text him when he was having a bad day. After his final football game, a loss against Eastside Catholic Max just sat with me. "I told him I loved him and thanked him for being my friend." Colton said,"even though I was older, I was the one who looked up to Max. Max will always be with me. I can feel him smiling at me now."
Wyatt Gerken (Friend)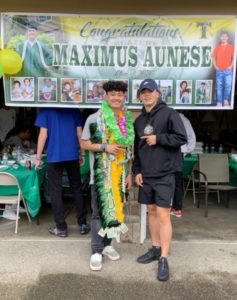 Max was always a great motivator, on the worst days he had the most positive attitude and biggest smile. He always brought light into a room with his smile and had an aura everyone wanted to be around. Max was one of the hardest working people I knew and always had the mentality that if you wanted something you had to go get it, nobody would do it for you.
He carried this throughout his everyday life and was always competitive and expecting greatness from himself, he was the type of guy you just wanted to be around.
Max was the type of guy I look back on and can say I was blessed to have met him and had him in my life. Max truly embodied what it meant to be a great friend.
Bryan Hooper (Family Friend, Coach Trainer, and Mentor)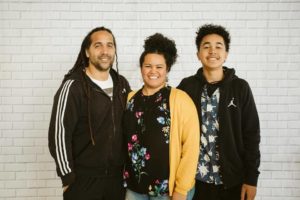 It was difficult to decide where to place "Hoop" as I laid out this tribute. Coach Bryan Hooper was the first to speak when we gathered via Zoom on that rainy Saturday morning and when he finished talking it was the afternoon. Hoop came into Max's life when he and Martin were young boys and Max turned out for youth football. Hoop's son Palaina was on the team and from that moment on Hoop said he had a front row seat on watching his son and Max grow together.
Hoop was there for many of the benchmarks that both his own son, Max and Martin would hit as they began their athletic careers. Hoop personally trained Max and Martin with his son. He helped Max get through his knee injury and he was an ear to listen.
Coach Hooper talked for a long time and really set a timeline on Max's life from youth football through High School graduation. I took a lot of notes and a lot of what Hoop told me were highlights and benchmarks along the way. I hope Hoop isn't disappointed that I am not going to run through each one but instead I have sprinkled a lot of those details throughout this piece. It is the layer underneath of Coach Hooper's talking that I want to talk about.
It is Hoop's heart and soul that have been crushed like so many others. It is clear to me Hoop deals with it by talking. He talks of the good the times, not the bad because as he said there were none with Max. Hoop needed to talk. He needed to feel he could do something about this because he had been a protector, a healer to all the boys. But this is something he could not fix. Hoop told us about when Max really decided he was not going to try to play football at the college level. He felt it was time to move on to his next stage of life and felt focusing on his college courses and becoming a physical therapist was the right direction for him.
Max was concerned that Hoop would be disappointed especially after all the personal time Hoop put in to helping Max reach his athletic potential from re-habbing his knee to personal training him for his Senior season and everything in between.
Hoop then revealed that he thought it interesting that Max was concerned with disappointing him when he had been asking himself if he had done enough for Max and was worried he disappointed Max. Hoop said he had to keep reminding himself that I am the adult so why am I learning so much from this kid? After his talk with Max he encouraged him to take the same mentality he had attacking his athletics to his college courses and that there is nothing he could do to disappoint him. He told Max I got you, no matter what I will always have your back. He told Max he loved him and his family and that they're all part of his family.
Hoop says he has always loved coaching and working with kids but he was not looking for a friendship like he has been blessed to have with Max, Martin, Mita, Goody and their whole family. Hoop summed up his thoughts and comments by saying, "Max is an experience, an experience I could not have imagined I would be part of but am so thankful." 
Coach Nick Mullen
Coach Mullen was at Timberline for many years and had just taken the Head Football job this past off season at Olympia and also is now teaching there. I was talking with Coach on a zoom for a podcast I do and when we finished I asked him if he was open to talking about Max. He agreed and as you can see he really wasn't prepared and his reactions shine the spotlight on the impact Max had on everyone.
Maximus Aunese
Maximus Aunese was born September 20, 2001 and made it to 18 before he was taken from us. He was born in American Samoa and part of a huge loving family both by blood and by community. He attended Woodland elementary, Komachin Middle and Timberline High Schools and was on his way to being an Arizona State Sun Devil. He held a 3.9 GPA and graduated as a Blazer with honors.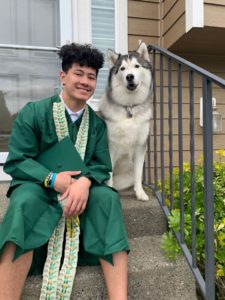 Max played football, soccer and competed in track and field. He was considering walking on and trying to compete at the collegiate level but had really pretty much determined he was going to concentrate on becoming a Physical Therapist.
He liked music and his favorite singer is Morgan Wallin a country music singer. He was a huge NFL fan and especially liked Odell Beckham Jr. mostly before he was a Cleveland Brown. He had a passion for cars and especially his Jeep.
His passion, compassion, empathy and love of others shined through his smile. His smile was an ice-breaker, a welcome mat, an instant friend and you knew you were in the presence of someone different, someone special and you don't exactly know why.
Max loves his Mom, brother and entire family and his beloved companion his Husky, Manu. How is it that Max and Manu have the same smile?
Max touched so many lives but one of the most special bonds he made was with his friend Dylan. Dylan participated on the Blazer Unified Basketball team and Max was there for him. A true friendship was cemented. When Dylan played Max cheered and encouraged him during his competition but Max also made Dylan feel part of the group. His engaging personality and his indelible nature first of all would not allow him to leave anyone out and second he simply would never do anything to make someone feel less than or unwanted. It was simply impossible for Max to turn anyone away.
This did not mean that he would accept anything you did or everything you brought to the table so to speak. He also demanded a work ethic, effort, positivity and most of all an inherent love for all, especially friends. He is a leader and not afraid to admit he didn't know everything and respected and listened to those who could help him be better. The drive to be better is the single most important attribute he believed in.
You may wonder how I would know such things about Max having never meeting him personally. I unfortunately have had to write to many of these and have had to lead to many memorial services but I can find out a lot about the person from those they left behind and the things they say and the feel of their emotion. These are all honest portrayals of who that person really and truly is. I often kind of chuckle with many family members who are experiencing the pain of losing their loved one when they say wow look at all the people here. Look at how many people have reached out or said some kind words or introduce themselves to the family and telling them why and how they know their loved one. At my Mom's memorial I was stunned to see the number of people and then to find out who they were.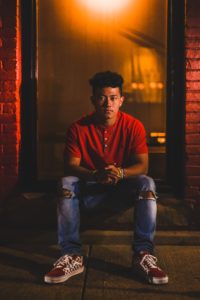 I was challenged to try and represent who Max was to those who never got the chance to meet him and again I will say that is an impossible task. But I believe Max would be disappointed if I didn't try and that in itself tells you a lot about who Max is. I feel inadequate in trying to capture the Maximus of Max Aunese and at the same time can see his smile and feel his appreciation for the attempt. That is Max.
So why Max? I am not a religious person but am a spiritual person and I know faith is extremely important to Max's family led by his Mom. So the question why is a must. Maybe in these extreme days of unkindness, unforgiving, unwillingness to even consider to work with each other and come together to work for solutions for the betterment of everyone that this is God's way or whichever entity you believe in or a natural order if you are not spiritual, of re-setting human behavior.
Isn't it interesting the term is humankind not "humanmean". Maybe taking away such a precious asset to our subsistence is a harsh lesson to everyone that we need to re-establish love thy neighbor, love thy community and simply love.
I can only sense the feeling of what it was like to be in the presence of Maximus. I have to imagine it is the same or similar feelings when you are in the presence of greatness. The hairs on your arms and neck stand up, there is a feeling of electricity, there is calmness, a seriousness and excitement all at the same time. There is an instant confidence, an instant trust and that is how I imagine experiencing Max is like and in fact I don't have to imagine because I am experiencing it as I write.
Maximus Aunese was with us physically for only 18 years but spread 1,000 years of love and wisdom in his short time and no doubt continues his true spiritual calling and will continue to spread those messages. He has touched so many lives, young to old, he is respected, honored and loved. But as much love as we can give to him it doesn't compare to the care and love his heart and soul gives back and he does it in a split second with that "Smile."
Our Tribute Video Of Maximus Aunese
Photo Gallery
This slideshow requires JavaScript.
www.elisportsnetwork.com