9/3/16
(Tacoma, WA) It's funny, you can make all the plans you want, you can try to shield the spotlight, try to sidestep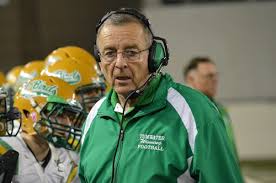 attention but greatness is tough to hide. So when Tumwater Coach Sid Otton, the winningest coach in Washington State history, decided that this season, his 43rd at Tumwater and 49th overall he wanted to make sure of 2 things. One the season wouldn't be about him and his 2 longtime assistants Pat Alexander and Steve Shoun who are also retiring at the end of the season, about them. And that the Seniors get the recognition they deserve.
Otton declined to do the normal press style events like a formal news release or press conference. But he didn't hide it either, he made reporters do their job and ask the question. Once news got out (thanks to Eli Sports who broke the story in early August) Otton did get several requests for interviews which he figured would happen. He also stated that questions about his career and legacy ended with the first kick-off and he would talk only about his team and the games.
Great plan. He forgot one thing though and that is his players are not so sheltered that they do not understand the magnitude of this season. They understand it so much that on their practice jerseys there is a 43 and a big O. Coach Otton had no idea that would be added to the jerseys. You talk with the players and they understand this is a big deal and something truly special is coming to an end.

Otton's worry was the kids would get wrapped up in this story and forget to write their own. He probably was thinking at halftime of their opener at Franklin Pierce that he was right all the pressure his team put on themselves and "the big story" was impacting their play on the field as they led 35-28 at the half in a shoot out.
There were no worries on the offensive side of the ball as Noah Andrews shined at QB and Jacob Holbrook ran wild on the Cardinals defense. But F-P's offense had the answer as Willie Patterson led the Cards to more than 250-1st half yards and 4 touchdowns. He finished the game with 4 TD passes and ran in another one from the 24 on their opening drive taking a 7-0 lead.
Otton got his team focused no doubt at halftime as they came out and quickly put their stamp on their "One Last Song" season. Tumwater scored 4 straight times led by Holbrook who finished with more than 200 yards and 4 touchdowns, his final coming in the early moments of the 4th quarter to push the score to 70-42.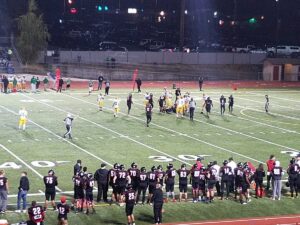 Others getting in on the scoring parade included Cade Otton who caught 2 TD passes from Andrews and Trayten Rodriguez who ran one in and returned an interception for another score. The T-Birds likely could have topped the 80-point mark with a 1st and goal on the 10 but Otton opted to take a knee and delay of game penalties even though there was still more than 7-minutes to play in the game.
The Senior T-Birds were reminded this is their time and they certainly began to write their own story. the 77 points is a school record. They sang their "One Last Song" last night and they know they only have 13 more chances to do that and no doubt are focused to make sure they don't miss a performance.
Our Tommy Lowe of the Greene Realty Group Players of the Game were Jakob Holbrook for Tumwater and for Franklin Pierce Willie Patterson. Our ProActive Physical Therapy Play of the Game goes to Trayten Rodriguez's interception return for a touchdown.