11/10/16
We have arrived at the final chapter of this awe inspiring story of a man who just wanted to Coach Football and be a good influence on his players. Well for a man who believes in goals hopefully he re-set that goal because he did more than coach football and influence a few players. Coach Otton influenced an entire community not for a short time, but for decades. He, Coach Alexander and Coach Shoun have made a lasting mark in Tumwater history.
In this final chapter it is time for many other's to give their voice to this legacy and what it meant to them. Below we are going to start off with a letter from Tumwater School Superintendent John Bash who talks of all three men. Then I will have specific area's for not only these three wonderful men but others who had big impacts on Coach Otton and the program. I hope you have enjoyed this series and one last time I hope you understand I had to decide how to lay this out in what was supposed to be an 8-part series that turned into 10. I did not leave anyone out on purpose and I understand there were many, many great stories that should have been included. I hope you understand and accept my apologies if I was not able to include something important to you.
At the bottom of this story will be a large picture gallery I think many will enjoy, with that, let's get started with this from Tumwater School Superintendent John Bash:
By John Bash

I'm honored to have been invited to join many others in contributing to a season-long set of stories and tributes honoring Tumwater High School head football coach, Sid Otton (43 years) and his two long time assistant coaches, Pat Alexander (41 years), and Steve Shoun (33 years) as they retire together at the end of this football season.
My visits with these three men along with the research I've done this fall have only deepened the respect and admiration I have for the quality program they built and the powerful legacy they collectively leave behind, one that will continue to live on in the lives of so many players who, years later, still point to their experience in the T-Bird football program as life changing.
The gathering of approximately 200 former Tumwater players on November 5th at Tumwater District Stadium was a symbolic confirmation of this legacy.  Many of these former players were interviewed by media reporters asking what they remembered most about Coach Otton and the program.  Not surprisingly, their responses lined up with much of what coaches shared with me that they work to instill in every player they welcome into the program:
" We worked really hard as a team, did as well as we could and we really appreciate him (Otton) helping Tumwater as a coach for all these years."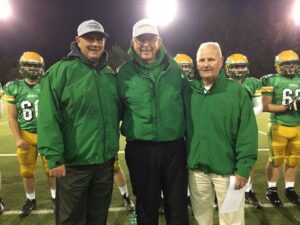 " (Coach Otton) has a lot of principles he's lived his life with and taught those to the players and helped make us better community members and people in general."
" (Coach Otton) is just a guy that brought out the best in you and made you want to play better."
" Respect…we always respect and never give up.  That was the thing…Never give up.  Never never give up."
" (Coach Otton) is a role model…an amazing, amazing man."
" I lost my Dad in '75 and (Coach Otton) was the first one at my house to console my mother and I…and he's been a blessing ever since"
In my recent visit with Steve Shoun he told me he will never forget Sid Otton's response to a reporter years ago who asked how the team would perform that season.  Sid's response? "I'll let you know in 20 years."  This exemplifies the philosophy of the program focused on helping kids become the best people they can possibly be.  Pat Alexander told me, "Football is just the avenue".  He explained that they work to develop young men into the best possible employees, husbands, fathers, friends and citizens for life.  Pat and Steve also provided me a view into some of the key parts of the program that contribute to this vision.
Little T-Birds
Pat Alexander described the Little T-Birds program where 2nd through 6th grade youth football players "adopt" a T-Bird football player each season.  These youth participate in post-game traditions as they prepare and give their adopted player gifts after the game and are escorted by their adopted player to join the team and coaches in the locker room for post-game celebrations, discussions, and other fun traditions.
Likewise, many T-Bird players attend the youth football games for their Little T-Birds on Saturdays to support them and their families.  This is just one of many ways the program builds a strong sense of team and unity within the program and the community.  Pat shared that this has become a powerful program for the high school players, particularly after a loss.  He explained that these Little T-Birds look up to players as role models and the sportsmanship and respect coaches expect, even in the face of a tough loss, must be modeled by the coaches and players at all times.  With the Little T-Birds present, players and coaches take very seriously the impact their behavior has on these young people.  Pat says, "They (Little T-Birds) don't care if you win or lose.  These kids are just excited to be part of our program."
This youth program also adapts to special circumstances as was witnessed a year ago when an 8-year-old Tumwater student battling a serious health issue was made part of the program but also was invited to join team practices and games.  The Olympian featured this story on November 26, 2015 which can be found at: http://www.theolympian.com/sports/high-school/article46697190.html.  In that story, Sid Otton was quoted as follows:  "I know it's been really good for him, and it's been really good for (the high school) kids to be selfless rather than selfish," Otton said.
Unity Camp
Each August the program includes a "Unity Camp" for the team which has become an essential part of the foundation of teamwork the coaching staff seeks to sustain.  Pat Alexander has led this camp for years and Steve Shoun described Pat's approach as a military model of preparation and interdependence.  Steve also shared that one year Pat arranged to have a Chinook helicopter from JBLM land at the stadium where photos of coaches and players were taken as a culminating part of unity camp that year.  In fact, each year, different themes are chosen for the camp and photos are taken and shared with the players to commemorate the experience.
Team Creed
Every day in the program coaches take time to review seven points of the team creed.  Pat Alexander provided the following explanations for each point:
T-Bird Class (Always show respect.)
Accountability (Take responsibility; Learn from your mistakes)
Super Unity  (Loyalty to your group and the team.  You need to put others above yourself.)
Blue Collar  (Hard work)
Super Tough (Mentally AND Physically)
Be a Competitor (Always do your best.  Not just in football, but in all that you do.)
Never give Up. Never, never Give Up. (On yourself or your commitments)
This creed is part of the program beginning with the Little T-Birds at 2nd grade. These life lessons are at the heart of the success of the program and the foundation of the interactions coaches have with kids daily.
Words of Wisdom
As the program faces a major milestone with the departure of these three coaches, many are asking what the future holds.  As school and district leaders work to answer that question, lessons learned from these three outstanding coaches will be important to keep in mind.  All three of these men demonstrated a true commitment to more than just football.  They understood the significant impact they could have on the lives of the young men they served and were very successful in creating a program that genuinely focused on lifelong outcomes – not just wins and losses.
The assistant coaches I interviewed deeply appreciated Sid Otton's delegation of responsibility for their respective roles and his faith in them was a source of motivation and loyalty that he engendered.  Sid also routinely listened to and incorporated strategies and ideas from all coaches into his final decisions.  The great coaches that remain in the program will become an essential link between the past and the future as this transition occurs and the inclusive leadership culture Sid has created will be important to maintain.
Because of the unity and inspiration created by the program, former T-Bird players are serving as youth coaches and volunteers where coordination of the development of players and the program are routine and systematic.  This community-wide approach must be nurtured and supported as the program moves forward.
On behalf of the Tumwater School District I extend a heartfelt "Thank you" to Sid, Pat and Steve for their dedicated service to the students, families and community.  They each leave very big shoes to fill and a legacy of success to be very very proud of.  I wish each of them the very best as they look forward to a new chapter in their lives.
John Bash
Superintendent
Head Coach Sid Otton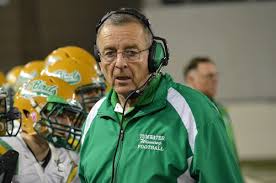 For someone who has written literally close to 70,000 words in this 10-chapter story I find it odd I am at a loss for words. I think that is what many former players (remember we are former players, we are ALWAYS T-Birds) would say. I think words escape me because the T-Bird football family is a feeling. It is a feeling of belonging and acceptance. It is a feeling of brotherhood, it is a feeling of pride, a feeling of wanting to achieve, wanting to make this man proud of us as a team and individually.
This may sound very strange to some, but there was another overriding feeling when in the presence of Coach Otton and that was a feeling of safe. Safe to know as long as you gave your best he would be proud, safe to know that when things got rough he would stand by you, safe to know someone truly cared about you. Coach Otton thank you for creating such a family that guides us all in one way or another on a daily basis.
I would also like to take this time to thank Mrs. Otton who has been a huge vault and source of information and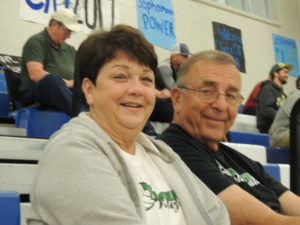 materials for this project. Mrs Otton and all the coaches wives are some of the under the radar heroes of this program. After all the T-Bird family wouldn't be complete without strong motherly figures and are they strong!
These ladies were there at Unity Camp cooking and were available at the drop of a hat to pitch in. 1987 Senior Jamie Land shared this story, he wore #65 but Coach Otton wanted to use him in the backfield as a running back and needed to wear a different number. He didn't want to not wear his "lucky" jersey's so Mrs Otton fabricated a patch to cover the 6 and he became #5. It seemed to work since if you don't remember 1987 was the 1st State Championship season.
The coaches wives are indeed a huge part of the T-Bird family and more importantly to their husbands they maintained their households and made sure their kids got to the places they needed to be allowing these great men the time to dedicate to T-Bird Football. But most of all these women shared their husbands, kids and families with all of us, the T-Bird family.
By Tim Otton
The truth is all of this really hasn't started hitting me until about now.  Whoever said the football season is amarathon not a sprint has never coached a football season, because once you get to game weeks it is a sprint for (hopefully) 14 weeks.  Because of that I really haven't processed that this is the last year I get to be a part of this thing with my Dad and my oldest son Cade…but it is starting to sneak up on me.  T-Bird football is so woven into the fabric of our family that it really is hard to imagine our lives without it.   A lot of that is because of the atmosphere and culture that Dad, Coach A and the rest of the coaches have fostered over the years..this is our family!
When you take a look at the number of wins, league championships, playoff appearances,  State championship appearances and State Championships you can't help but be impressed.  Trust me, those numbers are just the very tip of a gigantic iceberg of accomplishment by these men.  Hidden under the surface are the hundreds and hundreds of lives that have changed for the better because they played T-Bird Football.  Dad and Coach Alexander have held former players in their darkest moments, spoken at funerals, celebrated weddings and births.  Every year emails and letters come in to thank them for the impact they had in the lives of their former players.
I think this idea was "borrowed" (as all good ideas in coaching are), but Dad and Coach A are fond of saying they won't know how good a team they have until 20 years after they graduate.  By that same token, you don't know how good your coaches are until you are in your 40s and realize just how integral their influence has been on the person you are now.   And by that measure, I cannot imagine a more successful coach or program.
By Tana Otton
Just some inside scoop on Coach Otton, as seen by his Sunny Jim (that is his nickname for me J):
I was born on my dad's first day of teaching at Tumwater High School.  He literally got to welcome me into this world and head off to his first day of being a T-BIRD.  I guess it was fitting that I be the one to follow in his footsteps as a teacher and coach at Tumwater High School.
People love and respect my dad and justifiably so.  He is the kindest, gentlest, most supportive, most gracious, most modest, most loyal and (what people may not know) funniest human being on the planet.  He not only teaches and preaches to his athletes to live a life following the T-BIRD creed, he lives it fully.
My mom and dad have been quite the team through all of this success.  Man, do my mom and dad love their kids and grandkids.  So, this is hard to imagine – but they love each other more.  My mom has been my dad's personal assistant for all of his coaching career.  And he will be the first one to tell you he couldn't have had the success he had, without her.  She is the rock of our family.  And, I couldn't talk about him, without acknowledging my mama.
People always ask me if I have a similar coaching style to my dad.  I would say the similarity is in our demeanor.  We have the same laid back coaching presence to our players and during competition, and I know it drives some people crazy in the stands.  We are often asked if we have a heartbeat while we coach, and asked how we remain so calm (I think I speak for both of us, that what we are feeling inside is sometimes quite different than what is shown).
I think we have both found success in getting to be ourselves.  He showed me that you can be highly competitive, and remain in control of your emotions. I am in awe of my dad always, but one thing that is unbelievable to me is that after all these years – he never stopped being a student of the game.  If someone has success, he wants to know what they are doing and he is not afraid to implement something new.  We have loved sharing ideas with each other and making them fit for our programs.  He stayed current with any and every bit of technology that has come up for football.  It's incredible!   He has been the ultimate mentor to me and many other coaches throughout his journey.
I would love to say I am a similar coach as my pops.  But, in reality, there is no one like him.  What he has done with this program, for his players and for his community is something so special.  Luckily for me, he is even more perfect of a dad, grandpa and husband.  It has been very emotional and heartwarming for me to watch the community and T-Bird family honor and acknowledge my dad throughout this final season.   I am blessed to be his daughter and have the experiences I have had growing up in this awesome community.
By Colonel Kelly "Kip" Alexander USMC
We arrived in Tumwater in the fall of 1976. It was a big year, the Bi-Centennial, new schools, new house, and an a memory that Mt. Si High School had beat Tumwater routinely while they were in the Seamount League. We met the Otton's , and the entire family made you feel "at home"…every time. Our families bonded immediately and we found the common ground in the belief that Football, was a Family affair.  Marjean and my mom Sandi became best of friends; and Tim, Brad, and Tana became extended siblings to me, and my sisters, Becky and Mary. From BBQs and dinners to camping and hiking, our family ties were frequent and always enjoyable. It was special. I was on the practice field, in the locker room and on the sidelines, soaking in each and every morsel of football. I listened to the coaches, to the players, and to the skeptical fans. I learned and I longed for the day that I could play for Sid Otton and Pat Alexander.
As the seasons passed the Tumwater Football family grew, bonds tightened, and the Never Give Up, Never, Never Give Up philosophy became the Tumwater mantra. NGUNNGU found its purpose in the "Order of the Green Football" and every player was made to feel the he was an integral part of something bigger than himself. The Green Football developed cohesion, discipline, and commitment. These were spawned out of the ideas of Coach Otton and Pat Alexander who created an atmosphere of hard work, mental and physical toughness, and that winning was not the only way, BUT it was OUR way. The Tumwater Way. Tumwater  "Winning Football".  We said our team prayer, we sang the song, and we all believed.
The belief in our coaches and the belief in each other gave birth to a new brand of Tumwater Football and we began to close the gap, defeating traditional powerhouses like Olympia, Capital, North Thurston and Hoquiam.  The Tumwater Football family spread throughout the community. Winning Seasons became the norm, and Championships were realized. It was the most amazing transformation to watch. Once coach Otton had set the foundation, there was no turning back. We were contenders from that point on—Always.
Perhaps more importantly, Coach Otton taught us not only to be dedicated and tough, but he taught us to be professionals, both on and off the field. We were held to a higher standard. We were expected to perform, but to perform with class, with ultimate sportsmanship, and we did. We sang the National Anthem and we shook hands, in victory or defeat. Additionally, no individual player was held in higher esteem than another, it was all about the TEAM, and the credit resided with the group of warriors and coaches who shared a common sacrifice, a common commitment, a common end-state—that WE would all succeed or fail, together.
I am forever in debt to Coach Otton, to my Dad (Pat Alexander) and to the coaches like Gary Taylor, Chris Harmia, and Steve Shoun; who taught us all something more than Tumwater Football, they taught us lessons for life. From Afghanistan, to Iraq and Africa, the lessons I learned at Tumwate  served me well in both war and peace. A foundation for life, nested within those green fields and wrestling mats… immeasurable, humble, winning. The segments assembled throughout this season have chronicled a man and his legendary teams. The winning-est coach in Washington State history is OURs. He is Tumwater's. He is Sid Otton.  Thanks Coach.
By Becky Lunders (Alexander)
Coach…
Thank you for the person you are and the impact you and your family have had on my life.  And thank you for giving my Dad a passion that has sustained him over the years. My hope for you in retirement is that you will get to spend a lot of time with your lovely Mrs while cheering on your amazing grandkids; and that you and my Dad will have a standing date to get together regularly.
You've worked hard and sacrificed a lot because you believe in the power of football to teach life lessons.  Your legacy is evident.  Enjoy this next chapter.
Love, Becky Alexander Lunders
Coach Pat Alexander
Coach Alexander is a man who simply is the definition of several adjectives including caring, father figure, serious, fun, hilarious, intense, competitive but the one I choose and again I don't know why this is the word that resonates with me with so many to choose from is class. This man teaches young men in so many ways, he's quick with a quip, great wit, can go toe-to-toe with anyone in a debate but it's the way he carries himself.
You know when he enters a room you can feel his presence. You know you are being graced with something special and that you better pay attention or you're going to miss something. Coach Alexander is a natural leader and that certainly was passed on to his son I'm proud to have been teammates with. Coach Alexander is someone you simply can't help but respect and admire. Coach Alexander thank you for your influence and your class.
RAISED BY A HERO by Kelly "Kip" Alexander
It is with great emotion that I write this. My Dad, Pat Alexander, was always my hero. He was larger than life. He spent endless hours playing with me, teaching me, coaching me, and he loved me unconditionally.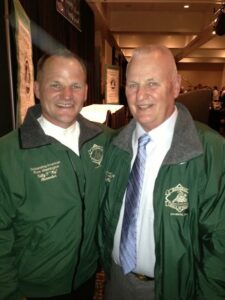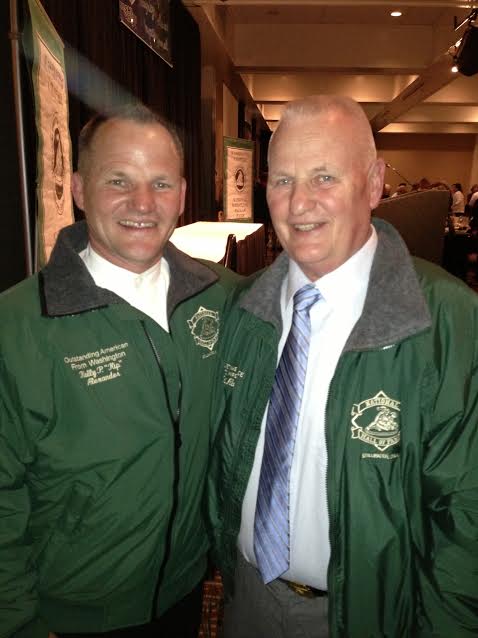 A Lake Washington high School football star and wrestler, my Dad cut his lessons for life on the football fields, wrestling mats, and tracks as a Kangeroo. His mentor, Coach Jim Jolgen, was a former Marine who had landed on the beaches of Saipan in the Pacific during WWII. Jolgen was a hard nosed, no nonsense coach who instilled discipline, commitment, and courage in each and everyone of his players. Number #17 (my dad) led the pack; strong, fast and tough (yes, he played without a facemask).Lake Washington High School swept the King-Co conference for multiple consecutive years under Jolgen in the late 1950's.  Coach Jolgen became the catalyst for Pat Alexander's football journey that spanned half a century.
In the summer of 1962, my Dad married my mom (Sandi), graduated from Whitworth College and took his first coaching job at Winlock High School. I was born in the fall of 1964. In 1966 we moved to North Bend where Dad assumed his second coaching job at Mt. Si High School.
My earliest memories were of football. I was always with my Dad, on the field, at practices, in the locker room, or on the sidelines. We would re-enact games in our living room, on the lawn, in the mud. It was the most amazing of times. We perfected throwing, kicking, hiking the ball, blocking and tackling. But there was more than football. My parents had built a house in the foothills of the Cascades on ten acres. In this kingdom, My Dad introduced me to his love of military history, and footballs were often swapped for toy rifles. He built me forts and tunnels and taught me to rappel, to land navigate. He taught me to love the outdoors. He also taught me how to use explosives, much to my mother's chagrin. In order to clear the property of these enormous "old growth" stumps, my Dad would dig a hole under the stump, apply two sticks of dynamite, light the fuse and we would run, seeking cover behind other large trees, diving to the ground. The blast would shower the forest with wooded chips of shrapnel.  It was always exciting being with my Dad. It was just plain fun. He spent so much time with me. I wanted to be just like him.
In 1969 I entered the Mt. Si wrestling room, and stayed. Another passion, my Dad also coached the wrestling team…and so I was at the practices, the matches, and the tournaments. He taught me how to wrestle, how to climb a rope, how to jump rope, how to tie my shoes.
In 1970-71 I was chomping at the bit to play organized football and wrestle. My Dad started the first Little League Football program in Snoqualmie. He followed that with an inaugural Pee Wee Wrestling club, and then a Boys and Girls Track club. He did all those things, for me— so that I would have the opportunity to compete.
In1976 My Dad assumed his third coaching job, at Tumwater High School. The rest is history.
Pat Alexander's Legend is a book of accomplishments, a laundry list of successes, a paragraph of temporary setbacks, and chapters of impact on student athletes that have evolved over 50 years of coaching…and teaching, Lessons For Life.
Everything I needed to know in life, I learned from my Dad (and of course my Mom) J They were the most amazing team. And so I listened, I watched, I grew, and I learned.
I learned how to win.
I learned how to lose.
I learned to set goals.
I learned to be humble.
I learned to be tough.
I learned to be compassionate.
I learned to have faith.
I learned sympathy and empathy.
I learned courage.
I learned perseverance and resilience.
I learned character and commitment.
I learned passion and motivation.
I learned to deal with pain.
I learned to treat everyone the same.
I learned that a family is a team, and a team is a family.
I learned to love and be loved.
I learned how to be a father.
So on the eve of his great accomplishment, I ask you to celebrate his legend, cheer for #17, your coach, my coach, my Dad…, my Hero.
#20 Sends
By Becky Lunders (Alexander)
You are T-Bird Football. The impact you've made on thousands of athletes is hard to quantify. Many had you as a coach for four years.  Some had the added bonus of being on your teams in football and wrestling.  You inspired many to become teachers, coaches and join the military. You built some fine athletes.  You should be proud.
As your daughter, I had the experience of having you as a life coach.  The confidence, leadership abilities and never-give-up spirit you instilled in us as kids has stuck with us into adulthood. So many life lessons we learned from you and being part of the T-Bird Football family.  I want to thank you for that.  Your influence was so strong that you can be confident that your legacy will live on in your grandchildren.
Heck – now that you're retiring, you might even get to see them play one day!  That would bring it all full circle.  Enjoy every in minute of this final chapter and soak up that which you have helped create.
I love you, Dad.  Becky
By Mary Robbins (Alexander)
Thank you Dad, Pat Alexander, for planting our family in Tumwater so many years ago. This allowed me to grow surrounded by the love of a T-bird Football Family. Thank you for teaching me that working hard, putting the team before the individual, and never giving up will serve a person well throughout life.  This solid foundation will continue to live on through all of us that have been touched by Tumwater Football.
Mary (Alexander) Robbins
By Ron Pederson Class of 78
In honor of
*** PAT ALEXANDER ***
I hope my words can express, not only my own personal gratitude, but the feeling of all players whose lives Pat had a tremendous impact on.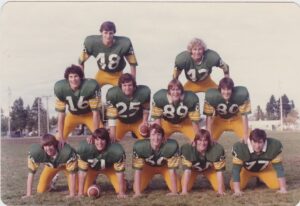 What I learned from the coach – and the man – we call PAT ALEXANDER – I would like to illustrate in a few examples below – and share with you all, the wealth of Wisdom Pat imparted – through the instrument of football:
First I thought he was coaching me to play the game of football, but he was in reality coaching me about life – specifically how to overcome challenges and to make the right choice – to direct my course of life in a healthy direction.
Pat taught 'hard work with a purpose' – and gave us a 'focused goal'. He instilled in us a personal commitment to a 'thing bigger than ourselves' – in order to cultivate the right attitude.
Pat gave us permission to find 'the thing inside ourselves' – that would turn into our own personal strength – to meet the challenges that arose – in the game, as well as in life.
Pat taught us that the score at the end of the game did not matter – what mattered is the way you hold yourself. The end result or the game lies in the personal choice that we make – for ourselves and the team. He instructed us to take responsibility for the outcome of the game and our life – and assume a collective responsibility as a team – building a common unity to accomplish the goal.
Pat taught me how to tackle – which improved my football game – but also taught me how to tackle life – with humility and honor. After tackling – you help the person up – and in that, you are honoring the person and yourself at the same time, as well as the audience.
When sitting in the stands, you can admire that behavior of remaining *humble and respectful* in the face of competition and accomplishment – which is a touching trait to observe.
Pat also gave us the example of how to honor the flag – when the anthem played, evoking a feeling of pride and patriotism – as we learned to revere the soldiers who serve our nation – which sends a shiver to the core of your soul.
He taught me how to carry myself as a man, not only on the football field.
If your physical stature or prowess was not exactly measuring up to what you might traditionally think playing football required, Pat encouraged you to work with who you were and what you personally had to offer – and pointed out other things that are equally, if not more important – such as your willingness, your commitment, your determination to doing your BEST – which is an attitude Pat knew how to draw out of you. He brought the BEST out of each one of us, no matter who we were.
To now sit in the crowd today and not only watch the caliber of the game on the field, but to know and to see the quality of young men that are still demonstrating these qualities – is heart warming to an old T-bird – and seeing the amazing legacy that Pat left behind – alive in them and myself.
It is inspiring to see Pat still carrying the message after 30+ years, out of love for people – when for example – a change of strategy is needed in the game, how he runs out to the team players and imparts a personal message of motivation.
A man truly worthy of honor and respect – a man of few words whose actions and commitment leave a legacy for us all. Our beloved and forever admired PAT ALEXANDER.
Thanks coach – from us all !
LOVE and heartfelt GRATITUDE
# 48
By Tim Otton
Coach Alexander is my Captain.  I would still run through a wall for him after all these years, all he has to do is ask.  He's the coach that whenever he poked his head in the weight room or looked over the balcony from wrestling practice to see what us soft basketball players were doing, I would always start working a little bit harder.  His ability to inspire and evoke effort from his players is unbelievable and is as instrumental in the success of the program as anything else.
We have been close to the Alexanders since they came here from Mt Si in 1976 and I have so many great memories of coaches camping trips, after-game get togethers, unity camp preparation and so much more.  On the coaching camping trips, the Alexanders would always have something good to eat like breakfast burritos, so I'd take one look at our box of cheerios and head over to their campsite to chat with Becky and see if maybe I could sneak some of their food.
Coach Steve Shoun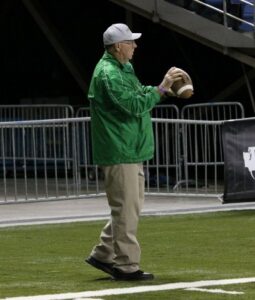 Coach Shoun arrived our Senior season and he was clearly a man who would fit in immediately with the T-Bird Football family. As other's remember him fondly he was and remains an intense personality that has never been afraid to let his feelings be known. But under that gruff exterior he tried to portray is a man who would literally give you the shirt off of his back. He would then apologize because it was fresh out of the dryer.
It was a concern of mine that in writing this story that not enough is said of the contribution from Coach Shoun. Part of the problem for me was we did not get to experience him as a coach as he came in as the Freshman coach in 1982. Coach Shoun is the one that works behind the scenes, he takes care of a lot of duties no one else will tackle and he does so with the same dedication and enthusiasm as he does with his life. Coach Shoun thank you so much for your commitment to the T-Bird Way. Your influence on all these players is lifelong and something you should be extremely proud of.
By JD Cowan
Coach Shoun is someone that I have a lot of respect for. Not only what he taught us on the Football field but how he handles himself off the field as a man with excellent integrity, great family man and his loyalty runs deep. Coach Shoun was a great man to play for who was extremely intense and expected nothing but 100% on every play and if you did not do what was expected then he would put someone else in that would and that is part of what has made him such a successful coach.
One thing that I always think back on is during practice drills (usually tackling drills) if it was not done the way he thought it needed to be done then his glasses were coming off and he would proceed to demonstrate on usually one of the younger guys in the group how it needed to be done. It was one of the funniest things to watch when he would use a Sophomore as a tackling dummy because they had no idea that when Coach Shoun demonstrated tackling that he would have relapses of his playing days in college, seeing the look the the kids face after Coach Shoun's demonstration was priceless.
You always knew where you stood with Coach Shoun, if you did something great then he was the first one there to give you a big hug telling you great job and if you did things not so good then he would let you know in his nice and polite way. 🙂 I remember back my senior year playing Capital in a non-league game, Capital was 2A and unbeaten and we were 3A and unbeaten, we played terrible in this game in all phases but there was one big thing that I took out of that game on a certain play on how I got beat for a TD in the corner of the end zone on a fade route.
That Monday in film room Coach Shoun and I went over what I could have done and should have done differently so we went over it out on the field to make sure that didn't happen again. Well 4 weeks later in the Kingbowl with the state championship on the line with Inglemoor driving to take the lead on our 11 yard line down 13-7 they threw a fade route on me to the corner of the endzone and I played it just like Coach Shoun and I went over and made a jump ball Int that got us on a roll to win the state championship 33-7. That is just one example of the many great traits that Coach Shoun brings to the table.
The main thing that makes these coaches so successful is not necessarily the X's and O's (which has a lot to do with it) they show their players respect and how to respect the men you are playing next to, those qualities are a big reason that kids would run through a brick wall for them and it made us all play together as one unit. Coach Shoun and the whole staff taught us to always be humble in victory and respectful in defeat which is one of the many qualities that we will teach our children.
It is hard to put into words the respect level that I have for the coaching staff I played for a Tumwater, they are all great men on and off the field, Coach Otton would not allow it any other way. The three men that are retiring, Coach Otton, Coach A and Coach Shoun are men that have always held a special place in my heart and I cannot thank you gentlemen enough for all the great memories that I have playing for you, Tumwater will never be the same without you roaming the side lines. Congratulations to the best Coaching staff of all time.
by Tim Otton
Coach Shoun and I began our T-Bird careers together, his 1st year at Tumwater was my Freshman year and he along with Bob Kuehl were our Freshman coaches.  Coach Shoun was INTENSE back in those days!  I'll never forget one practice that year we were going over some offense and the tempo was "tag off", where you don't hit the ballcarrier.  We ran a play and Doug Jones ran through the hole, Jimmy Porter came out of nowhere and lit Doug up.  Coach Shoun immediately took off his glasses.   "YOU WANT TO GO PORTER?  SOMEBODY GET ME A HELMET!!  WE WILL GO LIVE!"
After that, whenever Coach Shoun started getting angry we would ask him if he wanted a helmet.  He has developed some terrific secondary players over the years and will retire as the undisputed Spoon Thumping champion.  Also, if you've ever wondered where the "THAT'S GREAT!" 3-Clap came from that we do during warmups, Coach Shoun brought that with him in 1982 and we've used it ever since.
Coach Gary Taylor
Coach Gary Taylor left this earth far too soon. Coach Taylor was just the nicest and coolest coach I ever played for. He would be the first to volunteer to do anything if it meant helping the team or helping someone. This is the hardest piece of this entire series to write and to think about. He and his family of Nancy, Casey and Gentry and now their families are simply the best. Coach Taylor is missed terribly but his influence and presence remain with many, many of us to this day.
By Sid Otton
Gary Taylor joined our staff in 1975 when we experienced a levy failure.  What a great addition he was at a time of uncertainty. Gary would coach with us for 20 years, making a great contribution.  He was one of the best teachers I have ever witnessed as a coach, and had tremendous skills working one on one with players.  He was a big part of helping to build the program as we all enjoyed the successes in the late 80's and early 90's.
Gary's loyalty to our program and to me as a coach was admirable.  One experience was when he walked into the faculty room at school and a teacher made some negative remarks about Coach Otton.  Rather than staying silent, Gary slammed his fist on the table where the teacher was sitting and defended me and told the teacher he was wrong.
Our two families became very close after Gary joined the staff.  We had many years of watching our children grow up together.  I was given the great honor, asked by Gary himself, to be in charge of planning his memorial service after he knew he was losing his battle to cancer.  He truly lived by the NGUNNGU.  He fought the good fight.  I love Gary Taylor.  He is and always will be a T-Bird to all of us.
By Nancy Taylor
Gary taught at Littlerock School 1973-1975, teaching PE and coaching flag football for 7th & 8th grade. He asked Sid Otton to speak at a season-end football banquet. Marjean came, too, and our friendship began! What a great experience for those country boys to listen to the fabulous man and coach who cared enough to share his thoughts with them! I imagine many of them went on to THS to play for him.
After the two-year stint at Littlerock, Gary was recruited to teach math and coach football at THS, joining Sid, Randy Reynolds, and Tom Odegard. Sid was really working hard to build his program, and adding another coach was necessary. And what a blessing for our family to begin our life and career with the T-Bird family! Time and commitment…so much of it…but so worth it! We raised two sons, both programmed at an early age to become T-birds, especially playing football, but also involved in wrestling, baseball, and track. Sports, in general, kept the boys focused, but football made them the men they are today.
Their time in football wasn't all winning, but it isn't always the winning that builds true character but rather a combination of winning plus losing, and all the other ups and downs of practice, endurance, team selection, grades, peer pressure, etc. The work ethic in football, then wrestling right after, continued a positive influence for both boys as they went on into baseball and track season.
Over the decades of supporting the T-Bird program, Gary was unwavering for his loyalty and respect for Sid and the other coaches. When asked why he was still volunteering to scout games for the team even after he gave up his on-field coaching position, Gary would just answer, "Sid Otton!"
We are so blessed to be "in the family" and I look back at all the years of raising our families, together, within it! After-game gatherings, road trips, unity camps, preseason camping trips, and endless banquets…always dressing in Kelly green. The wives sitting together at games, while our kids were down on the field, assigned some important job to support the team as well if they weren't old enough, or young enough, to play. And, of course, standing with the team after every game singing the fight song!
Gary was a tremendous teacher, but not just in math class or on the field or in the gym. He had the rare and genuine talent of delivering information effectively in everyday life to so many, but the most important subjects he dedicated himself in that way to were Casey and Gentry. I don't have to ask it often, but when a difficult situation comes up, "What would your dad say?" seems to clarify solutions!
In June, 2010, when Gary knew his days were short, we drove to the Otton home. Gary asked Sid to take on the heavy task of planning and arranging his Memorial. Tough thing to experience for all of us, but we got through it. The only person he would have asked for help from was Sid. He did not want me to be burdened with decisions that he could make himself, and he knew the guy that could implement everything, and would do an outstanding job! Who, but the best man he knew, could he ask such a difficult favor? Sid, of course, was phenomenal, and together with support from his family and other colleagues, it was a wonderful Memorial. Thank you, Sid! Thank you, Marjean! We are so blessed that your family intersected with ours!
Tumwater AD Bob Shaner
I have had the privilege to coach under a couple of great AD's – Presently with Tim Graham and for many years Bob Shaner.
Bob was a very caring and compassionate friend.  During those lean years in the 70's, Bob was always very
supportive and showed his concern for me, encouraging me and finding ways to help me after a season ended with no playoffs in sight. Many times Bob would tell me to get my rifle and we would go elk hunting around the Mt. Saint Helen's area before the big eruption.  I have such great memories of hunting and fishing with this wonderful man and dear friend.
It was really a blow when Bob was diagnosed with cancer.  Coach Alexander was particularly involved in spending many hours with Bob.  It was very important to Coach A and I to arrange to visit Bob and have lunch with him as often as possible. We made it a point to always say to Bob "I love you," before we would leave him and he would say it right back to us.  His life surely made a great impact on me.
Sid Otton
Tumwater Superintendent Norm Wisner
The Otton family owes a lot to Norm Wisner.  In 1974 he was the main force, as Principal at Tumwater High School, in bringing us here.  I appreciate the faith he had in me, even during some of those early years, where we struggled to win football games.  He understood that it was going to take time to build a program.  During the hard times, when he was our superintendent, Norm sent me many letters of encouragement stating his support.  I still have those letters in my memorabilia. His faith in me gave me confidence during those challenging times.
Norm was an assistant coach when Tumwater High School opened.  He would share with me his great knowledge of the game and working with players.  I appreciated his input.
Thank you Norm for a wonderful opportunity to be part of a great high school, school district and community.  Our family thanks you.
Additional letters from the T-Bird Family
By Korye Trejo
Tumwater Football
I could write stories of football from my time at Tumwater high school all day from watching Kyle Warner score 30+ touchdowns in his senior year and winning a state title to my senior year being named First-Team All-State and playing for a state title with all of my closest friends who I will love like family until the day I die, but Tumwater football isn't good because of the drills we run, the time we spend in the weight room, or because we have all run the same system since the 4th grade it's because of the men who have been the backbone to this program for years it's the never ending effort by the coaching staff to not only build a good football team, but build high school boys into respectable young men.
This program has done more for me then it will ever know. My freshmen year my parents got divorced right after the state championship win this was the happiest yet saddest time in my life at that time and the only thing that kept me up was that coaching staff the men who day in and day out would ask how I was doing if my mom was doing good and if I needed someone to talk to. I needed someone to lean on and they were there.
My sophomore year my grandma got sick with cancer again and this time it didn't look good, but as sad as I should have been this coaching staff kept me up they kept me going so I could play for my grandma cause all she lived for, it seemed like was to watch me play football, our season ended short with a loss in the opening round of the playoffs.
My junior year I remember vividly my grandma's health had declined a lot and my position coach knew it yet he pushed me to be the best I could be every day. The last day I got to talk to my grandma I was late for practice which the coaching staff knew and when I showed up, my position coach ask why I was there? I told him because the only thing she would want is for me to be here with you guys and so he picked me up and said okay well today you better fight on every rep of every drill.
Senior year was one for the books in the summer before team camp I made a decision that would cost me my starting role and everything else I was moved down to the bottom of the depth chart and told if I wanted to start I would have to work my way back up and so I took every 3rd or 4th team rep I could and worked as hard as I could until I earned my starting roles back. The main thing I remember from every year was not a specific play or game, it wasn't an award that was won, not even the 3 state title games I had the privilege of being apart of, but the coaching staff and the environment that was provided by them along with the Never Give Up Never Never Give Up mentality that is what stuck with me through the years and helped me become the young man I am today.
I think I speak for all Tumwater football alumni when I say that this program is special and you CAN'T find anything like it anywhere else you can maybe find something similar but you will never be able to recreate the feeling of hearing Alexander talk before games, Weeks describing the first play, McGrath yelling for special teams, and nothing will ever be able to replace the sound of coach Otton giving his pregame chant. Coach Otton thank you for everything and enjoy retirement you deserve it.
#60
By Matt Reaser
From as far back as I can remember – roughly 1987 when I was four years old – to current, Friday nights during football season have been reserved for Tumwater "Winning" Football. For fifteen of those years I was lucky enough to have been able to watch the games from my backyard. Whether at home or traveling to away games, listening to games on the radio, watching games on TV or watching/listening to games streamed online. From before I played to now well after I played, T-Bird football has been an important part of essentially my entire life.
Of course, the four years you get to play for the T-Birds are the best, but it's not just about those four years and the lifelong memories that come from that.
It's the years growing up playing in the TCYFL and in middle school while watching the high school team play on Friday nights. Knowing you'll be wearing the Kelly Green someday. It's the memories you have of all the teams and players you watched that came before you. Then it's the years after you're done playing, still following the team and still enjoying the great moments while having new memories created.
Such as last season watching the game against Opponent #13 then spending the rest of the night talking with former T-Birds and teammates about how that game was the epitome of NGUNNGU and the T-Bird spirit. Or this year listening to the game against Opponent #3 and having a player I grew up watching, Keith Clark nearly blow out my speakers when Flutie Left was completed. Those are great nights and great moments. Years from now they will be great memories and they happened fifteen years AFTER my Senior year.
That's what Coach Otton and the rest of the coaching staff built. They give something you have for life. Before you're there, while you're there and after you're gone. You're always part of the T-Bird family. People always talk about the community but for the players it is really a family. Not only your teammates that are also your lifelong friends, but the players that played before you and the players that play after you. When you come across someone you know or find out played for Tumwater you instantly hope the best for them. You hope they're living the greatest life possibly, because they're part of the same family you're part of. You root for them, not just when they play for Tumwater but you root for them in life.
I consider myself extremely fortunate to have been born in Tumwater. To grow up in Tumwater one street over from Coach Otton's house. To be 10 years old and when asked who my favorite football player was answer with Casey Doyle. To have grown up going to the Tumwater T-Bird football camp every year. To have Brad Otton be our "QB coach" at camp one year. To be a "QB Coach" myself at the same camp when I was a senior. To be on three league championship winning teams. To have been a starting Quarterback for the Tumwater Thunderbirds. All of that is great.
The true honor though, is knowing Coach Otton. A great coach and an even greater man.
Thanks for everything, Coach!
Thanks to Coach A and Coach Shoun, too!
– Matt Reaser
By Larry Smith
I would like to take a quick second to thank the three of you for the gift of life that you gave me.  As you three know my time as a youth was not the greatest, but because of you three and Coach Leaper, and Weeks I did something about it.  I joined the Marine Corps because of Coach Alexander (who surprised me by showing up at my boot camp graduation in San Diego, CA), I pursued two bachelor degrees and a master's degree because of the advice Coach Otton gave me, and I was able to do this with the never die attitude Coach Shoun gave me.
I must say without your commitment to me I would have been laying in a ditch somewhere (and not as a ditch digger).  So yes I owe the three of you along with the other coaches my life!!!! Today I give back to troubled youth as a Juvenile Probation Officer, and a football coach.  I am grateful for the example you gave me by your words and your actions to be able to do that. You are T-Bird football!!!!!
It will not be the same without you, but by your leadership and your examples T-Bird football will live on forever, and the lives you have touched throughout the years will be blessed.  Thank you again for all that you have done as a Mentor and a Coach, you have not only made the gridiron a better place but you have made the world a better place!!!!  Hope to see you all when I get the chance to get home this summer. ROTA, GATA, NGUNNGU, T-BIRD WINNING FOOTBALL
Larry Smith #77
By Erica Keller
As an Alumni and from a huge family that was part of T-Bird winning football for many years and many players I am sadden and joyed with the news of these three men choosing to finish their legacy with the greatest High School in Washington State.  They have been leaders, sergeant fathers and inspirations to many Tumwater boys.  I had most of them as teachers and was a huge part of leadership in my Junior and Senior Years at Tumwater.  Mr. Alexander was one of the teachers that helped me become the person I am today.  I was quiet and shy but stepped out of my shell when he showed me it was ok.  I became a huge part of the Drill Team with a State title under my belt (when they still did the individual titles) and I am a leader in my career today.
Coach Otton was a part of my older Brothers growing up and with out his guidance I think my brother Terrel would have had an even worse temper on the field then he did.   LOL I still remember watching every game as he plowed over the offence and drove the running backs or wide receivers to the ground.
Shortly to follow Terrel my Brother Jeff became part of the Varsity and had a hit on special teams that was part of the highlight real for years.  All of their motivation and sense of being true men on and off the field came from Coach Otton and Alexander.
Next My nephews played Justin and Chantz Keller to continue the Keller family tradition at Tumwater.
Both Boys were proud as we were to be there.  We all bleed green
Then recently my step son Tanner was transferred to Tumwater from River Ridge where he needed a little guiding on how to behave.  All those coaches changed his poor team work to a working Strong Safety.  He was proud to wear green and white and that kid played his heart out for them.  I watched every game and smiled when I saw what kind of person he was becoming.
This year I sit on the side lines with tears in my eyes and watch a legacy shine.  We all chant GATA, ROTA, NGUNNGU and many other cheers that only Tumwater has.  We all hold our 4 fingers up till the kick off of the fourth quarter.  We all bleed green
Thank you for all that you have done as men, mentors, and people.  You are community leaders and the meaning of what it means to have TBIRD PRIDE.
Thank you for who you are!
Coach Otton, Alexander, and Shoun you will always be heros to us all.
We love you and we will miss you.
www.elisportsnetwork.com