6/25/17
(Auburn, WA) The 20th running of the Irish Stakes featured a field of 10 well matched 3-year-old fillies but there were question marks for each of them. Risque's Legacy was coming off a win in the Kent Handicap over 5 of her other rivals lined up in the Irish Day Stakes. In 4 career starts she has 3 wins including last year's Washington Cup and this year's Seattle Handicap and seemed like the easy favorite…except she has never gone 2 turns and with a ton of front speed could she pace herself was the question?
Most felt Blazinbeauty would be the most likely to knock off the race time favorite even though she has finished 3rd in her first 2 starts of 2017. The Frank Lucarelli trained gray filly cruised to a 6 length win in the season ending Gottstein Futurity last September and stretching out to a mile seemed just what Blazin needed to run them down in the stretch.
Retreat Yourself shocked many in the Kent when she ran big finishing 2nd at 32-1 just a length behind Risque's Legacy and 3/4 of a length in front of Blazinbeauty. Javiar Matias was again aboard the Doris Harwood trained filly and was also going a mile for the first time but with her running style seemed like 2 turns was well within her grasp.
Then there's Blaine Wright, the leading trainer,  who entered not 1, not 2 but 3 horses in this race. Reginella was the outsider although she had just finished 5th 2 and 3/4 lengths behind Risque and had put up some solid numbers at Golden Gate before shipping to Emerald. Sheeza Sassy Girl was just shipping in from Golden Gate and likely was going to be near or on the lead with Risque's Legacy. Julien Couton just moved his tack up to the Auburn oval after the GG season wrapped up.
Last and certainly not least, Wright would saddle Top Quality for owners Ten Broeck Farm. Top Quality was making only her 4th career start and at her 4th track. She debuted at the Del Mar Fall meet finishing 6th 22 lengths behind at 46-1 odds. In her next start at Santa Anita she didn't fair much better finishing 9th but did put in a little run to finish about 7 lengths out. She then kept traveling north to Golden Gate where she started in her 3rd straight maiden special weight and broke through with a nice off the pace win getting up just before the wire by 3/4 of a length.
Top Quality was tough to figure with the more established opponents signed on to run in Sunday's $50,000 Stake. But there are 2 things that should not have been overlooked with Top Quality, first when Blaine Wright ships a horse up from down south you should pay attention, he isn't doing it for fun, he truly believes his entry will have a shot at winning. Second, why not put the guy on why has more Irish Day Stakes wins on to enhance your chances. Juan Gutierrez had won this race 3 times in 2010, 11 and 12, tied with Ricky Frazier for most wins coming into this race.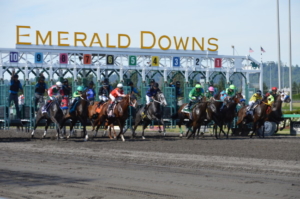 When the gates flung open Risque's Legacy went right to the lead as expected and Sheeza Sassy Girl breaking from the 9 hole also heading for the front and both were locked in early. Even though the pace was not blistering the combination of being hooked and the hottest day of the year near 90 appeared to take its toll on the front running duo.
Meantime, Top Quality settled in mid-pack going around the 1st turn then  Gutierrez eased Top Quality to the outside when an opportunity presented itself on the backstretch to make sure he had clear sailing. As the pace picked up on the front Top Quality began to move and by the top of the stretch Gutierrez said go and Top Quality had another gear as she flew by the front runners and pulled away to a 3 length lead and won by 3 and 3/4's.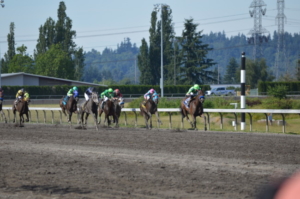 Blazinbeauty the one many thought would be making a similar move to win this race did make such a move but from further back and by the time she straightened away Isaias Enriquez and Blaze had to much ground to make up and settled for 2nd 3 and 3/4 behind the winner and 2 and 3/4 in front of 2 other closers picking up the pieces. Retreat Yourself got her nose down in front of Reginella for the show money. Sheeza Sassy Girl finished 6th and Risque's Legacy faded to 8th.
Top Quality has now won 2 in a row and looks like she will get to run on the same track for the 2nd time as trainer Blaine Wright says she will be targeted for the Washington Oaks on July 23rd. Top Quality pocketed $27,500 to push her career earnings over 43k. Blazinbeauty will likely also head to the Oaks and now with knowledge of Top Quality may be able to get back to the Winners Circle. With the 2nd place prize money Blazinbeauty topped the 100k lifetime earnings mark.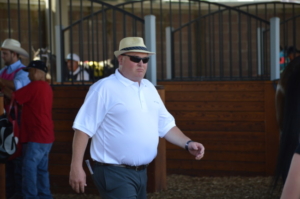 Top Quality was let go as the 3rd favorite returning $11.40 on the $2 win. Juan Gutierrez now holds the outright record for Irish Day Stakes wins with 4. The Oaks will be contested at a mile and an eighth and then conclude on August 27th in the Washington Cup at a Mile.
Check out our interview with winning trainer Blaine Wright by clicking here.
(Wright talks about all 3 of his starters in this race beginning with Sheeza Sassy Girl then Reginella and Top Quality.)
Photo Gallery