9/25/17
Adna 1, Toledo 0
(Toledo, WA) The Adna Pirates came rolling into this match unbeaten in Central 2B league play at 4-0 and looked like getting to 5-0 would not be much of an issue with the 1-3 Indians. But Toledo who has been up and down all season decided to really put it all together in this showdown and nearly pulled off the upset.
The 2 teams battled back and forth for the 1st half with Adna's Payton Aselton, Alyssa Dougherty, Brynn Arrington and Emily Silva applying pressure on the Indian defense. But the backline and keeper, Meeghan Peters, Megan Quinn, Emily Tyner, Caitlyn Olson and Alyssa Ewers would not break. The Adna defense was just as effective led by keeper Makaela Meister and the two teams went to the break tied 0-0.
As the 2nd half played out it looked like the Indians just might pull off the unexpected and their best chance to knock in a goal came with less than 20 minutes to play in the match. A host of Indians led by Maryssa Peters were right in front of the goal and there were at least 2 wide open chances to pop in the lead goal. Meister was on the ground laid out and somehow the ball simply did not cross the goal line.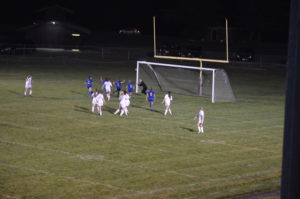 Adna finally got the winning combination with a free kick from about the 25. Aselton booted and it went off one of the wall for Toledo and dropped right in front of Dougherty who did not miss knocking it in for the score in the 75th minute.
Adna is now 5-0 and 5-1 overall while Toledo drops to 1-4 and 3-4 overall. Our Pacific Sports Spa Players of the Game went to the Pirates Payton Aseltine and Toledo's Maryssa Peters. Our ProActive Physical Therapy Play of the Game went to Alyssa Dougherty of Adna with the game winning goal.
Photo Gallery