10/5/17
Black Hills 3, WF West 0 (25-11, 25-22, 25-16)
By Dave Weber
(Tumwater, WA) Black Hills served up its fourth consecutive win to start the 2A Evergreen Conference season with a 3-0 sweep of visiting WF West on Tuesday night.
Literally.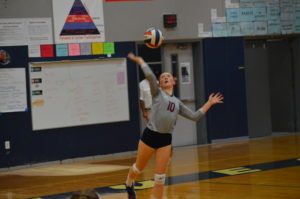 Senior libero Emma Goodman served 13 straight points to give the Wolves (7-1, 4-0 Evco) a 14-1 lead in the first set and a dose of momentum that propelled them toward the victory over the Bearcats (4-4, 2-2).  Goodman served 26 times without an error on the night while recording seven aces.
In the third set, after WF West opened with a 4-2 lead, senior defensive specialist Emily Larson had service runs of five and eight points to help Black Hills rally to close out the match.
The set scores were 25-11, 25-22, 25-16.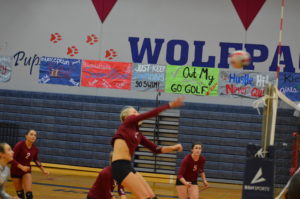 Senior outside hitter Amber Fowler led the winners with eight kills, while junior Hannah Rongen had five and Maisy Williams four.  Makenzie Moore had seven kills for the Bearcats while Megan Pallas delivered six kills, a pair of aces and strong defensive play to earn Pacific Sports Spas Player of the Game for WF West while Goodman got the honor for Black Hills.
Larson service runs in the third were selected as a whole for ProActive Physical Therapy Play of the Game. Up next for Black Hills is a battle of league unbeatens at defending state champion Tumwater on Tuesday.  WF West hosts its own crosstown rival, Centralia, that night.
Photo Gallery