12/19/17
Capital 56, WF West 38
(Chehalis, WA) The Capital Cougars are in a dog fight with North Thurston and Timberline in the SSC currently tied for 2nd while the Bearcats are the favorites to win the Evco 2A when league begins in January and have since run up a 5-1 record heading into this game. Both coaches, Brian Vandiver for Capital and Wf Wests' Chris White were looking for challenging games in their non-league schedule setting up this showdown.
3A Capital came out strong against 2A WF West but the Bearcats hung with them in the 1st quarter. It was a defensive 1st quarter with Capital taking a 2-point 12-10 lead. Neither team were hitting from the outside and much of the game was played in the paint.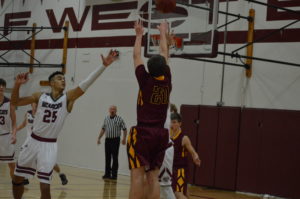 For Capital 6'6 stalwart Grant Erickson is becoming a force inside and got some excellent help from 6'6 sophomore Brandin Riedel off the bench. The 2 combined for 11 points with 7 going to Reidel. Dawson Landers was the match that lit the fire though in the 1st half knocking down 9 and finishing with 15 to lead all scorers. The Cougar defense frustrated the Bearcats who were held to just 7 2nd quarter points as Capital stretched that 2 point 1st quarter lead to a 10 point cushion at the break.
As the 3rd quarter began the Bearcats again were held to just 7 with a fast paced game the Cougs wanted to play. Tine and again the Bearcats would drive the lane and kick the ball out for an outside shot that just was not falling for them on this night. Meantime, Erickson picked up 9 2nd half points down low, Landers added another 6 along with Chris Penner's 6 points and the Cougs cruised to their 6th win while the Cats fell to 5-2.
Bailey Cooper was the only Bearcat to reach double figures with 12 while Landers led Capital with 15 and Erickson right behind with 13. Penner and Reidel each had 9. Our Pacific Sports Spa Players of the Game went to Landers of Capital and Cooper for WF West.
Scoring
Capital: Landers 15, Erickson 13, Penner 9, Riedel 9, Layton 8, Stock 2
WF West: Cooper 12, Thomas 8, B White 4, C White 4, Baker 3, Dobyns 2, Wollan 2
Photo Gallery