4/18/18
Game 1: Montesano 2, Tenino 0
Game 2: Montesano 3, Tenino 2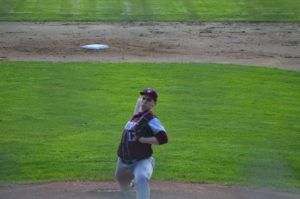 (Montesano, WA) 1st place in the Evco 1A was on the line when the Tenino Beavers visited Montesano on Wednesday afternoon for a double-header after Tuesday's game was rained out. The Bulldogs were 3-0 in league play and Tenino 2-0 and both sent their aces to the hill in game 1 and Nate Kloempken and Blake Gubbe pitched like it. Kloempken went the distance facing just 3 over the minimum in 24 total batters giving up just 3 hits but also just striking out 3 while offering no free passes. Kloempken got the Beavers to put the ball in play and his defense was simply stellar behind him.

Tenino's Logan Brewer led off the game with one of the 3 base hits but got stranded at 2nd base. Ryan DeOskey singled in the 2nd inning and Brewer doubled in the 3rd and both were again stranded and that would end the Beavers offensive output for their starting pitcher Blake Gubbe who kept them in the game who gave up just 1 earned run in 5=over 5 innings of work. Kloempken, as the old saying goes, got stronger as the game went longer retiring the Beavers in order in the 4th-7th innings and getting 2 of his 3 K's in the 7th for the complete game win.
Kloempken got all the offense he would need in the 2nd thanks to a Beaver error. Kobe Gallinger led off the inning ripping a shot into left-center for a stand-up double. Gallinger was getting adventurous with a large lead at 2nd when Beaver catcher Miles Cannon tried to catch him off-guard firing a throw down to 2nd for a reminder but the ball got through to center field and Gallinger was able to come all the way around to score the unearned run.
The Bulldogs put together a sweet 2-out rally in the 5th for an insurance run when Teegan Zillyett doubled with 2 down and was knocked in when Matt Plato doubled behind him and the 2-0 lead was more than enough for Kloempken. Gubbe was chased in the 6th after giving up a double to Gallinger followed by another double to Payson Parker, Logan Brewer came in to finish for Tenino.
Our Pacific Sports Spa Players of the Game went to Montesano's Nate Kloempken and Tenino's Logan Brewer. The Thorbeckes Sportsmanship Award went to Montesano's Kobe Gallinger.
In Game 2 the Bulldogs finally gave up a couple of runs to the Beaver offense but starting pitcher Evan Bates had a no-hitter going through 6 innings also went the distance to pick up the win. Bates would give up just 1 hit, 1 earned run while striking out 7 and no walks. Bates would get just enough offense for the victory getting 1 in the 1st inning when he helped his own cause doubling in Matt Plato off starting Beaver pitcher Ryan DeOskey. It could have been worse for DeOskey but he got a great play from his defense to cut down the potential 1st run when Teegan Zillyett singled then tried to score from 1st on a double from Plato but got thrown out at the plate as Miles Cannon applied the tag from a perfect relay throw home.
Tenino would tie the game in the top of the 4th when Montesano had a defensive melt-down committing 3 errors in the inning. Logan Brewer got on base on an error and stole 2nd. After a fly-out Jace Griffis got on 1st with error number 2 pushing Brewer to 3rd. Karl Hisaw then hit a comebacker to Bates but Brewer took off and got into a run down when the 2nd throw to catcher Parker Plato went over his head and Brewer scored the unearned run.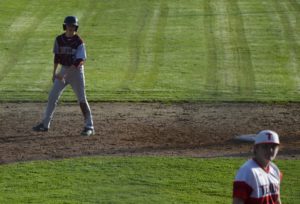 Monte would re-take the lead in the bottom of 5 when Parker Plato led off with a double. Kooper Karaffa would courtesy run for Plato and would score when Braden Dohrman ripped a double himself and then would score the eventual winning run on an RBI single from Zillyett. Montesano held a 3-1 lead going into the top of the 7th and Bates had a no-hitter despite the 1 run on the board for the Beavers. Tenino's Jace Griffis would end the hit drought and lead off with a single and stole 2nd. Griffis moved to 3rd on a ground out to 1st base. Cannon then picked up the RBI with a fly-out to center fielder Carson Klinger making it 3-2 with 2 out and no one on base and Bates would get his 7th strikeout for the complete game, 1-hit win.
Montesano improves to 5-0 in Evco 1A play while Tenino drops to 2-2. Our Pacific Sports Spa Players of the Game went to Montesano's Evan Bates and Tenino's Mike Born and the Thorbeckes Sportsmanship Award went to the Bulldogs Carson Klinger.
A couple of additional points of interest, Klinger who made the next to last out with a catch in center-field that was his 8th put out of the day or in mathematical terms Klinger was responsbile for making nearly 20% of all the outs for the Bulldogs over both games. The weren't all easy cans of corn as Klinger was challenged to a center fielding throwdown with Tenino's Mike Born. Born made an unbelievable catch in center robbing Evan Bates of at least 2 RBI and a for sure double in the 3rd inning. Not to be out done Klinger made a spectacular catch in center taking away a base hit from Tenino's Dalton Chambers. Both catches you see here were a great signature to this hard fought twin bill.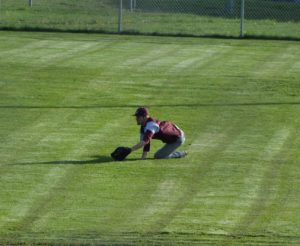 Photo Gallery