6/14/18
(Centralia, Wa) Last year Centralia College Head Men's Basketball Coach Jason Moir went through an intensive re-building process playing with all freshmen and just one sophomore. This year he knows his team will be much better prepared for the coming season with several key returners including Marquis Gilson, Jackson Clark, Collin Prangley, Tyler Meadows, Taylor Peppinger among others.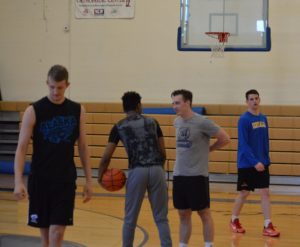 The Blazers are also adding a new crop of Freshman but also some experience. On Wednesday Liam Murphy signed with the Blazers. Murphy is a sophomore after playing at Whatcom College 2 years ago and then took a year off and was in Australia and played some hoop down under. Murphy says he got re-freshed and is ready to et back to school and still wanted to play. He chose Centralia because of the respect he was shown by Moir and McMillan. He came and visited the campus and was surprised at the changes to the Centralia College campus that he had not seen with the new buildings. Murphy says the campus has that real college feeling and just knew this was the right place for him.
Murphy played for and graduated from Olympia High School and being close to home so his family can come and watch him play on a regular basis was another bonus to playing for the Blazers. Wednesday Murphy signed and then jumped into some open gym time with several of his new teammates. Moir says he is optimistic that they can get off to a fast start and will make a solid run at the NWAC Play-offs but says there is still a lot of work still to be done, they're just getting started.