8/12/18
(Auburn, WA) The shortest starting field in the  83rd running of the Longacres Mile at Emerald Downs did not douse the excitement for the Northwest's premier thoroughbred race and capped a 4  Stakes card. The big day of racing got started with the WTBOA Lads Stakes for 2-year-olds colts and geldings, followed by the Barbara Shinpoch Stakes for 2-year fillies in the 6th and in the 7th the Emerald Distaff. Each race is covered below with video and interviews.
The 83rd Longacres Mile  (Purse $200,000, Grade III)
The field of 6 featured a re-match of the 3-years running rivalry between Barkley and Mach One Rules who both checked in as the 2nd and 3rd morning line favorites at 5-2 and 4-1 respectively.
Alert Bay was made the 9-5 choice. Alert Bay is trained  by Blaine Wright and Mach One Rules by Frank Lucarelli. The early speed in the race figures to be  the speedy Kaabraaj was trained by Jeff Metz and Metz, Wright and Lucarelli are 1-2-3 in the current trainer standings and all 3 were looking for their 1st Mile win. Wright also had longshot Oh Marvelous Me in the race and rounding out the field was a shipper from Florida Conquest Windycity for Michael Maker.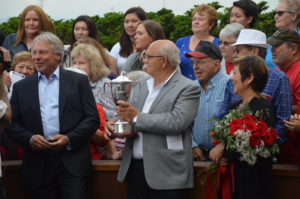 Of the 5 trainers in the race only Barkley's Howard Belvoir had been in the Mile Winner's Circle before in fact twice with Wasserman and Assessment. With their best chance to get a Mile win they would all be disappointed as Belvoir and Barkley stormed down the middle of the track to win the biggest race of the year and put his bid in for Horse of the Year. Kaabraaj with Jose Zunino went straight to the lead and although he set down fractions of 23:47 and 46-flat there was a little concern from Belvoir that maybe they weren't going fast enough. Longshot Oh Marvelous Me laid right off the shoulder of Kaabraaj. Betting favorite Alert Bay at 9-5 was 3rd and Barkley was running 4th early with Conquest Windycity pulling up the rear.
One of the key moves was down the backstretch when Barkley dropped back to 5th to move out a couple paths and fell behind both Alert Bay and Mach One Rules but then quickly made up ground on the far turn. As they passed the quarter pole turning for home Barkley's jockey Javier Matias then made the biggest decision of the race and took Barkley to the outside even though it looked like a hole was opening on the rail he chose to stay wide and when Kaabraaj hit the wall and tired there was no chance of him shutting off the rail run. Barkley eased out and was wearing down Oh Marvelous Me with Julien Couton and closed between him and Alert Bay to his outside with Juan Hernandez.
The white blazed nose of Barkley then dropped his head and he began to grind away at the leaders. Belvoir said Matias was trying to get him to change leads and he finally did at the 16th pole and roared past the field to win going away by a length and a half. Alert Bay was a clear 2nd and Oh Marvelous Me held nicely for 3rd. Mach One Rules ran evenly for 4th while Kaabraaj faded to 5th and Conquest Windycity never got in the race.
Barkely earned a hefty $108,000 for the Rising Star 3 Stable to boost his career earnings to more than 350k. Barkley returned $7.40 and finished off the all-stakes pick 4 that returned $12,081 on a 50-cent ticket thanks mostly to 48-1 This Great Nation pulling a stunning upset in the 1st leg of the series in the Lads Stakes. (More this race below.) It was Belvoir's 3rd Longacres Mile win and Matias's 1st. Meantime the 4 other trainers will have to wait another year to try and find the winning combination. Barkley covered the mile distance in 1:34.93. He's a 5-year-old horse and is by Munnings and out of Numero de Oro and is a Kentucky bred.
Here's the Mile and Winner's Circle ceremonies
Emerald Distaff (Purse $50,000)
The Distaff looked to be extremely competitive if you tossed  out  the odds on morning line favorite Top Quality with Kevin Orozco from  the Blaine Wright barn. Wright not only doubled down in this race but tripled down with 2 other starters including Reginella with Juan Hernandez and Daz Lin Dawn with Julien Couton. Longshot Grace Bay took the lead in the mile and 1/8th contest right out of the gate and Wright's Reginella stalked her from the beginning with Little Dancer and No Talking Back right behind. 3-5 favorite Top Quality only had one beat in the early going.
As they rounded the turn Reginella took the lead at the top of the stretch and pulled out to a 1 length lead with stablemates Top Quality and Daz Lin Dawn both starting to make runs. But Hernandez had plenty left and not held off the overwhelming favorite but pulled away to a convincing 2 and 3/4 length victory. Top Quality ran a solid race but simply could not bridge the gap and had to settle for 2nd.
11-1 shot No Talking Back from the Chris Stenslie barn with Anne Sanguinetti up ran well for 3rd and Wright's 3rd horse Daz Lin Dawn finished a neck back for 4th. Reginella pocketed nearly $27,000 for her owners Luigi and Diana Di Pietro. She covered the mile and 1/8th in 1:48.68 and returned $11.60 as the 9-2 2nd favorite.
Here's the Distaff and Ceremonies
Barbara Shinpoch Stakes (Purse $50,000)
A well matched field of 12 2-year-old fillies broke from the gates and the luke-warm morning line favorite was Aikman Juliet at 7-2 with Anne Sanguinetti and she did not disappoint. Sanguinetti did not waste time in one breaking 4th but quickly taking the lead at the 1/2 mile pole and blowing out to a 4 length lead over Money inthe Stars. Aikman Juliet then found another gear and easily resisted the late charges of Twirling Devon, Northwest Factor and Senioradiablo.
Twirling Devon with Kevin Orozco made a nice run late after sitting back in the 7th and 8th positions early and made a move at the quarter pole but Aikman Juliet had already flown the coop and was was clearly 2nd best. Julien Couton on Northwest Factor got all he could out of the Factor but she could only produce an even effort and was easily 3rd best outfinishing another closer Senioradiablo. This was a pretty decent run by Seniroa especially since she rared up behind the starting gate throwing jockey Rocco Bowen and nearly flipping which would have been a likely scratch. Instead she got in the gate and broke slow but still came running late to complete the Superfecta.
Aikman Juliet picked up $30,250 for owner-trainer-breeder Paul Treasure and Harry Bettis. She returned $7.20 on the win and completed a $474 daily double thanks to the 48-1 shot This Great Nation in the previous race the Lads Stakes. Aikman Juliet covered the 6-furlongs in 1:10.47.
Here's the Shinpoch and Ceremonies
WTBOA Lads Stakes (Purse $50,000)
The Lads kicked off the 4 straight Stakes race run and also was a large field of well matched 2-year-old colts and geldings. Blaine Wright's Helaman was the morning line favorite at 7-2 with Jose Zunino. 2nd choice Fuzzy Dolphin actually went off as the betting favorite at 2-1 and Jackwain was the 3rd early choice at 9-2. I mention these horses now because it is the last time we will mention them as they were all blown away by the longest and 2nd longest shots on the board in what turned out to be a 6-furlong match race.
The Great Nation with Erick Lopez aboard at 48-1 broke from the 1 hole and went right to the lead. 25-1 shot Jack Van Berg also broke alertly under the guidance of Patrick Henry Jr and the 2 longshots locked in a head and head dual. No one thought these two could carry this hammer and tong battle much past the top of the stretch where they would be swallowed up by all the closers but both horses had plenty left and This Great Nation had even more as he pulled away from Jack Van Berg for a 2-length score. Henry did claim an objection as This Great Nation did come out late and appeared to take the lane of Jack but he clearly was best and Jack Van Berg held for 2nd place. Had the fast closing Reno Roy gotten past Jack Van Berg it may have been an interesting call by the stewards whether or not they believed the late incident would have caused a placing.
Reno Roy was 8-1 and ridden by Anne Sanguinetti and Time 'n Time Again with Austin Solis also at 8-1 completed the superfecta. This Great Nation and Jack Van Berg blew up the tote board, the win paid $98 and $48 to place and $16 to show. Jack paid $28 and $14. The $1 exacta was $1,167, the 50-cent Trifecta $10,621. No one hit the Daily Double, wrapping up the 50-cent pick 3 it returned $788 and the 10-cent Superfecta returned $9,005. This Great Nation kicked off a $1 Daily Double pay off of $474 with Aikman Juliet, a $1,397 50-cent pick 3 with Aikman Juliet and Reginella and a huge $12,081 50-cent pick 4 with those 3 and Barkley in the Mile.
The Great Nation earned a check of $23,100 for his impressive win for owner Art McFadden and trainer Felimon Alvarado. He is by Nationhood and out of Great Mom and bred here in Washington by Connie Belshay. The Great Nation and Lopez covered the distance in 1:10.84.
Here's the Lads and Ceremonies
Photo Gallery