9/7/18
Mt Si 54, Kentwood 10
(Kent, Wa) This game was to be a measuring stick for both clubs but ended up being a statement win for the Mount Si Wildcats. It was also a huge statement performance for Wildcats QB Cale Millen. Millen put up Phil Simms type numbers when Simms of NY Giants set a Super Bowl record that still stands today for completion percentage in Super Bowl 21 against the Denver Broncos.
In that game Simms was 22/25 for 268 yards and 3 touchdowns. The completion percent of 88% still stands and unlikely ever to be topped. Millen also went 22 for 25 hitting 88% of his passes but he did throw 1 interception but made up for it by throwing for 368 yards, a 100 more than Simms and 5 touchdowns and ran one in for a 6th TD. Millen led the Wildcats to touchdowns on every single drive of the game except for the one interception.
On that throw Millen was trying to hit a home run as they took over on a turnover on the 50 and overthrew Colby Botten and Trent Morrison picked it off on the 5 yard line. Other than that he was perfect right from the start  leading a 53-yard drive and scoring from the 1 yard line on a pass run option, Reed Paradissis kicked the PAT for the 7-0 lead.
The Conks then took over on their own 16 and reeled off 3 straight 1st downs on the running Gabriel Johnson who ripped off runs of 24 and 20 yards. The drive stalled with a 4th and 9 and Connor Plett booted home a 32-yard field goal to get on the board trailing 7-3 with 2:32 to play in the 1st.
Mount Si would answer with a 77 yard drive capped off with a 3 yard touchdown run by Cole Norah and it was 14-3. After an exchange of interceptions and a Conk punt the Wildcats took over on the 50. Millen would strike again with a 39-yard strike to Jonathan Barrett, the PAT was blocked and the Cats led 20-3.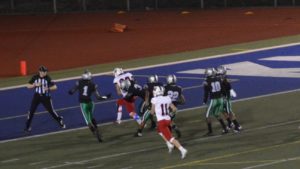 The next drive showcased the Mount Si defense led by Murphy McDowell who nearly single handily shut down the Conks forcing them to turn the ball over on downs by himself. Millen did not let one last opportunity go to waste and with just 1:43 left on the clock he marched the Wildcats 72 yards finishing it off with a 32-yard zinger to Barrett and it was now 27-3 as the two teams headed to the locker room.
Kentwood received the 2nd half kick-off but it was a quick 3 and out and Millen again made them pay taking advantage of a strong effort from the Cats defense. Millen hit Andrew Mostofi on a 13-yard pass and it was 34-3. Millen and the Cats pushed it to 40-3 when Millen found Colby Botten for a 34 yard score.
The Conks would finally get in the endzone with back-up QB Jalin Church at the helm. First he ran it for 29 yards down to the 29 and then found Alphonse Oywak over the middle and bobbed and weaved through traffic and in for the score and it was 40-10.
Mount Si then added a couple of late touchdowns for the final 54-10 score. The Wildcats improved to 2-0 while the Conks drop to 0-2. Our ESN players of the game went to Mount Si's Cale Millen and Kentwood's Alphonse Oywak.
Stats
Mount Si
Total Yards: 484 yards; Rushing 102; Passing 382
Passing: Cale Millen 22/25 368 5 TD, 1 INT; Clay Millen 2/2 14
Rushing: Cale Millen 5/36 TD,  Norah 3/15 TD
Receiving: Barrett 6/120 2 TDs, Botten 9/182 TD, Mostofi 4/30 2 TD
Kentwood
Total Yards: 308; Rushing 199; Passing 109
Passing: Strunk 8/17 83 INT, Church 3/3 26 TD
Rushing: Johnson 16/82, Tapasa 13/43, Morrison 2/29, Musga 1/2
Receiving: Oywak 6/94 TD, Daniels 1/4
We talked with Cale Millen and Murphy McDowell after the game and those interviews are below along with a picture gallery.
Photo Gallery