Bound by a love for baseball
Clark County, Washington's best play in Senior All-Star doubleheader
By Dan Trujillo
Eli Sports writer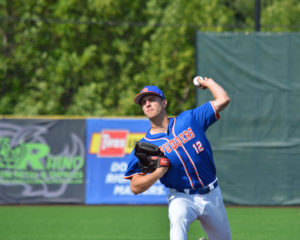 While Spencer Andersen got a nice tune-up on the mound before joining the Ridgefield Raptors West Coast League baseball team, Trevor Milton was thrilled to pitch again after breaking his hand.
"Getting back out there is the greatest feeling I've had in about two months," Milton said. "Being able to strike some guys out was just awesome. It felt like I was back to normal."
Andersen and Milton were two of 48 high schoolers selected to play in the Clark County Senior All-Star doubleheader Wednesday at the Ridgefield Outdoor Recreation Complex.
The National League stars defeated the American League 6-3 in the first game. Evergreen's Tyler Livingston delivered a 2-run single with two outs in the fourth inning to give the NL a 3-0 advantage. It was 5-0 before Skyview's Ryan Pitts scored the first run for the AL in the fifth. Prairie's Tyler Herbert knocked in a run for the NL in the sixth and Fort Vancouver's Nick Laurenza nailed a 2-run double for the AL in the eighth.
The American League shutout the National League 4-0 in the second game. Skyview's Noah Guyette went 3-for-4 at the plate with two doubles and an RBI for the AL. Andersen and Fort Vancouver's Tyler Runkle also drove in runs for the AL.
Guyette and Mountain View's Andrew Seldon were named MVPs of the event and each received a $300 scholarship. Seldon pitched three shutout innings for the National League, allowed four hits and struck out a batter.
A sellout crowd is expected at the Ridgefield Outdoor Recreation Complex Tuesday, June 4, when the Ridgefield Raptors play Yakima Valley Pippins at 6:35 p.m. Andersen hopes he gets the opportunity to pitch during the first game in Raptors' history.
"A lot of adrenaline will be pumping. I'm excited," he said. "I just want to give it my best shot. Throw some strikes. See what happens."
What Andersen and Milton will remember most about the Clark County all-star doubleheader was seeing all the high school rivalries disappear. They are all out there for the same reason. They love baseball.
"It's awesome seeing all the families out here," Milton said. "You can really see how great baseball is."