8/10/19
(Auburn, WA) The prestigious Longacres Mile will be contested this Sunday and 11 are set to go postward in the Grade 3 200k jewel of the Northwest. The morning line favorite and high weight Anyportinastorm drew the #8 post position and will retain regular rider Juan Hernandez. 'Port races for Peter Redekop and comes from the powerful barn of trainer Blaine Wright. The 5-year-old Florida bred has been dominate in all the Mile preps at Emerald Downs except in the 1/1/16th mile Mt Rainier Stakes which he skipped after sweeping the Budweiser and Governor's Stakes. Both of those races were 6 and half furlong distances and Wright was concerned the 1 1/16th Mt Rainier might take too much out of him to turn around in 2 weeks to take on the Mile field. The big question for the 8-5 favorite is can he carry that sprint speed to a full mile? The rest of the field is hopefull the 2nd turn and the 124 pounds he'll be toting catch up with him in the stretch.
The second question is if 'Port can't finish who is there to pick up the pieces? The morning line does not give anyone an overwhelming 2nd chance with the 2nd favorite Solid Wager checking in at 5-1. Followed by Curlin Rules at 6-1 and both Rocky Tough and El Huerfano at 8-1. The rest of the field has Law Abidin Citizen at 10-1, Oh Marvelous Me 12-1, Morepowertohim 12-1, Restrained Vengence 15-1, Brave Nation 20-1 and Elliott Bay at 30-1. So 8 of the 11 horses are between 5-1 and 15-1 making it anyone's race if Port falters.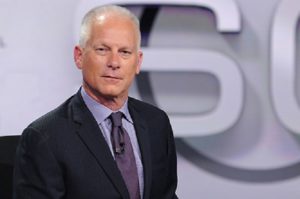 There are 3 other Stakes races set to be run on Mile Sunday. The 4 Stakes will be run as the 4th, 5th, 6th and then the Longacres Mile as the 7th. There is a special all-Stakes Pick 4. Additionally, ESPN personality and Seattle area native Kenny Mayne will be on hand as the Longacres Mile Honorary Steward. Mayne has been with ESPN on and off since 1994 but got his start in TV with KSTW in Tacoma. He was a mainstay on much of ESPN's horse racing coverage and has been a lifelong horse racing fan since the days of Longacres.
Here's a closer look at each entry in the race in post position order followed by more information from Emerald Downs' Vince Bruun:
#1 Restrained Vengence 15-1 Jockey Kevin Krigger 117
Owned by Kelly Brinkerhoff and Bobby Grayson Jr, Trained by Val Brinkerhoff
Restrained Vengence has earned nearly 170k in 14 starts and has 3 wins. Vengence will try to reverse his trend of winning only on the grass where he has 3 victories. The 4-year-old is a Kentucky bred by Hold Me Back.
#2 Solid Wager 5-1 Jockey Juan Gutierrez 121
Owned by David Stauacher, Trained by Michael Maker
Solid Wager has earned more than $850,000 with 11 wins from 54 career starts. He is a multiple Graded Stakes winner and the top earner in this year's Mile.The 8-year-old was bred in California by Birdonthewire.
#3 Oh Marvelous Me 12-1 Jockey Jorge Carreno 118
Owned by Todd and Shawn Hanson, Trained by Blaine Wright
Marv is a crowd favorite who tries hard every time he hits the track. He finished 3rd in this race last year after taking the lead in mid-stretch was passed by Barkley and Alert Bay in deep stretch. Marv has placed in all 3 of his Stakes race starts this year but has yet to find the Winner's Circle. The Kentucky bred is 7 years-old by Bluegrass Cat and has earned almost 165k in 30 starts and a 7-7-7 lifetime record.
#4 Rocky Tough 8-1 Jockey Julien Couton 120
Owners Fred and Cindy Desimore, Gregg Kingma and Glyn Kelley, Trained by Tim McCanna
Rocky Tough ships in from Churchill Downs where the current owners claimed the hard hitting 5-year-old by Paddy O'Prada for $50,000. The Kentucky bred has 21 in the money finishes with 6 wins from 38 lifetime starts and an earned bankroll of more than 300k.
#5 Law Abidin Citizen 10-1 Jockey Abel Cedillo 119
Owners Dan Agnew, Gerry Schneider and John Xitco, Trained by Mark Glatt
L-A-C has earned more than 300K from 22 lifetime starts with a 5-4-3 career record. The 5-year-old Kentucky bred ships in as a graded stakes placer and won the San Simeon (G3) last winter at Santa Anita. Look for Cedillo to sit just off the pace for their best chance at an upset.
#6 Curlin Rules 6-1 Martin Pedroza 116
Owned by Hronis Racing LLC, Trained by John  Sadler
The Kentucky bred 4-year-old by Curlin was interesting enough to draw SoCal based Martin Pedroza to travel and take the mount. C-R has earned nearly 200k from 19 starts and a 3-4-2 career mark. Although not over-whelming in record and earnings very solid and relishes the 1-mile distance. Looks like he will want the lead and may be the one to catch.
#7 Brave Nation 20-1 Jockey Gary Wales
Owned by Gordon Christoff, Trained by John Snow
Brave Nation ships in from Hastings Park in Vancouver BC and comes in off a runner-up finish in the Lt Governor Handicap. Brave Nation will also likely be up close for his besat chance at stunning the field. B-N has a lifetime record of 14-3-3-1 and has earned 78k. A win here in the Mile would triple his earnings. The 4-year-old b y Pioneer of the Nile was bred in Kentucky.
#8 Anyportinastorm 8-5 Jockey Juan Hernandez 124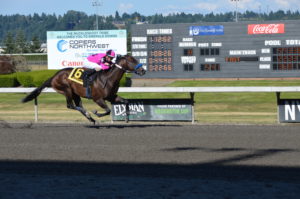 Owned by Peter Redekop BC Ltd, Trained by Blaine Wright
Port has earned his 8-5 morning line favoritism. See his background info at the top of the page.
#9 More Power to Him 12-1 Jockey Kevin Orozco 121
Owner Brett Mason, Trainer Kay Cooper
More Power will be coming from well off the pace hoping there is a solid pace to run at when turning for home. MPTH came from well back to run down El Huerfano and Oh Marvelous Me in the Mt Rainier Stakes 2 weeks ago. The 5-year-old California bred by Slew's Tiznow has bankrolled nearly 325k from a 6-6-7 career mark from 34 starts.
#10 Elliott Bay 30-1 Jockey Javier Matias 115
Owner Chad Christensen, Trained by Frank Lucarelli
The 4-year-old by Harbor the Gold was one claimed from the powerful Rising Star stable earlier this year for 50k. So far he hasn't had much of a return for the new connections but even a top 3 finish would be a great result. Bay  owns a 2-2-3 record from 16 starts and has earned 122k.
#11 El Huerfano 8-1 Jockey Agapito Delgadillo 121
Owners: Peerenboom-Bowyer Racing Stables LLC, Trainer Chris Stenslie
The 7-year-old El Huerfano has a healthy resume with 45 lifetime starts with a 9-8-6 record banking half a million dollars. It was a record good enough to entice his owners to claim him for 62k at Santa Anita 3 races back. El almost paid off with a Stakes win the Mt Rainier but settled for 2nd place when More Power to Him went flying by in the final yards.  The connections are hoping 3rd time is a charm in the Mile.
7th Race $200,000 LONGACRES MILE (G3)
SUNDAY, AUGUST 11, 2019 (RACE 7, 5:30 PM)
84th RUNNING, 3-YEAR-OLDS & UP
Track, State & Stakes Record: 1:32.90, Point Piper (6), 118 lbs, Aug. 14, 2016
Most Wins
Horse: 2-tie, Stryker Phd (2014-2015), Simply Majestic (1988-1989), Trooper Seven (1980-1981), Amble In (1946-1948)
Trainer: 5, Jim Penney (Silver Mallet, 1973; Theologist, 1977; Edneator, 2000; Sabertooth, 2002; Flamethrowintexan, 2006)
Jockey: 5 Gary Baze, (Trooper Seven, 1980-81; Chum Salmon, 1985; Judge Angelucci, 1987; Adventuresome Love, 1993)
Owner: 5, Bob Hutchinson (Campus Fusser, 1941; Lavengro, 1942; Prince Ernest, 1945; Kings Favor 1967; Steel Blade, 1968)
Favorites: 32-for-83 Odds-On: 6-for-15
Favorites @ EmD (1996-2018): 6-for-23 Odds-on @ EmD: 0-for-2
Track condition: fast 72, sloppy 5, good 2, muddy 2, slow 2
Largest $2 Win: No Giveaway $122, 2005;
Smallest $2 Win: Judge Angelucci $2.60, 1987
Average $2 Win: $13.20
Largest field: 16, 1935 (1st Running)
Total starters 1935-2018: 909 Average field size: 10.9
Gate-to-wire winners: 18
Largest win margin: 6 ¼ lengths, Sky Jack, 2003
Smallest win margin: nose-multiple, most recent L.J. Express,1995
OWNERS HOMETOWNS
1: Restrainedvengence (15) Kelly Brinkerhoff, St George, Utah; Bob Grayson Jr., Bakersfield, CA
2: Solid Wager (5) David Staudacher, Bothell, WA
3: Oh Marvelous Me (12) Todd & Shawn Hansen, Tenino. WA
4: Rocky Tough (8) Fred & Cindy Desimone, Snohomish, WA; Glyn Kelly, Vancouver, BC;
Gregg Kingma, Mill Creek, WA
5: Law Abidin Citizen (10) Dan Agnew, Vancouver, WA; Gerry Schneider, Auburn, WA;
John Xitco, Tacoma, WA
6: Curlin Rules (6) Hronis Racing LLC (Pete Hronis and Kosta Hronis, Delano, CA)
7: Brave Nation (20) Gordon Christoff, Tsawwassen, BC
8: Anyportinastorm (8/5) Peter Redekop, Vancouver, BC
9: More Power to Him (12) Brett Mason, Vacaville, CA
10: Elliott Bay (30) Chad Christensen, Enumclaw, WA
11: El Huerfano (8) Craig Peerenboom, Maple Valley, WA; Bowyer Racing Stables (Michael Bowyer, Scarsdale, NY)
2019 LONGACRES MILE SERIES
June 2: $50,000 Governor's Stakes, Anyportinastorm ($2.40) 6F/1:07.54/91 Beyer
June 30: $50,000 Budweiser Stakes, Anyportinastorm ($2.40) 6 ½ F/1:14.35/94 Beyer
July 21: $50,000 Mt. Rainier Stakes, More Power to Him ($10.20) 1 1/16 M/83 Beyer
Aug. 11: $200,000 Longacres Mile (G3), 1 Mile
Here are the other Stakes races with Emerald Downs' Vince Bruun's preview capsules:
6th Race $50,000 EMERALD DISTAFF
SUNDAY, AUGUST 11, 2019 (RACE 6, 4:42 PM)
24th RUNNING, FILLIES & MARES, 1 1/8 MILE

#1 Bella Mia 5-2 Kevin Orozco 118 Trained by Frank L:ucarelli
#2 No Talking Back 7-2 Scott Stevens 119 Trained by Chris Stenslie
#3 Diamonds R 5-1 H N Martinez 118 Trained by Tom Wenzel
#4 Reginella 8-1 J J Hernandez 117 Trained by Blaine Wright
#5 Angelofmontgomery 20-1 Abel Cedillo 112 Trained by Mark Glatt
#6 Fly Far Away 15-1 Jorge Carreno 117 Trained by Blaine Wright
#7 Blazinbeauty 6-1 Javiar Matias 117 Trained by Frank Lucarelli
#8 Paddy's Secret 9-2 Gary Wales 118 Trained by Frank Lucarelli
#9 Guardian One 15-1 Kevin Krigger Trained by Chris Stenslie
Track Record: 1:45 2/5, Flying Notes (3), September 2, 2002
Stakes Record: 1:47, Elusive Horizon (4) August 16, 2009
Most Wins
Horse: 2, Fleet Pacific, 2000-2001
Trainer: 3, Jerry Hollendorfer (Secret Corsage, 2005; Gemstone Rush, 2007, Lemon Kiss, 2008)
Jockey: 3-tie, Juan Gutierrez (Infernal McGoon, 2002; Elusive Horizon, 2009; Class Included, 2012)
Russell Baze (Secret Corsage, 2005; Gemstone Rush, 2007, Lemon Kiss, 2008) Gallyn Mitchell (Fleet Pacific, 2000; Hardy Way Ten, 2011; Lady Rosberg, 2015)
Owner: 2-tie, Northwest Farms (Elusive Horizon, 2009; Stopshoppingdebbie, 2014) Rocking B Thoroughbreds (Fleet Pacific, 2000-01) Highlander Racing Stable (E Z Kitty, 2013; Citizen Kitty, 2017)
Track Condition: fast 21, sloppy 2
Favorites: 11-for-23 Odds-on: 4-for-5
Largest $2 Win: $42.40,Perhaps a Pie, 2016
Smallest $2 Win: $2.40, Stopshoppingdebbie (2014)
Average Field Size: 8.2 (largest 10, 1996 & 2017; smallest 4, 2012)
Gate-to-wire: Fleet Pacific (2000-01), Elusive Horizon (2009), Stopshoppingdebbie (2014), Perhaps a Pie (2016)
Smallest Win Margin: head, Pleas Write, 1996
Largest Win Margin: 8 ¼ lengths, Queenledo, 2006
Owners Hometowns
1: Bella Mia (5/2) John & Janene Maryanski, Auburn, WA
2: No Talking Back (7/2) One Horse Will Do Corporation (Jody Peetz, Issaquah, WA);
Steve Shimizu, Bellevue, WA
3: Diamonds R (5) George Todaro, Seattle, WA; David Cordova, Bellevue, WA
4: Reginella (8) Luigi DiPietro, Seattle, WA; Diana DiPietro, Tukwila, WA
5: Angelofmontgomery (20) Mark Glatt, Monrovia, CA
6: Fly Far Away (15) Todd & Shawn Hansen, Tenino, WA
7: Blazinbeauty (6) Darrin Paul, Bothell, WA
8: Paddy's Secret (9/2) Donnybrook Stable (Michael Bolduc, Phoenix, AZ)
9: Guardian One (15) Tony & Brenna Loften, Selah, WA
2019 EMERALD DISTAFF SERIES
May 27: $50,000 Hastings Stakes, Ima Happy Cat ($10.80) 6F/1:08.73 79 Beyer
June 23: $50,000 Wash State Legislators Stakes, Best of Me ($6.60) 6 ½ F/1:16.04 79 Beyer
July 21: $50,000 Boeing Stakes, 1 1/16 Mile, No Talking Back ($23.20) 1 1/16 M/1:43.32 77 Beyer
Aug 11: $50,000 Emerald Distaff, 1 1/8 Mile
****************************************************************************************************
5th Race $50,000 MUCKLESHOOT DERBY
SUNDAY, AUGUST 11, 2019 (RACE 5, 4:07 PM)
82nd RUNNING, 3-YEAR OLDS, 1 1/8 MILES
#1 Rally Cat 7/5 J J Hernandez 123 Trained by Blaine Wright
#2 Alittlelesstalk 7-2 Scott Stevens 118 Trained by R A Barrett
#3 Sky Confidential 3-1 Javiar Matias 123 Trained by Howard Belvoir
#4 El Borracho 10-1 Julien Couton 123 Trained by Blaine Wright
#5 Time N Time Again 12-1 Kevin Orozco 123 Trained by Kay Cooper
#6 My Grandpa 6-1 Jorge Carreno 123 Trained by Tom Wenzel
#7 Todo Es Toro 20-1 J A Leon 123 Trained by J McCartney
Track & Stakes Record: 1:45 2/5, Flying Notes (3), September 2, 2002
Most Wins (including Longacres Derby)
Trainer: 3-tie, Frank Brewster, Bud Klokstad, Bill McMeans, Bob Meeking, Jim Penney, Mike Puhich, Glen Williams
Jockey: 3-tie, Lennie Knowles, Joe Baze, Pedro Alvarado & Ricky Frazier
Owner: 2-tie, Dorothy Brewster, Dino Lozzi
Statistics (1996-2018 @ EmD)
Track Condition: fast 22, wet-fast 1
Favorites: 5-for-23 Odds-on: 1-for-5
Largest $2 Win: $55, My Constant Star, 1998
Smallest $2 Win: $3.60, Prime Engine, 2015
Average Field Size: 8.1 (largest 12, 2005, 2006; smallest 5, 2017)
Gate-to-wire winners: You've Got Action, 1997; Flying Notes, 2002; Saratoga Boot, 2010; Makors Finale, 2012; Riser, 2017
Largest Win Margin: 11 ¼ lengths, Flying Notes, 2002
Smallest Win Margin: head-tie, Winning Machine, 2009, Opportunistic, 2016
Winner bred: Kentucky 9, Washington 7, British Columbia 2, Arkansas 1, Florida 1, Maryland 1, Texas 1, Ohio 1
OWNERS HOMETOWNS
1: Rally Cat (7/5) Fleur De Lis Stables (Raymond Kwik, Spokane; Paul Goldberg, Westport, CT)
2: Alittlelesstalk, f (7/2) Warlock Stables (Tim Floyd, Spokane); Kelly Dougan, Mountlake Terrace, WA; Ya Killing Me (Stephanie Loffredo, Las Vegas, NV)
3: Sky Confidential (3) David Matsumoto, Olympia, WA
4: El Borracho (10) Luigi DiPietro, Seattle, WA; Diana DiPietro, Tukwila, WA
5: Time 'n Time Again (12) Poseidon Partners (Debbie Pabst, Buckley, WA)
6: My Grandpa (6) Ron Crockett, Seattle, WA
7: Todo Es Toro (20) Tawnja Elison, Boise, ID
2019 MUCKLESHOOT DERBY SERIES
May 19: $50,000 Auburn Stakes, Baja Sur ($3.80) 6F/1:07.98 87 Beyer
June 16: $50,000 Coca-Cola Stakes, Baja Sur ($2.60) 6 ½ F/1:15.60/86 Beyer
July 14: $50,000 Seattle Slew Stakes, Perfect Dude ($8.80) 1 1/16 M 1:43.19/66 Beyer
Aug 11: $50,000 Muckleshoot Derby, 1 1/8 Mile
*********************************************************************************************************
4th Race $50,000 WASHINGTON OAKS
SUNDAY, AUGUST 11, 2019 (RACE 4, 3:32 PM)
40th RUNNING, 3-YEAR-OLD FILLIES, 1 1/8 MILES
#1 Killarney Lass 2-1 Javiar Matias 121 Trained by Frank Lucarelli
#2 Two Shakes 8-1 Abel Cedillo 121 Trained by Blaine Wright
#3 Suddenly Awesome 20-1 Kevin Krigger 121 Kay Cooper
#4 Northwest Factor 8-1 Julien Couton 121 Trained by Steve Bullock
#5 Mucho Amor 7-5 J J Hernandez 121 Trained by Blaine Wright
#6 Twirling Devon 3-1 Kevin Orozco 121 Trained by M Ortiz Sr
Track Record: 1:45 2/5, Flying Notes (3), Sept. 2, 2002
Stakes Record: 1:47 1/5, Flirtacious Girl, August 21,1999
Statistics 1996-2018 @ EmD
Most Wins
Trainer: 3-tie Grant Forster (Youcan'ttakeme, 2003; Bianconi Baby, 2004; A Classic Life, 2005)
Larry Ross (Ever Lasting, 1996; Zenovit, 2010; Belle Hill, 2015) Tom Wenzel (Rivoltella, 2007; Stopshoppingdebbie, 2013; Princess Kennedy, 2016)
Owner: 2-tie, Michael and Amy Feuerborn (A Classic Life, 2005; Class Included, 2011) Northwest Farms (Elusive Horizon, 2008; Stopshoppingdebbie, 2013)
Jockey: 3-tie, Ricky Frazier (A Classic Life, 2005; She's All Silk, 2006; Zenovit, 2010) Gary Baze (Crossatyourownrisk, 2000; Graceful Cat, 2001; Youcan'ttakeme, 2003) Leslie Mawing (Class Included, 2011; Lady Fifty Two, 2014; Belle Hill, 2015) Rocco Bowen (Stopshoppingdebbie, 2013; Princess Kennedy, 2016; Little Dancer, 2017)
Largest Winning Margin: 9 ½ lengths, Flirtacious Girl, August 21, 1999
Smallest winning margin: nose, Princess Kennedy (July 24, 2016)
Track: fast 21, wet-fast 1, sloppy 1
Favorites: 9-for-23 Odds-on: 8-for-16
Gate-to-Wire: 8-for-23
Largest $2 Win: $27.40, Little Dancer, July 23, 2017
Smallest $2 Win: $2.80-tie, Youcan'ttakeme (2003), No Flies On Doodle (2009), Stopshoppingdebbie (2013)
Winner bred: Kentucky 15, Washington 6, Florida 1,Maryland 1
OWNERS HOMETOWNS
1: Killarney Lass (2) Sargent Stables (Dan Sargent, Edgewood, WA)
2: Two Shakes (8) Ten Broeck Farm (David Mowat, Woodinville, WA)
3: Suddenly Awesome (20) Poseidon Partners (Debbie Pabst, Buckley, WA)
4: Northwest Factor (8) How We Roll #4 (David Israel, Enumclaw, WA; Steve Pilgrim, Kent, WA) Joe Withee, Auburn, WA; Al Adams, Seattle, WA; Charlie Clark, Seattle, WA; Angela Wilson, Auburn, WA;
5: Mucho Amor (7/5) Ten Broeck Farm (David Mowat, Woodinville, WA)
6: Twirling Devon (3) Tim Bankers, Rancho Mirage, CA
2019 WASHINGTON OAKS SERIES
May 12: $50,000 Seattle Stakes, Mucho Amor ($3.80), 6F/1:09.76/83 Beyer
June 9: $50,000 Kent Stakes, Alittlelesstalk ($24.80) 6 ½ F/1:15.33/73 Beyer
July 14: $50,000 Irish Day S, 1 1/16 Mile, Twirling Devon ($32.60) 1 1/16 M/1:41.81/74 Beyer
Aug 11: $50,000 Washington Oaks, 1 1/8 Mile