By Dan Trujillo
Southwest Washington content director
Opposing high school football teams are having a tough time penetrating La Center thanks to the determination of senior linemen Sam Kitchel, Max Muffett, Will Phillips, Clay Roberts and Sam Wilmot.
The Wildcats are on fire this fall, winning their first five games. A year ago at this time, they were 1-4 after losing to Ridgefield, Woodland, Hoquiam and Kalama before finally picking up their first win against King's Way Christian.
La Center beat those four teams this time around and defeated King's Way 38-21 last week to help John Lambert earn the 150th victory of his coaching career. Lambert has been the head coach of the La Center football program since 1999.
"I want to win every single game, but that one was definitely important to all of us," Kitchel said of their coach's milestone victory. "That's something that's going to be remembered for a long time. I just hope this momentum keeps moving."
The Wildcats host Stevenson in their homecoming game Friday. The Bulldogs beat La Center last season on their way to capturing the 1A Trico League championship. That left a bad taste in the Cat's mouths.
"It was a painful night for us. And Stevenson deserved it. They played a great game," said coach Lambert. "That celebration on the field while we were there is not too far from our minds. I don't think there will be a lot of need for motivation."
La Center will have home field advantage this time around.
"It's going to be a whole different dynamic at home," Wilmot said. "Last year, we were trying to replace a whole bunch of seniors. We just weren't prepared for it all. This year, we're coming out strong. I think we're going to do great."
If the Bulldogs want to stop the Wildcats, they're going to have to tangle with Kitchel, Muffett, Phillips, Roberts and Wilmot on the front line.
"I think it all starts with us five," Muffett said. "Just pumping holes so we can get our backs and receivers open so they can show their speed."
"How we practice sets the tone for how we play," Phillips said. "The better our scout team does, the better our guys on the line will do in the game."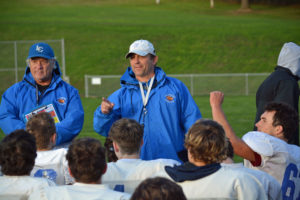 Enjoy the little things
On the surface, coach Lambert felt like his 150th victory was like graduating from middle school.
"You're supposed to, right," he said. "That's not the most important thing. You have to keep moving forward."
But after coaching football for 24 years, Lambert has learned to enjoy the little things.
"Time gets faster the older you get," said the 48-year-old Lambert. "Coaches are always looking at the next play, next game, next season. I'm really trying to enjoy the journey and the process."
Lambert dedicates those 150 wins to all the players and coaches he's worked with. The most valuable players are his wife, Kerry, daughters, Jane, Mary and Lynda, and sons, Tom and Scott.
"They're often the recipients of not seeing me as much as they want to," said coach Lambert. "It means a lot to them as well."
Kerry Lambert has been by her husband's side since the beginning of his coaching career. Jane graduated from La Center High School in 2019 and is now enrolled in college courses at the University of Washington.
Tom Lambert gets to spend a lot of time with his dad as the La Center quarterback. Mary is close by as the head cheerleader for the Wildcats.
Lynda Lambert attends La Center Middle School. She was left out of the article about her dad's 150th victory in The Columbian.
"I want to make sure that I say Lynda plenty of times," said coach Lambert. "She's the most important cog in this right now."
Scott Lambert is just 3. If he gets into sports, John Lambert could be coaching for another 15 years. He welcomes those opportunities right here in La Center.
"In a small town, when the football team is doing well, it's a pretty cool feeling because the town gets behind you," said coach Lambert.
He also lists traits that will help the Wildcats be successful on the football field and in life.
"Our three core values are effort, integrity and family," Lambert added. "I want these kids to give a lot of effort on and off the field. Integrity is about doing the right thing when no one's watching. Family is important when you're from a small town. Having that brotherhood. That's how I want these kids to represent the program."
Milestone watch
Coach Lambert will be keeping an eye on Friday's game between Hockinson and Mark Morris at Longview Memorial Stadium.
If the Hawks win, it will be Rick Steele's 100th victory in his coaching career. Steele earned his first win back in 2005. He guided Hockinson to back-to-back 2A state championships in 2017 and 2018.
When Lambert became the head coach at La Center in 1999, the first person he called to be an assist was Steele, according to The Columbian. Since then, the two football masterminds have combined for 249 wins in 36 years.
Broadcast schedule (subject to change)
Sign up on elisportsnetwork.com to watch these games
Thursday
Battle Ground at Heritage, 7 p.m.
Mountain View at Prairie, 7 p.m.
Friday
Skyview at Union, 7 p.m.
Montesano at Woodland, 7 p.m.
Bethel at Lakes, 7 p.m.
Black Hills at Centralia, 7 p.m.
Enumclaw at Kentwood, 7 p.m.
Onalaska at Rainier, 7 p.m.
North Mason at La Salle, 7 p.m.
Wenatchee at West Valley-Yakima, 7 p.m.
Saturday
Forks at Tenino, 7 p.m.