2/26/20
The Eli Sports Network along with help from the ABC Jam Production Company and Wenatchee Public Access Productions have released the schedule of games being covered on Live Video stream through the NFHS Network. The local companies work with the parent company NFHS to provide content to their nationwide live video streaming platform that is exclusively for High School sports. The service is subscription based and costs $10.95 for a 30-day period.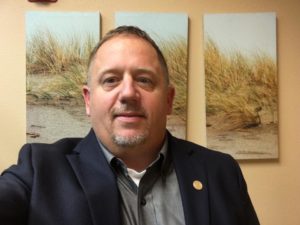 ESN Vice President of Communications Will Gaethle says the best thing about this service is it's really affordable and for those on a really tight budget there is no time commitment in other words you can literally cancel at the end of the month and not be charged more than the $10.95. Gaethle says another popular choice is the annual pass where you get 12 months for $69.99.
Gaethle says the Eli Sports Network works with several High Schools and we are adding more all the time along with District 3 and 4. Those Districts cover all schools from Renton south to Vancouver and the entire Peninsula. The amount of content you would have received for just $10.95 if you subscribed on February 7 would be 100 District 3 and 4 basketball games, State Cheer Leading event over 2 days, a regional wrestling tournament, live coverage from Mat Classic the State Wrestling Championships plus a live video only broadcast of every match on every mat of the whole tournaments which totaled 2,520! Now you also get 58 of the 96 Regional Basketball games and all 180 of the State Tournament games from March 4-7 in the Tacoma Dome (3A-4A), Yakima Sundome (1A-2A) and Spokane Arena (1B-2B). This is 338 basketball games, 2,520 individual wrestling matches, 20 hours of a live Mat Classic show, 6 hours of a Regional Wrestling Tournament and 12 hours of State Cheerleading competition all for $10.95.
There was some shock from fans of 3a-4a basketball when they heard that Root Sports is no longer going to carry the State 3a and 4a Championship games and it's very unlikely they will be back to do any High School sports. It is believed Root Sports is preparing for the new Seattle National Hockey League team that will begin in the Fall of 2021. Gaethle says yes we heard some folks weren't happy to now have buy a subscription to watch the 3a and 4a title games but I don't believe you can get Root sports without paying a cable subscription and you certainly can't watch it live at the Tacoma Dome for free either.
Gaethle also noted that the number of games we do and get on the air have a cost, these folks don't work for free nor should they but I can also tell you they are not getting rich, our folks do these games for $25 per game and during tournaments $20 a game. Depending on how the revenue is they also can get bonuses but these folks do it because they love it and it's fun. We have only three rules and that is to have fun, do only games you want to do and please follow through when you say you are going to do a game.
The subscription that viewers pay goes to 3 pots, ESN gets a small piece, the schools or affiliates get a small piece and the NFHS gets the largest piece. The NFHS has invested millions of dollars into this platform and frankly it is one of the best working platforms you can find for live video streaming. There can be issues with quality at times which is 99% of the time a wifi issue and sometimes we go to a new location thinking we can get enough wifi upload to get the stream up but then we find out we can't. Sometimes the user doesn't have enough download speed to play it, it is a two-way street.
In those cases it is disappointing to not to get the game up and viewers can get a refund from the NFHS but they would lose their entire 30-day access. In addition to the subscription revenue ESN sells advertising including video ads that run during the live broadcasts and ads on the Eli Sports Network website. Gaethle says our goal is for the subscription revenue to be about 20-25% of our total and 75-80% ad revenue to grow like we hope too. Right now our revenue is almost exactly 50/50 and that is not good for us, we need to do a better job of getting out and selling our product but everything is one step at a time.
Gaethle says there are 96 Regional Basketball games and they are spread from Spokane to Mount Vernon down to Battle Ground and a total of 19 locations. We just don't have the gear or personnel to cover 19 sites…yet! Our choices frankly are based on who will do games and where they are located as we try to get locations close to where they live so it's not a long trek. Next week though we have folks going to Yakima and Spokane to cover those 8 State tournaments. Our friends at ABC Jam productions are covering the Tacoma Dome where the 3a-4a tourney's are being held.
Gaethle also wanted to address some of those folks complaining about the quality of the broadcasters. Gaethle says some of these folks have never done this before and just wanted to be part of what we're doing or are kids learning the craft that is quickly disappearing. He says if they can turn a camera right to left and left to right then we can put them to work. The next thing they learn is to set up the gear and how to run the production which includes airing our commercials and running the score strip graphics.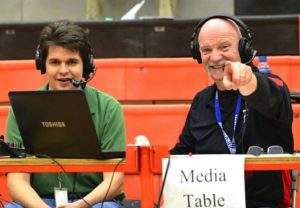 So our priority is get up a picture first then our next priority is some kind of an announcer whether its a traditional play-by-play or a P-A style. Next is to have good announcing and our 4th priority is great announcing, something I am not sure we have yet reached but we're workin on it. Gaethle says we also work with a lot college and high school students interested in media as a career and several who have just graduated and need to keep sharp while they look for work. Gaethle says sports media is changing so fast we are just trying to keep up with the big hole in coverage that is getting bigger by the day from the traditional media.
The last thing Gaethle touched on was despite our product being a live video stream we encourage people to come to the games when they can. There is no better sports entertainment for the price than High School sports. But when you can't get there and with all the unlimited data plans we are finding people consuming us both as a tv and as a radio so that is why we try to have some kind of announcing on all games because we know people are listing while they drive or working.
The other gratifying part of all this is hearing from families with loved ones in other parts of the country and the world that get to watch their kid or grand kid or sibling perform when they truly can't be there. Gaethle says we've had comments come in from Grandparents in Arizona to parents on the road for work to siblings and parents serving in the military from all over the world. We even had a Fisherman say he got to listen to his son's baseball game from the middle of the Behring Sea.
Gaethle says we truly thank all the subscribers because that money goes straight to buying gear and getting more announcers and crew to get more games on along with our great advertisers. We hope we are allowing people more access for a very reasonable price for the number of games we are getting on and most of all giving more coverage to kids doing great things. We will keep working to get better and we appreciate everyone's patience when we stumble a bit. We also thank the NFHS's Jeff Kurtz who is our West Coast Director and he has been stellar in his support of us and then there is both former WIAA Executive Director Mike Colbrese and new Executive Director Mick Hoffman who both have been huge supporters of us along with a tremendous WIAA staff. That staff of 12 turns out a massive amount of work each school year, school districts could not run as lean or as hard as the WIAA staff.
Gaethle says after March 7 things will slow down for like a week and then we are off and running with Spring sports. This year we will add to our baseball and fastpitch coverage, soccer, track and field and don't be surprised if we add some golf coverage. Details to come on that and we will then be prepared for the weekend after Memorial Day this year for 2 days of mayhem where we will have live coverage of all 6 classifications of baseball, soccer plus state track and as many Fastpitch Tournaments as we can figure out and maybe a golf tournament or two.
To get signed up now simply click the link below to our broadcast page and then click the "click here" button that takes you to the ESN landing page on the NFHS Network where you can get signed up.
That being said click here for our Regional Broadcast Schedule and we apologize if we are not getting to the game or games you want but we had to make some choices and our goal is to have them all covered by next year.