6/11/2020
(Centralia, WA) The Centralia school board met again via Zoom Wednesday night for their regular board meeting. Since the last time they met where it was reported that sports was being cut from Centralia there have been several communication "fixes" so to speak. ESN talked with Assistant Principal Scott Chamberlain who oversees sports in Centralia about the miss-communications. Chamberlain says there were several from everyone and it wasn't a purposeful issue it was simply the situation has not made it easy to work with each other.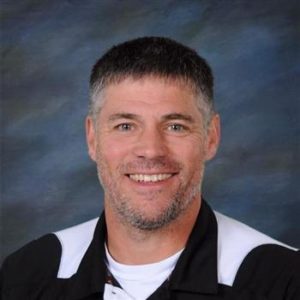 By that Chamberlain is talking about simple communication with the virus issues that have cut out face-to-face meetings unless through Zoom or some other electronic method. Chamberlain says the story about Athletics getting cut took everyone by surprise because he and the coaches felt they had created a plan that could at least fill in for one year of missed athletics.
But what they didn't fully understand is that the School Board is required by law to submit their annual budget by July 10. Since the levy failed in February and they couldn't re-run it in April it is now scheduled for State primary day on August 4th or about a month after the District is required to hand in their budget. So the District is stuck because they can not count money they don't have even if they were convinced 100% the levy was going to pass they could not consider it for their initial budget deadline.
Now the budget is not locked in stone and this is where some of the confusion has come. If the levy passes on August 4 those levy dollars will be available to the district for the 2020-21 school year. However, they are still projecting to be well short of what they need to fully fund and cuts will still be included for the coming year regardless. Not only have sports been cut out of the initial budget so have other activities along with specialty classes from honors programs to counselors. 90 positions have been eliminated as well.
The School board, Chamberlain and all the teachers and coaches are hoping with the second levy election that citizens will now understand the difference between the Bond issue that was passed a few years ago and the school levy. Bond issue dollars can only be used for building things like the 2 new elementary schools and the renovation of the High School. Levy dollars allow school districts to pay for additional things not covered by money they get from the State such as sports, additional personnel and activities.
Our headline says there will be sports this year in Centralia but what happens if the levy fails again? Chamberlain says they are already planning for that and they will offer a varsity only program with all the coaches stepping up and volunteering for one year. Chamberlain says if necessary he will put his coaching hat back on to get through. He says all the coaches have stepped up and stated they will coach for no pay while Chamberlain will scramble for other volunteers and donations to cover the other expenses of putting on varsity only sports.
There were some questioning whether or not the school should be charging a participation fee for students wanting to play sports. Most schools require the fee and some as high as $300 per sport. Chamberlain says Centralia does have a fee and its $25. Chamberlain says even at that it is a struggle for many families and kids to pay that fee on top of all the other expenses already associated with sports. Chamberlain does not believe participating in your school's sports programs, representing the school and community should come down to whom can pay the fee. He says that is not what school sports should be about and under his watch he is not interested in jacking up fees that would not solve the issue anyway.
But Chamberlain says he is more optimistic and is appreciative of the school board members being open to hear ideas and a willingness to think outside the box. He also pointed out that 3 of the 5 school board members are not only new to the board but new to being elected. Plus a new Superintendent is set to start on July 1st and then add in the situation we are in now with the virus it is understandable that miss-communications occurred but now feels like everyone is on the same page and is not only confident but determined no matter what there will be sports this year in Centralia.
Additional information on the Levy  
The Levy was defeated in February after a group pushed a narrative that the District hasn't managed their money well and they agreed to pay teachers more than they could afford and claimed their taxes would in some cases more than double. One of the biggest questions that came from those opposed was they didn't understand what the levy was for and where those dollars would go.
One thing is for sure the levy dollars pay a huge portion of the Athletics cost with the rest being raised from ticket sales, student participation fees and donations. But they pale in comparison as to what the levy revenue funds.
Here is a slide presented in last night's school board meeting regarding the property taxes those who were against the levy were talking about. The levy that failed was asking for $2.50 per $1,000 and in the end would have been $50 more per year than in 2019 on a home valued at $250,000.
The Board has decreased their request significantly along with the decrease in Bond payment of 80-cents per $1,000 the request for 2020 is now a 96-cents per $1,000 less than last year. And for 2021 even raising the request of the levy since the Bond is less it still comes in under what the 2019 approved combined Levy and Bond figure was by $75. The District encourages voters to contact them if you have questions and to become more involved in the process so you can understand how the system works.
It should be pointed this is how the system has ALWAYS worked this is not new and it is not a new tax. Funding schools is not simple with dollars coming from the Federal Government, State and then local issues from Levy and Bond taxes. The other thing that most people don't understand is that not all the money is simply tossed into one budget and the School Board can spend as they please. It's quite opposite most of the money is mandated or negotiated and is locked in. Here is the example of taxes on local property owners for the upcoming proposed levy request.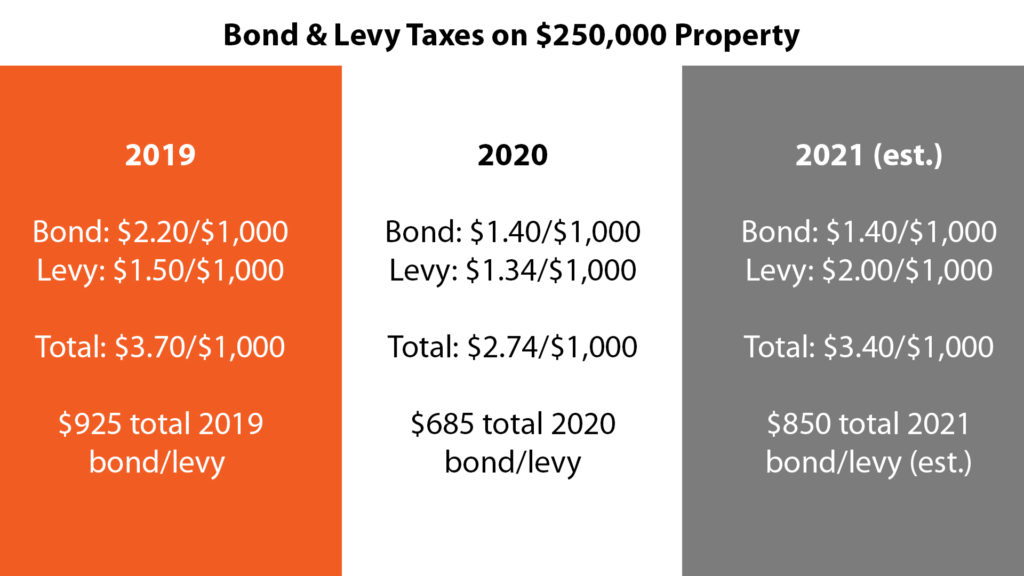 www.elisportsnetwork.com