4/5/2021
Baseball
WF West 2, Tumwater 1
(Chehalis, WA) It was March 31, 2017. Tumwater defeated WF West 6-4. This was the last time the WF West Bearcats lost an EVCO 2A league baseball game, 43 games ago entering Monday afternoon's contest.
In the top of the 1st inning the T-Birds scored their only run and had their best opportunity to score more but a ground out ended the threat. Bearcat starting pitcher Tanner Vaughn who threw 6 innings of no hit ball in his opener, began where he left off striking out 2 of the first 3 batters.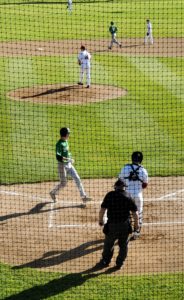 The 2nd batter, Camden Oram made it to 1st after being hit by a pitch. With Oram on and 2 out, Vaughn then lost focus and walked Ryan Orr, hit Nate Kassler to load the bases and then walked Grady Finney for an RBI walk. Vaughn then coaxed a ground out to end the inning and get out of further trouble.
Meantime, Tumwater starter Ryan Orr came out on fire retiring the batters in order in the first 3 innings, including giving up a base hit to Vaughn but pinch runner Jacob Douglass ventured too far off 2nd base when it looked like a pitch would get by T-Bird catcher Nate Kassler who then threw down to to shortstop Camden Oram and got Douglass in a pickle eventually tagging him out to end the 3rd inning with Tumwater leading 1-0. (Video below)
Vaugh would retire the T-Birds in order in the top of the 4th and then the Bearcats would finally answer. With 1 out Brock Bunker would leg out a bunt base hit and that was followed by a walk to Drew Reynolds. Evan Stajduhar would come in to pinch run for Reynolds.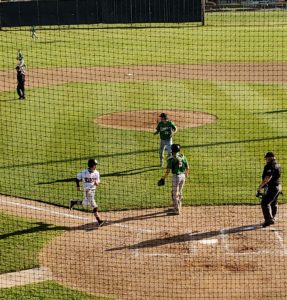 Gavin Fugate then stepped up and drilled a shot to left getting past the left fielder scoring Bunker easy. Stajduhar turned and tried to stretch it from 1st but a great relay from Finney to Camden Oram to Kassler got Stajduhar at the plate. Fugate ended up on 3rd but was stranded and the game was all even after 4 at 1-1. (Video below)
It would remain this way until the top of the 7th and Logan Moore came in to relieve Vaughn for WF West. Moore got off to a little shaky start with a lead-off walk to Camden Oram putting the go-ahead run on 1st base.
Moore then challenged Conner Bourbon with a fastball and Bourbon ripped a hard grounder to Vaughn now at 2nd base. Vaughn gobbled it up and flipped it to Bunker to get Oram, Bunker then fired it over to Fugate to complete the 4-6-3 twin killing clearing the bases with 2 outs. (Video below)
Moore then got Orr to fly out to centerfielder Max Taylor to retire the side. The Bearcats had the final at-bats to try and push their winning streak to 44 games.
Drew Reynolds led off the bottom of 7 against relief pitcher Austin Sheldon. Sheldon uncorked a hard shot into left field and he legged out a double. The winning run was now on in scoring position with no outs. After a time-out by Tumwater Coach Lyle Overbay, Sheldon faced Fugate. As he came to his pause in his stretch he wheeled around and fired a strike to Oram covering the bag and tagged Reynolds out. Sheldon then struck out Fugate and it looked like extra innings were on the way. (Video below)
DH Kolby Hansen then drew a walk again putting the winning run on base. Brit Lusk then stepped up and launched one in right-center field. T-Bird centerfielder Jack Jones was in a full out sprint laid out to make the catch but could not hold on and it came out of his glove as he hit the ground.
The ball rolled behind him as right fielder Cody Whalen was still on the move to back up Jones. Meantime, with 2 out Hansen was on the move with the crack of the bat and as he rounded 3rd there was no chance of throwing him out and he cruised in for the winning run. (Video below)
Just like that the 43 game winning streak turned to 44. WF West improved to 3-0 and Tumwater suffered their first loss dropping to 4-1. Our Pacific Sports Spa visiting player of the game went to Tumwater's Ryan Orr and our Thorbeckes home player of the game was the Bearcats' Gavin Fugate.
www.elisportsnetwork.com