5/11/2021
The good news was the Governor did not roll Pierce County back to phase 1 of the State Health plan, the bad news was they got frozen in phase 2 which meant high risk sports could not compete inside. The WIAA had recommended and most leagues agreed to push the winter sports back to the end of this school year to give them the best chance of being played. It was the right call except that Pierce County got stuck in a phase that didn't allow basketball and wrestling to compete. They can practice, they can travel to other phase 3 counties and play games they just aren't allowed to play games "inside". 
Inside is the key word. Basketball and wrestling can compete in games and matches outside like football was able to back in March. Do these regulations all make sense? Does not allowing wrestlers to shake hands after a match or not allow jump balls in basketball make sense? Fortunately leaders in the SPSL 4A and the PCL 3A didn't let the minutiae of points of argument get in their way of solving the problem. 
Sumner District Athletic Director Tim Thomsen, Puyallup District AD Jim Meyerhoff and Curtis AD Suzanne Vick told ESN that instead of whining and crying about things we have no control over we needed to find a solution. The SPSL 2A decided to rent the Hub sports facility in Centralia. A facility that can accommodate 5 basketball courts at one time and the 2A's will travel to Centralia every Monday and Wednesday to get in all of their Varsity, JV and C team games.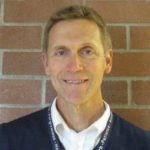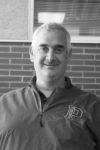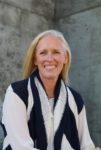 Thomsen, Meyerhoff and Vick says they considered that but felt it was just too far to go. They looked at sharing other schools gyms in phase 3 counties like Auburn and Kent to the north or North Thurston and Olympia to the south but there just wasn't enough space to go around.
Then the word "inside" came into play. What if they played outside? What constitutes as "outside"? Could they set up courts in their schools parking lot? But the weather is to unpredictable plus it is highly unlikely school districts would allow full out varsity basketball games on pavement. Then it dawned on them, outside doesn't mean no roof. It means a free flowing of air from outside large enough to satisfy health officials.
So a VERY unlikely partnership was quickly formed when Vick found a contact at the Washington State Fair and she and Meyerhoff made an appointment. The fairgrounds are literally across the street from Meyerhoff's office in Puyallup's Sparks stadium and they inquired if they had some type of facility with a roof but no walls? The answer was yes and the conversation quickly escalated to how they could pull this all off. Meyerhoff and Vick inspected the horse arena the Fair said would best fit their need and when they looked at it they didn't simply see a large covered area with no walls on 2 sides and minimal bleacher seating on the other two walls. They didn't just see the powdered dirt and dust that coated everything inside. They didn't see all the reasons on how this couldn't work, that this wasn't the answer but rather they saw the solution.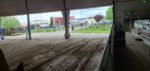 Meyerhoff, Vick and Thomsen went to work they needed to control the dirt how could they do that? The Washington State Fair Director of Operations Ed Barnes then joined in on solving this problem and from his long career in events he said you know if we could asphalt the arena floor and then lay down a sheeting over the top of it like Visqueen then put the portable basketball floors on top that would fix the dirt issue. 
Interview with Ed Barnes from the Wash State Fair
The group then turned to former Puyallup Viking, U-W Husky and NFL receiver Dane Looker who now owns and operates Looker Asphalt paving.  Looker not only agreed to do it, he agreed to do it for free. They then got Bartelson Transport to pick-up the 3 basketball courts in Portland and transport them for no cost and HD Fowler Company donated 24,000 square feet of Visqueen to lay over the fresh asphalt. Meyerhoff says the donations and volunteer work is keeping the cost of this plan down to a minimal $2,500 approximately per school.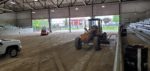 Barnes says the Fair board convened in an emergency meeting and quickly approved the plan. Barnes says they avoided additional permitting from the city by asphalting only the indoor floor and not anything outside. If they did any outside of the building then drainage and other factors would come into play and this way they avoid all that. 
The 3 courts will host all of the SPSL 4A and PCL 3A games except when they travel to a phase 3 county. In the SPSL 4A 2 schools, Olympia and South Kitsap are in phase 3 and they will not travel to Pierce County but rather get to host 10 home games. Thomsen says both schools will be hosting 2 C team games, 2 JV games and 2 Varsity games and really helps ease the scheduling at the Puyallup facility.
There are more than 400 basketball games and two days of wrestling scheduled to be played in the arena used to hosting barrel racing and equestrian events. The first games will be on Wednesday, May 12 and the final day is Saturday, June 12. They will be playing games Monday-Saturday starting at 3pm on weekdays and as early as 9am on Saturdays. Meyerhoff says they even came up with a name for the games in Puyallup, "Hoop the Puyallup" a play on the Fair's longtime slogan "Do the Puyallup". 
The downside to this plan is that fans will not be allowed to attend the games and each team is strictly held to certain numbers each. Thomsen reached out to ESN last Friday to see if there was anyway we could stream these games and in less than 3 days we have come up with a plan with help from the WIAA. With limited people allowed in, we will have only 1 person handling all 3 courts. We will set up a 1-shot from a corner of the court, but get all if not most of the court in that single shot and simply start our cameras 10 minutes before the first game and shut them down when the last game is completed. The games will not be listed as school vs school like you are used to seeing with our broadcasts on the NFHS Network but rather the Court 1 Stream, Court 2 Stream and Court 3 Stream.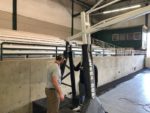 We are building a schedule page that will list the games scheduled for those courts and their estimated start times and you can go on at any time and watch the action on each court stream. There won't be announcers but our 1 staff member will go from court to court sit in on the action for 5-10 minute blocks and catch up the score and let you know what is happening. Sometimes during breaks commercials will play and sometimes you will just see a stream of nothing happening. 
It will be an unconventional broadcast for sure but our focus is picture first and then anything we can add to the broadcast we will to try and help you stuck at home get the best information we can, this is why we will not leave up a scorestrip that is not being updated. We hope our 1 shot picture can capture the scoreboard as well. We ask for your patience and know we are trying to get the best picture we can up so you can see as much as possible. It is not going to perfect by any means. We likely will learn some things along the way and we will adjust as we figure this out on the fly. Once the schedule page has been completed we will get the link out to all AD's, on our social media and a link from our current schedule page.
This is a subscription service through the NFHS and the cost is $10.99 for 30-days. This is NOT a pay per view but a 30-day subscription that gives you access not only to all three courts in Puyallup but also the games in Olympia's main gym. We are told that South Kitsap does not have the automated cameras but may be doing another form of streaming. Your subscription also is good for any other broadcast done by anyone in any state on the NFHS Network. If you happened to have relatives in another state that are competing and their games are being streamed on the NFHS you have access all for the price of $10.99. You can also cancel at any time there is no length of commitment. There is also an annual plan of $69.99 for the entire year from when you subscribe. And since this is all in District 3, District 3 will get a piece of the subscription revenue that will go toward next years District Tournaments costs when we get back to a normal schedule.
The last thing to note in this whole process is that this all happened in less than a week. Everyone had a single goal and that was to figure out how to allow our kids to play and compete, especially the Seniors. The class of 2021 has taken it on the chin more than any other class and to see the teamwork involved into getting this complex problem figured out is a testament as to why sports and all extra curricular activities are as important in our schools as basic knowledge classes. This took leadership, innovative thought, a willingness to work for a singular goal, team work, goal setting, accountability all of these principals are taught and learned through sports and extra curricular activities not in Algebra class. 
Congratulations to the SPSL and PCL and all the other athletic directors, school administrators, teachers, coaches, students, athletes and volunteers for not getting stuck on silly arguments or pretending to be a victim and instead finding a way to accomplish and way to do instead of taking the easy way out by quitting and blaming. This is truly a refreshing story we all can take something from and apply it to our own lives. Well Done!!
Photo Gallery
www.elisportsnetwork.com