1/26/2022
(University Place, WA) The Olympia Bears boys basketball team traveled to Curtis High School last Friday night for a huge match-up of divisional leaders in the SPSL 4A and ESN was there to live stream the big game. Sometimes we will also live stream the JV game if our crew can get there in time and at locations that do not have the automated cameras. 
This was one of those nights where we could get in the JV game as well and just as we started the live stream we noticed the 2 officials covering the game were not in regular officials attire. Yes, they had the black and white striped shirts but one was in gym shorts and the other in a slick pair of Dockers tan khaki pants. It was then clear by the way they officiated, just the mechanics and what we expect to see from officials during a game these two were not regular officials and indeed they were not.
Curtis Principal Tom Adams and Vikings assistant coach Bobby Moorehead stepped up to officiate because there were no officials available to call the game. We talked with Adams afterward and he said there was a mix up in getting officials assigned and so they scrambled to get varsity officials from Thurston County to come up and cover the game but that wasn't until later Friday afternoon they confirmed those officials and it was too late for them to get there in time for the JV game. So Adams and Moorehead volunteered.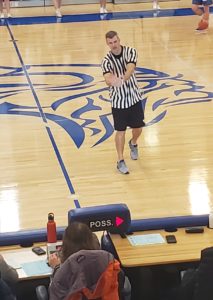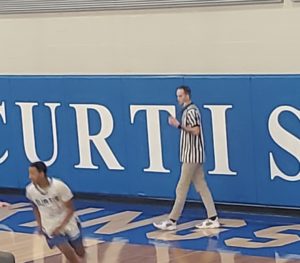 We talked with Adams after the game about stepping in so both teams kids could play…
Coming into this season the officials shortage that had been looming and slowly chipping away at the pool of referees and officials in all sports fell off a cliff when Covid hit. The Seattle Times printed a story by Evan Webeck in November of 2019 chronicling the exiting of a large number of officials over a 10-year period. The story said over 10-years from the 2009-10 season to 2018-19 more than 1,500 officials had left and the statewide pool of officials for all sports dropped to 6,153.
Then Covid hit and the exit doors opened wide for officials, especially older officials who were ready to retire and the mass exodus was on. When the Washington Officials Association did their count of officials heading into this season the number of statewide officials dropped from the 6,153 in 2019 to just less than 3,000. 50% of the officials had walked away in 20 months more than doubling the number of the previous 10 years in what was called by the National Federation of High Schools, "an exodus of officials at an alarming rate."
If losing an average of 12.5 officials a month over 10 years is an "an exodus of officials at an alarming rate.", what would you call losing an average of 150 per month over the last 20-months?
The number 1 reason remains how officials are treated by fans, coaches and players. Pay is also a concern but being verbally screamed at with deeply personal, gross insults along with an alarming increase in physical assaults on officials really make the $55 they earn for a varsity game not real enticing.
The issue on Friday night was a mix-up with this game being re-scheduled and the assignor not being notified they needed officials for the Friday night game until late. The regular basketball schedules have been turned upside down and inside out with so many cancellations due to the Covid surge plus all the snow and ice that also shut down games.
Athletic Directors' jobs are so much tougher these days than pre-pandemic, right now they are required to test all of their athletes 3 times a week. When scheduling a game they need to make sure their opponent is healthy and not just the varsity but also the JV and C teams as well. Then you have to have officials and make sure they are available and on top of that if you are traveling you have to have a bus and bus driver available or they have to work through the school board to allow players and parents to self transport to away games.
All is not lost though, regarding officials, the WOA has experienced an increase in officials especially during this past fall season. Most sports are seeing new and younger people jump in to become officials. The WOA and the WIAA are working together to help increase those numbers and made a move to pay officials faster than in the past where they wouldn't be paid until after the full season was completed. They are now paid after each game is submitted. The two agencies are also working on a pay increase across the board to help those issues in attracting new folks to put on the stripes.
There is also more focus by many schools to curtail the behavior with some having the principal or athletic director address the crowd prior to the games and reminding fans, coaches and players that without officials there is no game. They encourage fans to give the officials a break and lay off the nasty comments that have freely been flung at officials for decades.
ESN talked with several assignors of officials and they all said yes there was a mistake in this game not being notified the date was changed but all also said in years past it still would have been likely they could have covered the game much easier than what happened on this night. Two officials from Thurston County were already at their assigned games when the Pierce County assignor asked the Thurston County based assignor if he had any officials that could cover the varsity game. 
The Thurston County assignor quickly contacted two veterans understanding the Olympia-Curtis game was a big game and was able to get them to head to Curtis while filling their positions with a JV official he was comfortable with handling their already scheduled varsity game. The Pierce County assignor had 1 official coming from another game.
Then in an odd twist of fate, one of the Thurston County officials early in the 4th quarter went to the floor in pain grabbing a leg. The concern right away was an achilles issue. He was helped into the locker room by the trainers at Curtis. The good news was he walked out of the gym with a limp but under his own power and it was determined he did not have a rupture of the achilles tendon but strained it and will be out of action for at least a couple of weeks.
The oddity of officials in this game wasn't over yet though. Yes they continued the game with just 2 officials but for a short period of time. A 4th varsity official was in attendance but was himself coming off an injury and had come with the ref that got injured to watch. Officials usually always have their gear in their car and he did. So he got dressed and with about 5 minutes to go in the game he jumped in and the game came down to the final minute of play to determine the winner but it was called with no issues with a 3-man crew.
This is a snap-shot at what Athletic Directors, Officials, Assignors, the WOA and the WIAA work through every single day. It is a logistical nightmare and one that takes a lot of personal time from all of these folks. In this case the Pierce County assignor could have simply said sorry it's too late, I don't have anyone. But he didn't, he tried to solve the problem and got one official to do a game at another high school then jet out as quick as he could to get to this game. It started from there. 
His counterpart in Thurston county could have said no my guys are already working but he didn't. These officials who were already dressed and at Black Hills High School and Timberline High School could have said no when they were asked if they could do this game and were also asked not to ask questions but it will be explained later. Both officials said yes, made the arrangements with their crew they were originally assigned, two other JV officials agreed to stay and work the varsity games to fill their spots and they both drove their own cars 30+ miles and 45 minutes to get to this game so it could be played. For $55.
All of that effort and the assignor who was doing his own game could have easily not answered his phone or said sorry it's too late. Any one of the 3 officials who said they would help could have easily said sorry it's too late. These guys were not lounging around waiting for a last second game to open up so they could work, they already were working and were at their games. The 4th official who jumped in after his friend got hurt could have easily said I'm not ready yet can't do it. He likely didn't get paid at all for jumping in as a replacement and certainly wasn't expecting to if he did when he didn't hesitate to fill in.
It's easy to show up at a game, scream at officials, take everything personally like these folks got up that day targeting you or your kid or your team. But in the end the folks doing this job don't want to be fawned over or told how thankful people are for them to do this or need a huge pat on the back. There is a reason none of their names are in this story, there is a reason ESN never announces the names of officials during our broadcasts and that is all they want to do is call the game, not be screamed at when they make a mistake or when fans and coaches "think" they made a mistake. Really is that too much to ask so your kid can play?
www.elisportsnetwork.com