4/6/2022
In such a negative world it is a breath of fresh air to know there are still a lot of great people in this world. It was the summer of 2020, we had been shut down for a few months, we lost all of our Spring sports and schools went to remote learning due to Covid. The summer came and drive thru graduations and social distanced grad parties were the norm.
But it was also a terrible summer as we lost 4 young men all in a row beginning with Tyrenn Smith from Kentwood High School. Tyrenn died in a tragic car accident on the night before he was flying to Phoenix to rejoin his Mom and Sister after deciding to move for his Senior year. Mt Si's Dillon Garnes then passed from an unknown medical condition, Dillon simply went to sleep and never woke up. Eli Sevener from Puyallup died due to complications from Covid and Max Aunese, fresh off his graduation from Timberline High School died in a swimming accident with friends on hot July afternoon.
I wrote tribute stories about Tyrenn and Max. Danna McCall of "Living Snoqualmie" news wrote a beautiful tribute to Dillon and Eli's brother Zach wrote many beautiful things about his brother. We have linked their stories all below.
Max Aunese
Tyrenn Smith
Dillon Garnes
Eli Sevener
Commentary on "Souls of Hope"
However, the reason we are writing this update is to spread the message in these very negative times we are all living in that goodness and empathy remain a big part of the human experience. It's so easy to divide and point fingers and decide someone or groups of people are not worth our time to care for and easily dismiss people because of status whether it be money or ego driven. It is much harder to bring people together these days because it's all about our differences instead of our agreements. It is easier to ignore and simply worry about what impacts us as individuals.
Fortunately it may feel like that but recently we had the joy and privilege to prove that people still do have empathy, people still do care about people they don't even know and will go to lengths to help people even if it's to simply put a smile on someone's face.
Max Aunese's 1st name is Maximus and his Mom, Mita named him after the lead character in Gladiator played by Russell Crowe. Mita said she loved that character and it represented how she wanted her son to be, independent, brave and a leader. Max was growing into that kind of young man and you can read about his 18 year journey in the tribute story linked above.
As we were writing and putting Max's story together including a several hour long zoom meeting with Mita and Max's family we got the idea if there was a way to find someone from the "Gladiator" movie production to see if there was anything they may be able to send the family.
It took some doing and a lot of internet detective work but we found an e-mail. We sent a note explaining what we were doing and why and it was a shot in the dark for sure. We had no expectation that we would hear back from this lady or anyone as we had asked her to forward our message if she was not the person to try and get something done.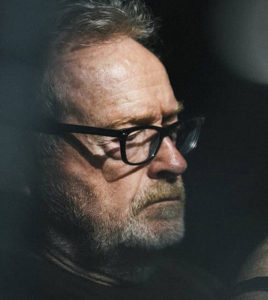 Then a few days later I get a note from Stephanie Stephens who works at R S A Films the production company begun by Ridley and Tony Scott. Ridley Scott directed Gladiator among a string of unbelievable films from Thelma and Louise to Black Hawk Down. Stephanie from the start was taken by Max's story and was determined to make something happen. She told us to hang on and she will work on this.
We finished our tribute story and sent her a link. After reading the story Stephanie said she was definitely going to make something happen. As she began to work behind the scenes she quickly found with all the Covid shutdowns this was not going to be an easy task. We knew she had tried her best and after several months we just figured it was too much and although were a bit disappointed we knew it was a longshot at best to begin with and appreciated Stephanie caring enough to try.
Then last summer we get an e-mail from Stephanie and she said she was still working on this and had not given up. Our hopes were back up and we waited. Once again weeks and then a few months would go by and then just before Christmas Stephanie sent a note saying something was on its way. It was a one of a kind piece of art for the movie but she said she could not get anyone to sign it but didn't want to wait any longer to get it to us.
We contacted Mita to find out when we could meet up but she wrote back that she wouldn't be home until after the new year because she is in the Army and was deployed overseas. We asked if she wanted to know why and what we had for her and she said yes so we sent her a picture and the background story and she responded that she was so happy and in tears.
Mita then sent me a message on February 1st saying she was back and wanted to know when we could meet. We had to tell her it would be at least a couple of weeks because Covid was running through ESN at that time and several of us took a hit with the flu-like symptoms and we had to wait.
Then another message came from Stephanie that blew us away. She said we will be receiving another package from the R S A studios in Hollywood. She wouldn't tell us what is was but a few days later a big tube came to the door. We opened it and unfurled a huge movie poster, the size you see at the theaters. It was a Gladiator movie poster and on the front of it was written "In Memory of Maximus" and signed "Ridley Scott".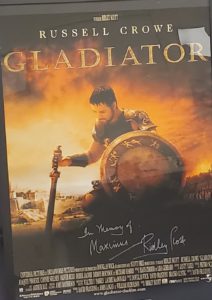 Yes we were looking at a theater poster of the 2001 Academy Award winning Best Picture, Best Actor and Best Director along with 9 other Academy awards and the Oscar winning director Ridley Scott had taken time to listen to Max's story and then signed the poster for Max's family. Stephanie said this would have happened much sooner but Scott had been on location shooting a movie and it was a closed set because of the Covid precautions.
We told Mita we were going to delay again our meeting as we scrambled to find a frame large enough to hold the poster. Finally the day arrived a Monday evening on February 21st in the ESN office and Mita and her husband and Max's step-father "Goody" Goodman stepped in. We had hidden the movie poster and Mita had no idea what it was. She already knew of the 1st piece and we gave it her and she teared up and was so thankful.
We then pushed over a box of Kleenex to her and told her to get ready because we still couldn't believe what we were about to present to her. We pulled back the cover and her face was frozen in time, in shock. In that short amount of time as she was processing what she was looking at you could see her go through so many emotions and feelings her body literally needed time to catch up with what she was taking in.
Then her eyes met the message and signature and she broke down into tears. She was not the only one, the room was filled with tears and hugs as emotions were raw and real. She wanted to know how this happened and we simply said it was people who were touched by your son's story that not only got them to try to do something but then kept pushing and never giving up. It is an emotional and unexpected effort by folks who never had to open an unfamiliar e-mail let alone read it. Stephanie Stephens is the one who made this happen and we can not give her enough thanks for all her work.
A special thanks to Ridley Scott for simply taking the time to listen and allow Max's story to be heard and to acknowledge him in such an impactful way. It was an amazing day.
To be honest the main reason we even attempted to do this was what had happened a few months prior when Tyrenn died and we wrote that tribute story. Tyrenn was going to be a senior and was headed to Phoenix to be with his mom, sister and niece. He had dreamed of playing football for Arizona State and coach Herm Edwards. Tyrenn was tragically killed the night before he was to fly to Phoenix and reunite with his family.
We sent a generic e-mail to the ASU athletic department with little hope of anyone seeing it let alone answering. But in less than an hour ASU assistant Athletic Director Mark Brand reached out to us and wanted more details. We sent him our tribute story and he said everyone was gone at this time but would be sure to run this past Coach Herm Edwards. He said he would find out what they could do and because it is the NCAA they also needed to make sure whatever they did was in compliance with their rules.
It took a couple of months but we got an e-mail from Kentwood Head Football coach Michael Bush and shared pictures of what Coach Edwards and ASU did for Tyrenn's Mom. They had an ASU jersey made with his number and name on it plus a hand-written note from Coach Edwards.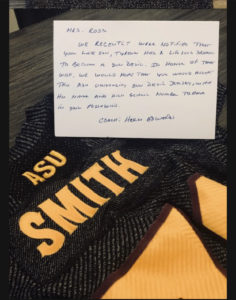 This again would have been easy for someone in Mark Brand's position to simply delete the e-mail and pretend no one ever saw it. The easy thing is to not care, to ignore and just let it go away. So much easier to be self important, selfish and uncaring and unempathetic. At least we are led to believe these are the easier choices especially in this narcissistic society we currently live in.
When we take on stories such as the tragic deaths of young people taken from us so early and so filled with promise one can't help but to ask the magic question…why? Again to go negative is so easy and frankly lazy. But maybe, what we refer to as these "Souls of Hope" were here to restore our faith in humanity and restore our belief good people not only still exist but are truly here and care.
Both Ridley Scott and Herm Edwards would no way have ever known about Max or Tyrenn without the others they have surrounded themselves with, like Stephanie Stephens and Mark Brand. The reason we believe either Stephanie or Mark took on a project with nothing to personally gain and then saw it through was due to their own humanity which clearly is embraced by both the bosses in Ridley Scott and Herm Edwards. Both Stephanie and Mark would know first hand whether such a request that we made was of interest to the decision makers or not. It is clear to us what kind of environment and culture both Mr Scott and Mr Edwards are and have created in their workplaces.
This process has re-vitalized many people's belief that goodness remains a constant in the American spirit and overall human spirit. Regardless of the negativity that politics and mainstream media want us to wallow in on a daily basis there are really good people at all levels of our society doing good things. 
We cannot thank Ridley Scott, Herm Edwards and especially Stephanie Stephens and Mark Brand enough for their efforts to help bring a simple smile to the faces of Max and Tyrenn's loved ones. Their actions are a daily reminder and validation to these families of Max and Tyrenn, that their short lives were meaningful and they are not just a statistic.
We hope reading this helps everyone believe in the goodness we are surrounded by and cut through the nastiness and negativity. Good people doing great things together is the American way. 
Photo Gallery
www.elisportsnetwork.com