4/10/2022
The race of the year in 2021 at Emerald Downs was clearly the Longacres Mile. Background with former Emerald Downs Champion jockey Rocco Bowen came home to run in the Grade 3 Northwest Classic and came flying late down the stretch to nip Windribbon to give Bowen his 1st Mile win and owners Bob and Molly Rondeau their first Mile win.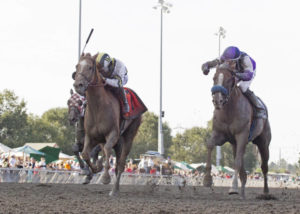 This was trainer Mike Puhich's 2nd Mile victory. Puhich and the Rondeau's had found Background in Florida and purchased him in a private sale. After running him through 2020 mostly at Oaklawn Park in Arkansas and Arlington near Chicago they drew up their 2021 plans with the thought of returning to the Northwest to take a shot at the Longacres Mile.
Of course seasonal plans many times get disrupted, maybe the horse doesn't run to expectations or better yet runs over expectations. Maybe they deal with a minor injury or sickness and disrupts the overall plan, more things have to go right for a plan to succeed. In 2021 the Background connections couldn't have asked for a more perfect year for Background capping it with the Longacres Mile trophy going to NW owners and trainer.
The connections sent Background to the showers after the Longacres Mile win and he hung out with Puhich until it was time to get back to work to prepare for the 2022 season. Puhich and the Rondeau's aimed to return again to Oaklawn Park and Rocco Bowen got on board for a 5 and half furlong allowance optional claiming sprint. Background ran a very even 5th at 14-1 finishing about 9 lengths behind the winner but just 4 1/2 lengths out of 2nd place, a fair effort off the lay-off.

His 2nd time out also saw a rider change to Geovanni Franco. Despite his slow start and huge closing win in the Longacres Mile, Rondeau told ESN that he usually does not get that far behind and in his 2022 debut broke 4th and finished 5th. In his 2nd start Franco hustled him out early in the mile and 16th distance and settled into 2nd place. As they headed down the backstretch Franco let Background cruise to the lead and battled Wells Bayou for the lead.
Background turned away Wells Bayou but heavy favorite Market Analysis engaged Background near the top of the stretch and Market Analysis was too much for Background and pulled away for a 3 length victory while Background was a clear 2nd, this time he was bet at 8-1.
Background was entered to run his 3rd race of the year in a flat mile on Arkansas Derby Day. With a crowd of 60,000+ the 100k allowance optional claiming was the 4th race on the card. There was a 1-1 big favorite in the field of 8 in Gun It and Background was the 3rd favorite at 7-1. It was a toss up race after the favorite with the 2nd favorite at 4-1 then 5 horses between 7-1 and 10-1 and the longshot at 17-1.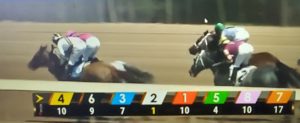 As the gates opened Franco again aboard broke Background quickly this time from the 3 hole and had a slim early lead. 10-1 Fact Finding went with Background to his outside and edged to the front on the 1st turn. All down the backstretch the 2 squared off head and head while laying down pretty quick fractions of :23 and :46.3 for the half.
Wells Bayou who ran behind Background in their last race, laid off in perfect position about a length and a half off the pair. As they hit the far turn Franco let Background out a little more and began pulling away from Fact Finding who threw in the towel and finished 6th. Wells Bayou remained in striking distance and 10-1 Twilight Blue began closing from far back with favorite Gun It moving up on the rail only to flatten out and miss the board entirely.
They were all waiting for Background to hit the wall but instead Franco found another gear and Background began pulling away extending his lead to a length and a half and eventually winning by a clear length and a quarter. The win added nearly $65,000 to Background's earnings pushing his lifetime bankroll to more than 375k. It was his 5th win from 17 starts and has a career mark of 5-3-4.
We asked Rondeau if he was concerned with the front speed duel Background got into with Fact Finding and how he was feeling as they began to close at the top of the stretch. Rondeau said "Quite honestly it might have been his most comfortable race since he broke his maiden.  And, by the way,  that was a very, very nice bunch of horses he beat. Super proud of  how he ran."
Rondeau said that Background's run in the Longacres Mile is the race that raised the blood pressure after his slow start and ran a race they completely did not expect. He said he felt the Oaklawn track was favoring speed on this day and once they turned for home he truly believed the race was over.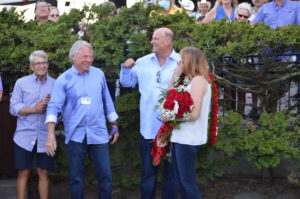 So we wanted to know if the Longacres Mile was still on their list of races they'd like to get Background in and Rondeau says it's too early to say at this time but in the shorter term they hope to get one more in at Oaklawn before shifting to Churchill Downs. Rondeau says they will let Background tell them when he's ready to go again as he runs so hard every time. Rondeau says they are also considering giving the turf a shot to see how he does on grass.
Rondeau says the Longacres Mile is certainly a consideration and would love to come back and defend his title and become just the 4th horse in the 80+ years of the Mile to win it back-to-back. Trooper Seven did it first at Longacres in 1980 and 81, Simply Majestic also at Longacres in 1988 and 89 and Stryker PHD at Emerald Downs in 2014 and 15.
Rondeau says if he stays healthy and on track plus the purse for the 2022 Mile is up $50,000 from last year to a total of $150,000 makes it a little more attractive as well.
Rondeau says he and his wife Molly of Giddyup Stables co-own a Washington bred 2-year-old with Dr. Mark Dedomenico under the care of Puhich who picked out the filly at last summer's sale and hopes she will be ready for her debut this season at the Auburn oval.
Background wins at Oaklawn Park
www.elisportsnetwork.com