4/20/2022
(Lakewood, WA) It was 1 vs 2 last night in SPSL 2A boys soccer and the Franklin Pierce Cardinals were looking to extend their winning streak to 10-0-1. The Clover Park Timberwolves came in just a game behind in the win column but 3 back in losses with an 8-3 record. The T-Wolves had already lost to F-P 1-0 earlier in the season and any chance of catching the Cardinals meant this was a must win. But a tie would also help them hold on to 2nd place.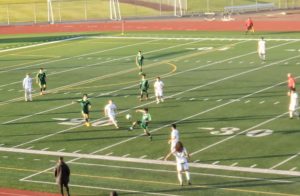 The Cardinals and Clover Park both had chances in the 1st half but neither could find the back of the net as both keepers, Hunter Thompson for F-P and Enbelbar Piza for the Timberwolves were stingy in the box. Both teams backlines were also especially aggressive keeping the match scoreless at the half.
In the 2nd half the T-Wolves got a golden opportunity to take a lead on Franklin Pierce when they were fouled in the box setting up a penalty kick. Freshman Aaron Calvo-Guillen set up the kick and chose to go straight at Thompson trying to get him to choose a side when he lifted hard shot just a few inches high and it bounced off the crossbar. 
Franklin Pierce would also have their own opportunities and on a free kick from the left side of the field at about the 30 yard line Logan Sams lifted a beautiful lob deep into the box and Preston Soeum was on the other end and headed it past Piza.
That 1-0 lead would hold up and the Cardinals would have turned back Clover Park for the 2nd time this season with identical 1-0 scores. The Cards are now 10-0-1 with 5 matches still to play but they hold a commanding 4-0 lead in the loss column over Clover Park who drops to 8-4. The Timberwolves remain a half game in front of Fife for 2nd place. F-P will play at Foss next on Friday and Clover Park will also next play at Foss but not until next Tuesday on the 26th.
Our ESN MVP's went to Franklin Pierce's Logan Sams and Clover Park's Engelbar Piza.
Video Highlights below
The ESN Post Game show
Clover Park just misses a big opportunity
The Cardinals knock in the winning goal
T-Wolves keeper with a big late save to keep C-P in the match
www.elisportsnetwork.com