6/28/2022
(Auburn, Wa) One of the fun things about being at the track on any given day you never know who may be there. Over the years we ran into folks like Seahawks legend Steve Largent and back in 1998 or so he was a Congressman and had a colleague from South Carolina with him and now Senator Lindsay Graham. Also t the track to name a few were former Sonics head coach George Karl, former Sonic Detlef Schrempf, former Mariners manager and MLB great Lou Piniella, Seahawks great Mike Tice and the most intimidating run-in with 2 high profile names especially at the time New York Yankees manager Joe Torre and coach Don Zimmer. Torre decked out in a black with white pin striped suit, hair greased back and cigar in his mouth.
Just a sprinkling of folks who have placed a bet or two at Emerald Downs plus many big time jockey's themselves including Gary Stevens, Laffit Pincay Jr, Eddie Delahoussaye, Alex Solis and Garret Gomez to name just a few.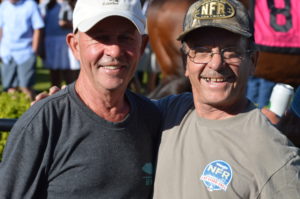 On Sunday most would not put these two in the category of many of those other names  but in the Northwest there are not many bigger names in the horse racing business than our own Gallyn Mitchell and the Pride of Vancouver Chris Loseth. When first spotted I thought they must be here on purpose at the same time and watching from a distance saw them spot each other and their eyes popped and huge grins and they welcomed each other like long lost friends. So this was an amazing chance meeting right in front of me.
I asked for a picture and they were gracious enough to pose and it was great seeing a huge part of not only Northwest in general but Emerald Downs history standing in the unfamiliar position of outside the paddock instead of in.

Here is just a snap shot of both of these great riders history and the mark they left on NW racing.
Chris Loseth
Loseth began riding prior to 1976 but Equibase only lists "prior" to 1976 he had 759 mounts, Loseth then rode 22 straight years from 76-1997 with at least 697 mounts with the most in 1985 when he took 1,543 to the gates. In 1998 to 2004 he rode between a low of 407 to a high of 552 and in his final year in 2005 got in 75 races and then decided it was time to step away. He rode a minimum of 30 years on got in the saddle 26,055 times. 3,665 times those rides ended with a picture in the winner's circle or a career win rate of 14%.He finished with 3,429 2nds and showed 3,126 times for a 39% career in the money rate.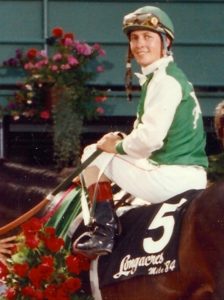 Loseth earned $32,631,328 in career purse money. Much of that earned in the biggest of races being a multiple graded stakes winner including 2 Longacres Miles. One at Longacres in 1984 aboard Traveling Victor and his second was in 1997 aboard Kid Katabatic. Other big time horses for Loseth included Delta Colleen, Police Inspector, Ever Lasting, Bedside Promise and Name for Norm.
In his win aboard Kid Katabatic in the grade 3 Longacres Mile in 1997 Loseth took the Kid straight to the lead, drew away for a 3 length lead at the top of the stretch and held off the heavy 2-5 favorite Hesabull and Gary Stevens. The 6-1 3rd choice set a track record that day running the once around in a blistering 1:34.20. Shauna Van Oostdam was the owner, trainer and part of the breeding team.
Loseth's final win came in an allowance race at Hastings on June 12, 2005 in a wire-to-wire win with April Foolish in a 6 1/2 furlong run. Loseth won the Sovereign Outstanding Apprentice Jockey in 1976 and in 1984 he won the Sovereign award for Outstanding Jockey in Canada.
1997 Longacres Mile Kid Katabatic and Chris Loseth
Gallyn Mitchell
Gallyn  Mitchell began his riding career with just 7 mounts in 1980 and then got his 1st win on his 14th mount with My Dutchess at Santa Anita. Shortly after he relocated to Washington State and settled in at Longacres. He won his 1st race at Longacres on Kay's Eager in a claiming race on May 7, 1981, his 8th ride at Longacres and 2nd career win. He rode his 1st stakes race on Beaubongo in the B. Marcus Priteca Handicap and finished 4th. Then 1 year later Mitchell would win his 1st ever Stakes race at Longacres in, yes, the B. Marcus Priteca Handicap in 1982 aboard Iron Billy.
Just a side note for those wondering who B. Marcus Priteca is, he was a renowned architect who designed the Pantages theaters including the 1st one in San Francisco and the theaters in Seattle and Tacoma. Joe Gottstein then hired him in 1933 to design the Longacres Clubhouse and Grandstands.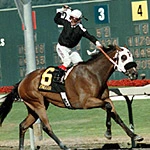 Mitchell would not hit 100 wins in a season until 1993 and would reel off 10 straight years ranging from 100 wins to 193 in 1995. During the opening year at Emerald Mitchell would ride 956 and win 176. Over his career Mitchell rode 17,864 races with 2,757 wins, 2,594 places and 2,510 3rds. This is a career win rate of 15% and in the money 44%. His career earnings were $22,267,550. Mitchell was also a multiple graded stakes winner and also won 2 Longacres Miles both at Emerald Downs.
His 1st win at Emerald was on day 3 aboard 9-1 Heavens Yes for trainer David Bennett. His 1st Stakes win at Emerald would come on August 4, 1996 aboard C. E. Richardson's Jazzie Act at 14-1 in the Tacoma Handicap for trainer Tom Wenzel.
In 2000, Mitchell would get the call on Edneator for Hall of Fame trainer Jim Penney and owners the Jack and Jill stable. No one gave the duo much of a chance letting him go at 41-1. Mitchell would send Edneator to the lead and never give it up setting a new track record with a time of 1:33.20.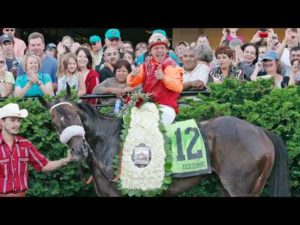 Mitchell would get Mile #2 in 2009 for trainer Howard Belvoir who had just won the Mile for the 1st time the year before with Wasserman who he also owned. Wasserman was back to defend his title with regular rider Jennifer Whitaker. But Belvoir had a 2nd contender for owner's the Tice ranch, Assessment. Belvoir called on Mitchell to take the reins and sit mid-pack on the 7-1 shot then made his move and came over the top for a 3/4 length win over the favorite Awesome Gem with Russell Baze. Wasserman was coming from further back and finished 4th just a 1 1/4 from the win.
Another big race for Mitchell was winning the Ark-La-Tex Handicap at Louisiana Downs on Mocha Express and winning the British Columbia Derby on Winning Machine for trainer Doris Harwood. In an interesting twist as Mitchell and Harwood won this stakes in Canada, both remain the winningest stakes jockey and trainer in Emerald Downs history. Harwood has 67 Stakes win to her credit and Mitchell leads all riders with 80. Mitchell was also the all-time wins leader with 1,419 but is now 2nd to Juan Gutierrez. Gutierrez passed Mitchell on Wednesday, August 14, 2020 with his 1,420th win.
We asked both Loseth and Mitchell if they were going to pull a Kevin Radke and come out of retirement to ride again. Mitchell said well Kevin is making it look easy but the short answer to that question is..no. Loseth simply chuckled and shook his head.
Seeing these two great athletes that were responsible for so much history of horse racing in the Northwest just is a reminder of how lucky we really are to have Emerald Downs here still racing in some very challenging times. It was simply great to get to take moment walking down memory lane.
2000 Longacres Mile Edneator with Gallyn Mitchell
2009 Longacres Mile Assessment with Gallyn Mitchell
www.elisportsnetwork.com