9/19/22
Mariners 9, Angels 1
(Los Angeles, CA) One position you don't want to find yourself in is trying to avoid being swept in a four-game series while battling for a playoff spot. That was the position that the Seattle Mariners were in on Monday afternoon when they finished up the season series with a heated rival in the Los Angeles Angels. With a still beat up lineup, the Mariners would need Logan Gilbert to continue his hot streak on the mound lately. He would do just that and the bats would explode as the Mariners cruised to a 9-1 win.
This time, it would be the Mariners getting off to a fast start. In the top of the 1st, J.P. Crawford singled to center to leadoff the ball game. After a Mitch Haniger strikeout, All-Star first baseman Ty France stepped to the plate and would line a shot down the left field line. Crawford got a fantastic jump and would score from first as France recorded his 24th double of the season. Three batters into the game and the M's had a 1-0 lead.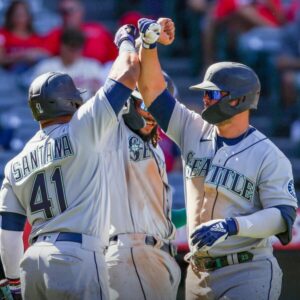 The offensive explosion came in the top of the 5th. A one out walk by catcher Curt Casali looked like it would be pitched around when Crawford struck out swinging for the second out. That was not the case at all. Mitch Haniger would single to left to extend the inning and Ty France was once again hit by a pitch to load the bases with two outs. It would be the veteran Carlos Santana getting some retribution for France and making the Angels pay for the hit batter. Santana would hit one over the Mariner bullpen in left center for a grand slam. The 18th home run of the season for Santana was his fifth career grand slam and gave Logan Gilbert plenty of breathing room with a now 5-0 Seattle lead.
Gilbert would finally get in some trouble in the bottom of the 6th. A one-out double by Shohei Ohtani set the table for Matt Duffy. Duffy would then reach on a double, but Ohtani did not get a good read on the ball so he was held at third. Taylor Ward capitalized on the opportunity with a sacrifice fly to Dylan Moore in center field. Ohtani scored and Duffy moved to third with two outs and the score now 5-1. Gilbert would then finish the inning and his outing with his career high 11th strikeout as he blew a fastball by Matt Thaiss to end the inning.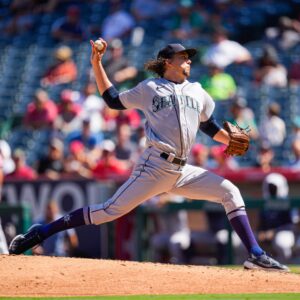 Logan Gilbert has rediscovered the early season dominance that he had in April. Since the calendar flipped to the month of September, Gilbert has made four starts and gone 23 innings on the mound, allowing just 15 hits and only two runs while walking five and striking out 34 batters. It is an unbelievable stretch that the Mariners hope will carry over into October.
While Gilbert wasn't happy about giving up the lone Angels run, the offense would get it back plus a couple in the top of the 7th. J.P. Crawford was hit by a pitch to lead off the inning and Mitch Haniger followed with a walk. With runners on first and second with nobody out, Ty France would get some payback of his own. An injured wrist wouldn't stop France from hitting a three-run home run to left center field to bust this game open. It would be France's 20th home run on the year and the Mariners were up big at 8-1.
That lead was in danger of shrinking in the bottom of the 8th. The Angels loaded the bases with only one out and Diego Castillo was in charge of getting out of the tough spot. Things would get much easier when Taylor Ward popped one up to Adam Frazier at second for an infield fly for out number two. Again, it would be a strikeout of Matt Thaiss ending the inning and helping the Mariners tiptoe out of danger once again.
Carlos Santana would leadoff the top of the 9th with his second home run of the game and 19th of the season to make it 9-1 going into the bottom of the 9th. Penn Murfee came in to try to record the final three outs but a walk to Mike Ford and a single by Mickey Moniak was not the start to the inning that he had envisioned. Murfee would dial it in as he struck out Livan Soto and got Magneuris Sierra to flyout to Jake Lamb in right for two big outs. Michael Stefanic would then hit a line drive to left field, but Sam Haggerty would make the play to end the ballgame and help Seattle avoid the sweep 9-1.
Seattle (81-65) powered through a rough weekend but need to get things under control and get some key bats back for the stretch run. Seattle still holds the final American League Wild Card spot five games ahead of Baltimore. The M's trail Tampa Bay by just half a game and Toronto by 1.5 games in the race for October. The M's will now head to Oakland for a three-game series with the Oakland Athletics. Game one is scheduled for Tuesday at 6:40pm when Luis Castillo (7-5, 2.68 ERA) looks for some revenge against the A's and their starter JP Sears (5-2, 3.90 ERA). Sears and the A's beat Castillo and the Mariners back on August 21st 5-3. Castillo gave up four runs in five innings in that game while Sears went five innings of one run ball.
Matt's Takeaway
That was refreshing. It was still a bad series but things could have been much worse given the circumstances. It sounds like Julio Rodriguez will be good to go in Oakland and Cal Raleigh might not be far behind. Right now it is all about the Mariners keeping Baltimore 4+ games behind them. If they let the O's get any closer than that, panic could set in. Look for Seattle to go into Oakland with a chip on their shoulder from the last trip to Northern California and to take care of business.
Notable Performences
Mariners
Carlos Santana- 2-5, 2 HR, 5 RBI, 2 R
Ty France- 2-4, 2B, HR, 4 RBI, 2 R
Logan Gilbert (W, 13-6)- 6 IP, 4 H, 1 R, 1 ER, 1 BB, 11 SO
Angels
Shohei Ohtani- 2-4, 2B, R
Taylor Ward- 1-3, RBI
Jose Suarez (L, 6-8)- 5 IP, 7 H, 5 R, 5 ER, 1 BB, 4 SO
Notable Performences
The Mariners and Angels have concluded their season series. The Mariners did not have as much success against the Angels as Los Angeles takes the season series 10-9.
elisportsnetwork.com