10/7/22
Mariners 4, Blue Jays 0
(Toronto, ON) It had been 7,655 days since the Seattle Mariners last took the field for an MLB playoff game. On October 22nd, 2001, Aaron Sele took the mound and was rocked by the New York Yankees to end the Mariners dream season. Fast forward to the present. Luis Castillo took the mound as the Mariners looked to announce that they aren't just happy to be there, but they want to make a run. Unlike Sele, Castillo was flat our dominant and the M's jumped on Alek Manoah early as the Mariners took game one in Toronto shutting out the high-powered Blue Jay lineup 4-0.
Julio Rodriguez was making his highly anticipated playoff debut and the 21-year-old didn't exactly have the dream start to lead off game one in the Rogers Centre. J-Rod was hit by a pitch but luckily was injured and happily took his base. Ty France moved him to second with a weak groundout and the Mariners already had a runner in scoring position. Alek Manoah had dominated right-handed batters all season so he was expected to have the upper hand against Eugenio Suarez. He in fact did not. Suarez smashed one down into right field towards the corner. Rodriguez scored easily from second and Suarez had an RBI double to make it 1-0 Mariners. Cal Raleigh was the next batter and would work the count full as he awaited the seventh pitch. That would be a sinker in the middle of the plate and the Mariner catcher did not miss. Raleigh hit a high drive to right field and it would carry out of the park for a two-run shot. Four batters in and the Mariners had a 3-0 lead.
After Luis Castillo pitched a 1-2-3 bottom of the 1st, Seattle put together another threat in the top of the 2nd. A one out single by Adam Frazier was followed by a walk by J.P. Crawford. Manoah would settle in after that with a strikeout of Julio Rodriguez and a fly out by Ty France to end the inning. Castillo would pitch around a couple of hits in the bottom of the 2nd thanks to a 5-4-3 double play for a couple of scoreless innings.
Toronto had a couple of two out singled in the 3rd, but both starters were rolling headed into the 5th. With one out, Julio Rodriguez was once again hit by a pitch to give the Mariners a speedy baserunner. Ty France followed with a vintage Ty France base hit slapping one the other way for a single. J-Rod reached third with just one out. Eugenio Suarez dug in looking for his second RBI and he would find it. A soft chopper to Matt Chapman at third helped Toronto cut down France at second but they had no chance to get Suarez at first and Rodriguez came in to score to make it 4-0 Seattle.
Toronto had something cooking in the home half of the 5th. Back-to-back two out singles by Whit Merrifield and George Springer had runners on first and second with two outs. Castillo once again did not panic and executed his pitches against Bo Bichette. Bichette would get jammed and hit a chopper to Adam Frazier at second to end the inning and keep it 4-0 Mariners.
Luis Castillo continued to dominate and seemed to get better as the game went on. With not many strikeouts like Castillo normally sees, the bottom of the 7th would inflate his punchout total. Castillo struck out the side by sitting down Matt Chapman, Raimel Tapia, and Danny Jansen in order with 18 pitches. Castillo hit a batter in the bottom of the 8th after recording the first out and that was the end of the day for La Piedra. The Mariner ace went 7.1 scoreless innings with six hits allowed but no walks and five strikeouts. It was exactly what you want from your game one starter and Andrés Muñoz came in to finish the bottom of the 8th.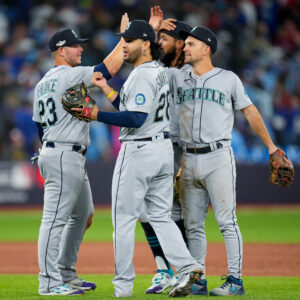 Muñoz was tasked with finishing off the game one matchup for the Mariners and try to put them in the driver's seat for the Wild Card round. He was well on his way to doing so with back-to-back strikeouts of Alejandro Kirk and Teoscar Hernandez to start the bottom of the 9th. Toronto wouldn't go quietly as Matt Chapman doubled to left and moved to third on a Muñoz wild pitch. It would not matter. Raimel Tapia grounded out to Frazier at second to end the game and give the Mariners a 4-0 win.
Seattle takes a 1-0 series lead over Toronto in this best of three showdown. Game two of the American League Wild Card Series will take place on Saturday at 1:07pm. Robbie Ray (12-12, 3.71 ERA) will face his former team and try to send the Mariners to the ALDS with a win. To do so, the lefty will have to outduel Kevin Gausman (12-10, 3.35 ERA) who tries to keep Toronto alive in his first season with the team.
Notable Performences
Mariners
Luis Castillo (W)- 7.1 IP, 6 H, 0 R, 0 ER, 0 BB, 5 SO
Cal Raleigh- 1-4, HR, 2 RBI, R
Eugenio Suarez- 2-4, 2B, 2 RBI, R
Blue Jays
George Springer- 2-3
Matt Chapman- 2-4, 2B
Alek Manoah (L)- 5.2 IP, 4 H, 4 R, 4 ER, 1 BB, 4 SO
Matt's Takeaway
That was so much fun. The offense was obviously the concern coming into the postseason and they jumped on a really good pitcher in Alek Manoah right away. Luis Castillo is obviously the talk of this game. The Mariners went all in when they acquired him back in July solidifying this rotation not just for this year but for the next five years after signing him to an extension. Games like this is why you need that really dominant ace. There was never a doubt that Castillo wouldn't be able to handle this moment. He went stronger as the game went on and had control of the strike zone the entire time. It was a brilliant performance. He really does give the same energy and vibes as Felix Hernandez did a decade ago.
Let's talk about that defense though. These guys were the unsung heroes of this game. They were all making some tough plays to back Castillo but there were two that stood out. The first was Mitch Haniger cutting off a ball in the gap which turned a double into a single. J.P. Crawford also made a diving stop on a groundball that didn't result in an out, but it did prevent the runner from going to third. Those two plays saved runs. Those are the little things that win playoff games and the Mariners made all of those plays in what was most of the team's first playoff game.
Headed into game two the M's have a chance to advance to take on the dreaded Houston Astros. Game two will be much more difficult because the Blue Jays have their backs up against the wall. The offense needs to continue to put pressure on Toronto and Kevin Gausman and the Mariners need the dominant Robbie Ray that we have seen in stretches this season. They have two chances to win a game. With a rested bullpen, they need to just keep one of them close late and I really like their chances to do that.
elisportsnetwork.com