2/15/2023
(Federal Way, WA) The State boys Swimming and Diving meet begins Thursday morning at the Federal Way King County Aquatic Center. The diving competition is on Thursday with swim preliminaries on Friday and swim finals on Saturday. The 4A classification will get the early shift this year as they rotate the times each year. So 4A diving will begin at 8:30am, the 2A/1A at 1pm and the 3A diving at 5:30pm. Similar schedules will follow on Friday and Saturday for the swim competition.
In the 4A competition, the Curtis Vikings are the defending Champions winning for the 1st time since 1992. Looking at the qualifying times it looks like the Vikings will have to come up with a huge effort to defend their title. However, the 4A also looks wide open with teams like Skyline who won back-to-back in 2019 and 2020, Camas with team championships in 2017-2018 and Newport who won 3 in a row from 2014-2016. The 4A could come down to the wire and should be a great meet watch and follow.
The 3A team competition has been dominated by Mercer Island with a total of 8 state titles taking 6 in a row from 2006-2011 and back to back in 2020 and last year in 2022. Bainbridge had a solid run from 2017-2019 winning 3 straight. The Islanders are set to defend their title but will be challenged this year with teams like Bellevue and Lakeside with championship pedigree fielding strong qualifiers along with some outliers in Ingraham, Hazen and Lake Washington.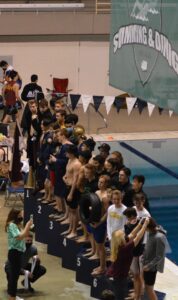 Anacortes won their 4th State Championship last year in the 2A/1A, only Sehome has won as many in this newest of the 3 classifications that began in 2009. The Seahawks will have their hands full trying to repeat as Pullman returns a ton of swimmers and come in with a large number of top end qualifiers. The Greyhounds look primed to win their 1st state title and the likely favorite coming into this week's competition. Anacortes won't go down without a strong battle though and it will be interesting how this one plays out and if a darkhorse could come swooping in.
In the diving competitions both the 4A and 3A will crown new champions as both Issaquah's Robert Gref and Stadium's Nicolo Ponnekanti graduating leaving Anacortes's Zephy Blee as the lone defending champ in the event at the 2A level.
Tickets to attend state swimming are just $20 for an all tournament pass for adults and $14 for seniors, military and students or $11 for adults per day and $8 for seniors, military and students. You must buy your tickets on-line at this link:  https://wiaa.com/subcontent.aspx?SecID=332
If you can't get to the meets you can watch live or later on demand on the NFHS Network. Eli Sports will be there with live commentary and full coverage all 3 days. Cost is $11.99 for a 30-day subscription or $79.99 for an annual pass. You only pay this once and if you already have a subscription you do NOT have to pay again you are ready to go. Remember you can cancel at any time, there is no long term commitment.
To watch the Diving and Preliminary Swimming events on Thursday and Friday go to this link to watch and or subscribe to watch: https://www.nfhsnetwork.com/affiliates/eli-sports-network
For Saturday's Final Swimming events go to this link: https://www.nfhsnetwork.com/associations/wiaa-wa
www.elisportsnetwork.com