5/13/23
Mariners 5, Tigers 0
(Detroit, MI) Bryce Miller made waves in his MLB debut over a week ago when he dominated the Oakland Athletics. Then, Miller proved that wasn't a fluke when he shutout the Houston Astros in a series win in Seattle. After another dominant performance against Detroit on Saturday morning, Miller is starting to make baseball history. Once again the run support was there for Miller as the Seattle Mariners defeated the Detroit Tigers 5-0 to clinch a series win and give the M's a chance for a sweep on Sunday.
Bryce Miller did have to work out of some trouble in the bottom of the 1st with runners on the corners and Alex Faedo had to do the same against the Mariners in the top of the 2nd, but both young pitchers traded zeros after a couple of innings. That would be when J.P. Crawford would single to start a threat in the top of the 3rd for the Mariners. With two outs, Jarred Kelenic caught up to a fastball that was up and in and just kept it fair down the right field line for a two-run home run. Kelenic's eighth homer of the season put Seattle out in front 2-0.
One inning later, Kelenic would be tied for the team lead in home runs. Faedo left a slider hanging and caught too much of the inside corner and Teoscar Hernandez made him pay. Teo crushed his eighth homer of the year 403-feet for a solo shot. Thanks to a couple of long balls, the Mariners had a 3-0 lead.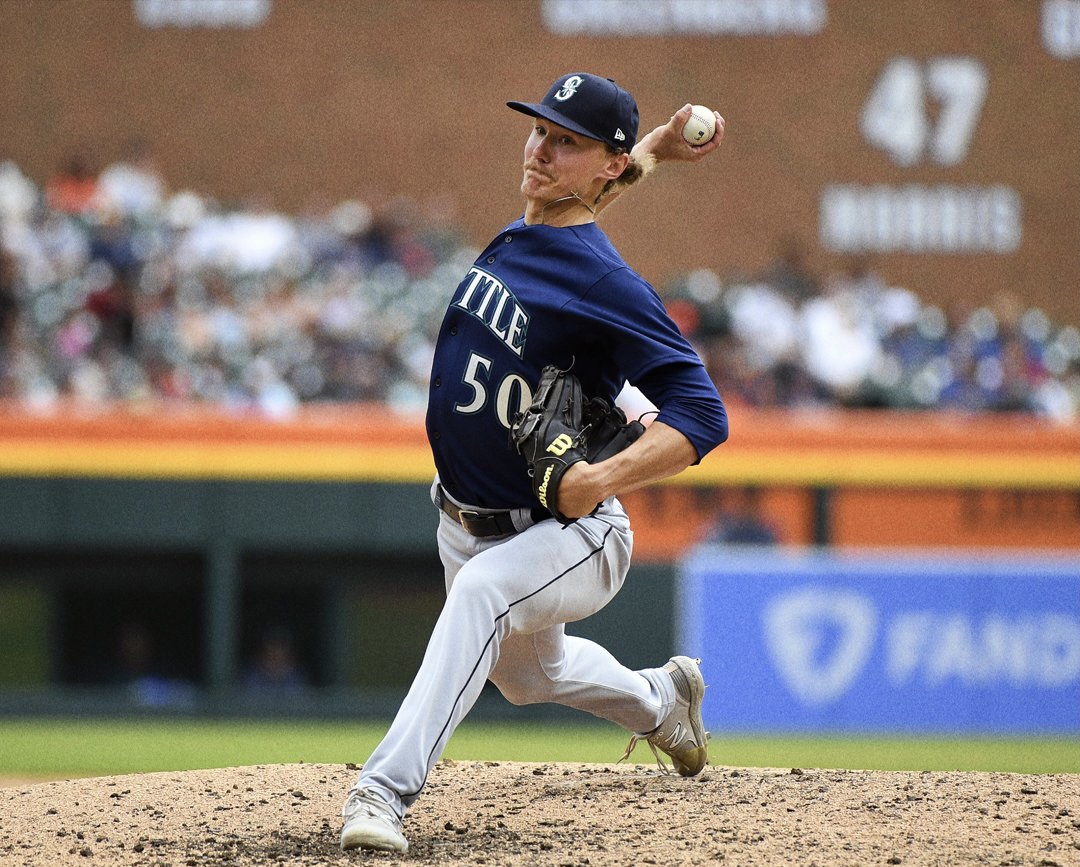 Bryce Miller rolled through the rest of his outing but did it in a different way. Miller utilized his off speed pitches way more than we have seen him use them and didn't rely on the strikeout. The young right-hander only struck out three Tigers while walking none and allowing just three hits in seven shutout innings. Bryce also had a stretch of 16 consecutive Tigers retired that helped him cruise through his third dominant outing in the third start of his career.
Seattle would also get to the Detroit bullpen in the top of the 9th. Julio Rodriguez was walked by former Mariner Will Vest and was almost picked off but a lapse on defense kept Rodriguez on first. That wouldn't be the case for long as J-Rod stole his seventh base of the season and Eugenio Suarez joined him on base with a walk. Both runners moved up on a deep flyout by Cal Raleigh to put runners on second and third with one out. Teoscar Hernandez jumped on a first pitch splitter from Chasen Shreve and smoked it into left field for an RBI single as Rodriguez scored to make it 4-0. A wild pitch would allow Suarez to score making it 5-0 heading into the bottom of the 9th.
Matt Brash needed just ten pitches to sit down the top of the Tigers lineup in order finish off a 5-0 Mariners victory. The win was dominated by the Seattle pitching staff as only three Tigers reached base in the entire game as the M's recorded their fourth shutout of the season.
With the win, the Mariners (20-19) move above .500 for the first time since an Opening Day win over Cleveland and will now look for their third sweep of 2023 in the finale in Detroit on Sunday at 10:40am. Logan Gilbert (1-2, 3.79 ERA) is coming off a perfect game bid that he took into the 7th inning against Texas earlier this week but will look for a more favorable result for the team this time around. Southpaw, Joey Wentz (1-3, 6.09 ERA) will try to salvage a game for Detroit and as he is coming off his first win of the season.
Matt's Takeaways
These will just be some facts about Bryce Miller through his first three career starts.
Bryce Miller has allowed fewer runs (1) through his first three starts than any other pitcher in Seattle Mariner history (Felix Hernandez, 2 ER)
Bryce Miller has the lowest WHIP (0.421) through a pitcher's first three starts in MLB history.
Bryce Miller is the only pitcher since 1893 to allow three or fewer baserunners in his first three starts with at least 6+ innings pitched.
Only three baserunners have reached second base against Miller in his first 19 innings pitched.
Bryce Miller is really good at baseball.
Notable Performances
Mariners
Bryce Miller (W, 2-0)- 7 IP, 3 H, 0 R, 0 ER, 0 BB, 3 SO
Teoscar Hernandez- 3-4, HR, 2 RBI, R
Jarred Kelenic- 1-4, HR, 2 RBI, R
Tigers
Riley Greene- 1-4, 2B
Spencer Torkelson- 1-3
Alex Faedo (L, 0-1)- 6 IP, 4 H, 3 R, 3 ER, 1 BB, 7 SO
elisportsnetwork.com