5/22/23
Mariners 11, Athletics 2
(Seattle, WA) Luis Castillo reached a career milestone on Monday night as the Seattle Mariners opened a four-game series with the Oakland Athletics at T-Mobile Park in Seattle. Castillo recorded his 1,000th career strikeout in front of the home crowd and at the same time got back on track after a stretch of rough outings spanning the month of May. The bats took advantage of weak starting pitching by the A's as well as Seattle dominated the opener for a comfortable 11-2 victory.
Runs would be score immediately for Seattle against Kyle Muller in the bottom of the 1st. Following a six pitch top of the 1st by Luis Castillo, Ty France recorded the first hit of the game with a single to left field. Two batters later, the breakback year for Jarred Kelenic continued. For the second straight game, Kelenic launched a no-doubter, this time to center field for his 10th home run of the season. The 455-foot blast gave the M's the early 2-0 advantage.
After another 1-2-3 inning on the mound for Luis Castillo, the offense extended that lead in the bottom half of the 2nd. A leadoff single by Cal Raleigh and a one-out walk by AJ Pollock put a couple of runners on. One day after hitting his first career home run, Jose Caballero recorded his second career home run. Caballero got every bit of a hanging slider right down the middle and sent it into the Seattle bullpen for a three-run shot. With fans still just getting to their seats, Seattle had taken a 5-0 lead.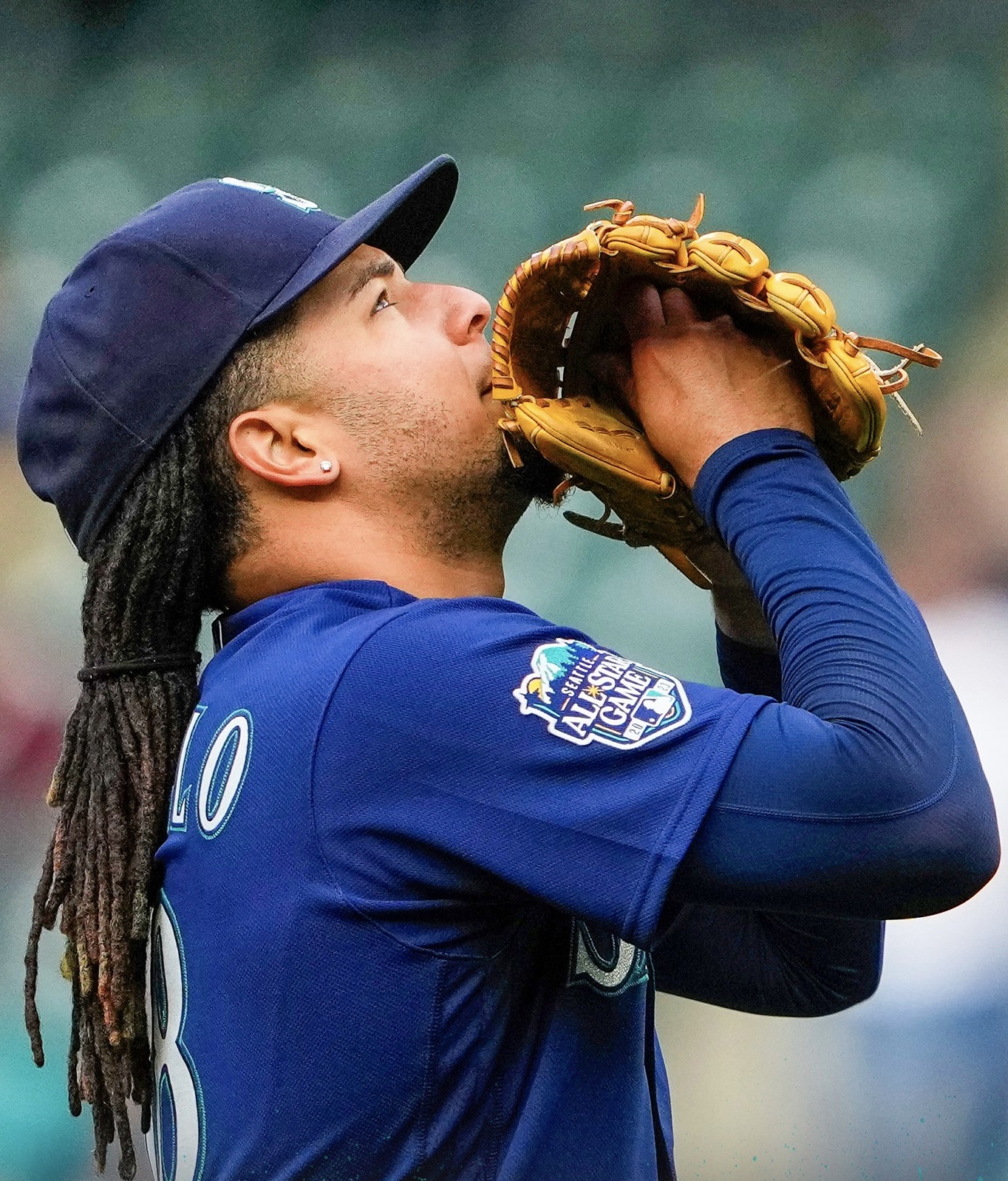 In the top of the 5th, the wait would come to an end for La Piedra. After doubling off of Castillo earlier in the game, Shea Langeliers became Castillo's 1,000th career strikeout. Castillo received a standing ovation from the T-Mobile Park crowd and his teammates as he took a moment to soak it all in. 143 of those now 1,003 strikeouts have come as a member of the Seattle Mariners. Now that he is locked up for the next few years, it was cool to see Castillo recognized by his home fans that have grown so attached to the ace in less than a year with the team. After getting out of trouble in the top of the 6th, Castillo finished his best outing of the month, going six shutout innings with just four hits allowed with two walks and eight strikeouts.
As Castillo continued to hang zeros on the scoreboard, the offense continued to add on the run support. In the home half of the 5th, Julio Rodriguez dropped a blooper into right field and turned it into a hustle double. Kelenic followed by cashing in on another RBI opportunity with a base hit to center to score Julio and make it 6-0.
The bottom of the 6th felt like the knockout blow for Seattle. With Pollock on second and France on first with two outs, Julio had a more casual double. Rodriguez laced one to the wall in left field that scored Pollock easily on J-Rod's second double of the day and 10th of the season. Kelenic walked which allowed Eugenio Suarez to get in on the fun with the bases loaded. Suarez smacked one that tried to get through into left field, but shortstop Nick Allen backhanded it and looked like he'd make a great play. A low throw to first however was not dug out by Ryan Noda, allowing Suarez to reach on an infield single to score another run making it 8-0. Cal Raleigh would strikeout to end the inning, but Seattle was going to their bullpen with a very comfortable lead.
After a scoreless 7th, Juan Then got into trouble and lost the shutout in his second inning of work in the top of the 8th. Esteury Ruiz and Ryan Noda reached base to start the inning and a wild pitch put them on second and third with nobody out. Brent Rooker drove in Ruiz and moved Noda to third with an RBI groundout to Jose Caballero at second. Gabe Speier then came in to replace Then and got Seth Brown to groundout to Ty France at first for the second out but the second run scored as Noda scored making it 8-2.
Seattle got those runs back plus one in the home half of the 8th. A Ty France walk, followed by Julio getting hit by a pitch and Jarred Kelenic singled to load the bases with one out. Suarez came up again with the bags packed and smashed a line drive into center field for a base hit. France and Julio scored easily to get those two runs back and put the M's in double digits with a 10-2 lead. Cal Raleigh then drove in Kelenic from third with an RBI groundout making it 11-2 Mariners going into the 9th. Chris Flexen closed out the win with a 1-2-3 inning and punching out Tony Kemp looking to officially give the Mariners the 11-2 win.
The Mariners (23-24) are now 4-0 against Oakland this season and will look to get back to .500 on Tuesday at 6:40pm. Marco Gonzales (3-1, 6.10 ERA) will be in a less hitter-friendly park than his last time out when he got hit around in Fenway Park. Seattle with face Luis Medina (0-2, 6.88 ERA) for the first time as Oakland (10-39) look to beat Seattle for the first time in 2023.
Matt's Takeaway
I don't know how anyone looks at Luis Castillo and doesn't get the same vibe from him that we got from Felix for so many years. I am not saying Castillo is up there with Felix in Mariners lore. But both guys have the same intensity on the mound and the same emotion when they get out of a big jam or are having a big strikeout game. While Felix in his prime never got the support Castillo has, it is nice for us fans to see a guy like that get that support. The confidence from Castillo is exactly what you want from an ace and hopefully this outing gets him out of his May funk.
Notable Performances
Athletics
Seth Brown- 2-4, RBI
Ryan Noda- 1-3, R
Kyle Muller (L, 1-4)- 5 IP, 8 H, 6 R, 6 ER, 2 BB, 3 SO
Mariners
Jarred Kelenic- 3-4, HR, 3 RBI, 2 R, BB
Julio Rodriguez- 3-4, 2 2B, RBI, 3 R
Luis Castillo (W, 3-2)- 6 IP, 4 H, 0 R, 0 ER, 2 BB, 8 SO
elisportsnetwork.com