5/30/2023
(Auburn, WA) Memorial Day weekend marked the first 3-day week of racing going Saturday, Sunday and Monday. This will drop back to just 2 days again next week on Saturday and Sunday and then 3-days a week will begin and run through the end of August with racing on Friday nights and Saturday and Sunday afternoons with the exception of the lone 4 day week of Friday, June 30 thru Monday, July 3rd which of course is the night of the huge Fireworks display at the track.
On Monday, Emerald Downs stopped at 3pm for the National Moment of Remembrance led by track bugler with a moving rendition of Taps and then a moment of silence.
Emerald Bugler Dan Harrington plays Taps on Memorial Day
Over the 3 days there were 26 races with a total of 179 starters for an average of barely under  per race. This is an encouraging number especially since the 2-year-olds have yet to begin which will add more to the horse population. Below is coverage of each race day over Memorial Day weekend along with our usual interviews, news and notes. Let get to it!
Monday, May 29

Feature Race "The Muckleshoot Casino Purse"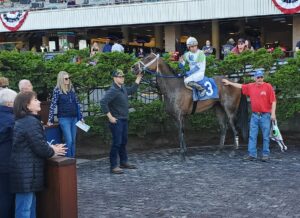 The feature race of the 1st 3-day race week had 9 go 5 1/2-furlongs in the Muckleshoot Casino purse. The odds on favorite Heredia Boxer with Luis Negron broke slowly and last out of the gate. The bad break cost Boxer all chance in this one leaving it wide open for the 8 contenders. 9-1 WhatwasIthinking and Kevin Radke went straight to the lead and was joined by New Every Morning with Alex Cruz up at a hearty 25-1. Those 2 carved out fractions of 21.60 and 44.65.
That was just enough front speed for 7-2 2nd favorite El Chavo Del Ocho and Javier Matias to make a big run down the stretch and pull away for a clear 1 1/4 length win in a time of 1:03.52. New Every Morning took the lead at the top of the stretch and was a clear 2nd while WhatwasIthinking held on well for 3rd and Heredia Boxer made a nice recovery but settled for 4th.
El Chavo Del Ocho is owned by Lusk Racing and trained by Vince Gibson. It was Matias's 2nd win of the day. The 50-cent trifecta paid a nice $373.90 and the $1 superfecta with the top 2 favorites finishing 1st and 4th still returned $1,711.60.
El Chavo Del Ocho and Javier Matias over the top in deep stretch
A field of 6 fillies and mares went 1-mile to kick-off the Memorial Day 9-race card and betting choice Gunnhild was sent to the front by jockey Kevin Radke and none of her competitors got closer than a length as they covered the 8-furlongs in 1:40.26. Ted's Candy Girl with Silvio Amador made a run late but flattened out in the end to hold 2nd handily while Flora with Javier Matias ran 3rd and Lute's Diamond was 4th. Shelly Crowe owned and trained Gunnhild.
2nd Race
After 2 scratches reduced the field to 4 the show betting was taken off the board. 3-1 3rd choice D K's Crown with Alex Cruz jumped out to the lead in the 6-furlong dash and simply drew off to a dominant win over 2nd choice Brony Boy with Luis Negron at 8-5. 6-5 Miso Fast and Kevin Radke closed to be 3rd and Dyf finished 4th. D K's Crown was owned and trained by Alexis Silva-Martinez who got to the Winner's Circle for the 1st time in his career. He has worked his way up from mucking stalls to now his own trainer. Silva-Martinez is the co-owner of D K's Crown with Steve Haarh.
ESN talks with Trainer Alexis Silva-Martinez on his 1st win as a Trainer
In the 3rd race 6 broke from the gates at and included last year's stunning winner of the Muckleshoot Derby on Longacres Mile Day which he won at 56-1 and paid $115 on the $2 win. The betting public was not as fooled this time although 4-year-old gelding went off as the 3-1 2nd favorite and again made all those favorite players pay with another brilliant run and ride from Javier Matias who wove through traffic and came flying late and pulled away for the 1 1/2 length win. Mosquito Fleet and Alexis Valdes at 7-2 ran 2nd also passing the tiring 7-5 favorite Alleva with Luis Negron. Hydrogen took 4th. You're the Cause is owned by WilWin Stable and trained by Debbie Van Horne. You're the Cause ran the 6 1/2-furlongs in 1:15.63.
4th Race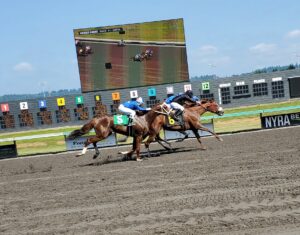 It took a long time to get the niece of Stryker PHD to the track but when the 4-year-old filly, Unbridled Scholar, hit the track on Memorial Day she had matured and was ready at 1st asking. Kevin Radke road the 1st time starter perfectly allowing her to settle in stride and get used to running in company for real this time. Radke angled her out at the top of the stretch and she gamely dug in to catch and pass 12-1 frontrunner Sailing In with Luis Negron by a neck. Sailing In also showed grit holding off Yogya with Carlos Montalvo by a neck to hold 2nd and Yogya was clear by nearly 3 lengths for the show. Platinum Phantom was 4th. Unbridled Scholar is owned by the Hour family who also owned 2-time Longacres Mile Champ Stryker PHD and trainer Shelly Crowe picked up her 3rd win of the weekend in as many starts.
Jockey Silvio Amador continued his hot weekend with another win in the 5th on Monday aboard Affirm Chief who was bet down to 7-5 but was the 2nd choice in this 6 horse field. Amador stalked the pace in this 1-mile trip early on in 4th then moving up to 2nd 6-furlongs into the race. Amador and Affirm Chief engaged even money shot Barbarian and Luis Negron at the top of the stretch and ground away for a 1/2 length victory. After a short inquiry by the stewards they determined the minor bumping was equal between both and no change was made. Pick Bymy Friend and Jose Zunino closed well and nearly caught both Affirm Chief and Barbarian and ended up in a dead heat for 2nd. Runaway Kristin was 4th. Luciano Medina owns and trains Affirm Chief and he stopped the clock in a time of 1:37.15.
3-2 front running favorite Sproston did not disappoint with a convincing front end win under the guideance of Isaias Eriquez. Sproston was never really challenged, only 7-1 R B Eye with Jennifer Whitaker taking a shot at him at the top of the stretch but as soon as Enriquez felt R B Ete's presence a little tap on the shoulder and he extended his lead to win by nearly 4. R B Eye was 2nd while Alpine Hypnosis got up for 3rd by a neck at 14-1 and Hey Sequoia capped off the superfecta. Sproston is owned by Justin Evans and Bryan Seymore and trained by Evans and ran the mile in 1:37.73. With 14-1 Alpine Hypnosis taking the show the 50-cent trifecta paid a nice $70.70.
Jockey Luis Negron captured his 5th win of the weekend with a nice stalking trip aboard Try to Capture. Negron and Capture sat 3rd early behind front speed Upper Room with Alex Anaya who battled early with Gold Rush Candy. Upper Room would shake Candy at the top of the stretch but then came Try to Capture and the 2 went head and head to the 16th when Capture eased out to a 1 3/4 length win in the end. Upper Room ran a hard 2nd and was clear by 3+ lengths to 3rd place Mamacallmeboo with Alex Cruz. Freestone ran 4th. Try to Capture is owned and trained by Justin Evans. The Justin Evans to Justin Evans daily double didn't fool anyone as the $1 bet returned 8-bucks.
In the week's get-away race trainer Jeff Metz finally broke the ice with his 1st win of the season as Alex Cruz took the 2-1 favorite from 3rd early on in the 5 1/2-furlong race to the lead by the top of the stretch. Cruz then let Shemakescents go and drew off to a commanding 4 length win giving Cruz his 2nd score of the day. 12-1 Lucinda Rella ran a solid 2nd after leading to the top of the stretch, Carlos Montalvo got all she had for the place. Camden High and Isaias Enriquez closed well to be 3rd, Moscow Lady was 4th and La Popis ran 5th to finish off the 50-cent Super Hi-5 which paid a healthy $1,401.75. Saratoga NW Racing Club owns Shemakescents as she ran the 5 1/2 in 1:04.11.
Sunday, May 28
Feature Race "The Muckleshoot Casino Purse"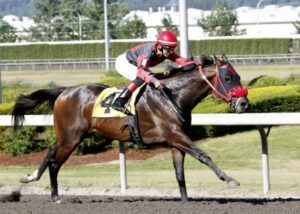 7-starters were released to run 5 1/2-furlongs by starter Mark Gibson in Sunday's feature and an 8-1 upset made little doubt who the best was on this day when jockey Luis Negron released the brake on Smiling Goodbye at the top of the stretch to extend to a 3 1/2 length win over the odds-on choice Bridleuptothebar. Negron had Smiling Goodbye in the race from the beginning in 2nd place just off of front speed Polacco but at the 1/8th pole opened up to cruise to the easy win.
Javier Matias had "Bridle" sitting just behind in 3rd figuring  both front speed runners would come back and Polacco did but Smiling Goodbye had too much left in the tank  but was a clear 2nd. Polacco and Kevin Radke held on well to get 3rd place a 1/2 length in front of the closing Cobra Jet who took 4th in a 3-way photo.
Smiling Goodbye ran the 5 1/2 in 1:02.45 and is owned by Little Barn Racing. Debbie Peery was the trainer and got her 2nd win from 2 starts for the weekend. Smiling Goodbye collected $16,240 to add to the 4-year-old gelding's bankroll. Smiling Goodbye also paid his backers well of $19 on the $2 win and $29.60 on the "green" Combo ticket. Smiling Goodbye also capped off a $1 daily double return of $450 and a massive 50-cent pick 3 of $2,146.65.
1st Race
A field of 7 went 6 1/2-furlongs and the 2-1 2nd favorite Rhodesia closed well from an early last to 1st with a late burst down the outside of the stretch to win by nearly a length. Kevin Radke began the day with a perfectly timed ride stopping the clock in 1:17.79. Jill Soranno owns and trains Rhodersia with ownership partner James Carter. Big Galute with Kevin Orozco just missed from hanging on as he got tired late in the race but got 2nd by a head over betting choice Rampatious with Luis Negron. African Prince completed the top 4 finish.
Jockey Kevin Orozco just missed the winners circle in the 1st race but made no doubt about it in the 2nd with a beautiful stalking trip to pull away aboard Smiling Thunder and win by 2 lengths at 7-2 odds in the 6-furlong run in a time of 1:10.13. Seven Sisters with Alexis Valdes ran a solid 2nd at 6-1 while 24-1 Red Nova with Carlos Montalvo took 3rd by a neck over 4th place Heat Seeking Leta. Smiling Thunder is trained by Tena Birdwell and owned by Scott Herbertson. The 50-cent trifecta returned a whopping $359.35 thanks to Red Nova getting in at 24-1.
3rd Race
8 3-year-olds went the mile in the 3rd race and the betting public had it right with odds-on 3-5 favorite Socal Red sitting just off the pace in a stalking trip closing well in the lane under Luis Negron to pull away to a length+ win. Socal Red ran the 8-furlongs in  1:38.05 and is owned by William and Susan Tomasic and trained by Justin Evans. Olympic Legend with Kevin Radke ran a clear 2nd while 15-1 Sargent Kline with Carlos Montalvo picked up 3rd by a head over 17-1 Super Classic. Despite a 3-5 shot winning and the 2nd favorite running 2nd the $1 superfecta still returned a nice $90.30.
4th Race
This 5 1/2-furlong race had 6 3-year-old fillies break from the gate and 9-5 favorite Stepup with Alex Cruz rolled to a 3 3/4 length win in a time of 1:03.25 for trainer Jose Navarro and owners Jimmy and Cleveland Hammonds. Shelby Gold with Isaias Enriquez ran a hard earned place holding off Pepper Mill and Kevin Radke who got their nose in front of Jamies Inheritance for 3rd. Stepup returned $5.80 on the $2 win.
A great betting race on paper also played out that way with 7-1 Young Life Laura taking the lead at the 3/8's pole and extending her lead to win easy by 3. Silvio Amador had this one measured all the way for trainer David Martinez and owners the Swag Stables denying race betting choice Raven's Quest the win who settled for 2nd with Kevin Radke up. Shesrsecretweapon and Christina Rodriguez ran a clear 3rd while Goin' Coastal was 4th. Young Life Laura is a Washington bred by Mr. Rancho Vista out of Chedoolejo by Liberty Gold and was bred by Keith and Jan Swagerty.
6th Race
Alexis Valdes put the 9-5 favorite Outright mid-pack out of the gate while the runners scrambled around them and then found a hole around the turn to swoop up and engage Provost with Carlos Montalvo who had taken the lead at the top of the stretch and rolled on by for a nearly 2 length win. Outright races for Rosales Racing F1 and trained by Jorge Rosales. Provost held 2nd while Lookin for Eight and Luis Negron ran on for 3rd and Wear the Crown finished 4th. Outright covered the 1-mile in 1:36.33 and paid $5.60 to win.
7th Race
In the 7th race the tote board exploded when Lafonda went wire-to-wire and held off Coastarando by a nose. Javier Matias pushed 30-1 Lafonda right to the lead while Silvio Amador came from off the pace to challenge with a 4-wide trip but just missed at 5-1. 22-1 Warren's Memorable with Alex Cruz also came from far back to grab 3rd by just a nose over 10-1 Patricia L. Lafonda is owned and trained by Ryland Harwood and ran the 6-furlongs in 1:11.30. LaFonda paid a season high $63.40 on the $2 win, $25.20 to place and $10.40 to show. The $1 exacta was $425.20, 50-cent trifecta $866.05 the 10-cent superfecta $2,854.14 or the $1 super $28,541.40! Capping the 50-cent pick 3 paid $1,481.70 and the $1 daily double $496.50.
In the finale Luis Negron did not disappoint bringing in his 3rd win of the day aboard 9-5 favorite Major Munnings. Negron and the Major took the lead at the 3/8's pole and led by a length at the top of the stretch. Major Munnings then had to dig in and hold off a fast closing Sierra Melody with Silvio Amador and won by a neck. Just a 1/2 length behind Sierra Melody was 20-1 Warfront Fighter with Rigo Sarmiento. After the race, the stewards posted the Inquiry sign and reviewed the run of Sierra Melody and ruled he came down on Nationheart and was disqualified and placed 8th.
This moved Warfront Fighter up to 2nd and Foster Boi with Alexis Valdes 3rd at 14-1. 41-1 Hula King was now 4th and rounding out the 50-cent Super Hi-5 was 8-1 Rousing Rubble. No one hit the Super Hi-5 and $2,736 carried over to Monday. The 50-cent pick 4 paid a massive $5,814.30 and no one hit the 50-cent pick 5 so $17,456 carried over to Monday.
Major Munnings was owned by Austin Evans and trained by Justin Evans and ran the 5 1/2-furlongs in 1:04.02.
Saturday, May 27
Feature Race "The Muckleshoot Casino Purse"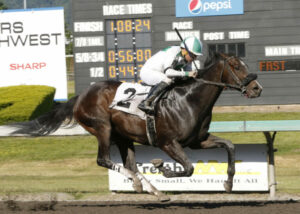 Jockey Kevin Radke added to his dominance of winning the featured race of the day with his 4th of the season when he brought home 1-1 favorite Tax Code. This was the 2nd race of the season for the duo who finished a solid 2nd in their 1st outing. Radke settled the 4-year-old into 2nd place early and then swinging for home came through along the rail and opened up to win by daylight covering the 6-furlongs in 1:09.30. 
Naval Escort and Silvio Amador came from further back sitting in 5th down the backstretch then had to come 5 wide into the stretch and was clearly 2nd best trailing the winner by 1 1/4 and in front of 3rd place Firewalker with Jennifer Whitaker by nearly 3 lengths. Firewalker also came from far back in 6th place early and closed well at 14-1 to grab 3rd place by a head over Peso who ran 4th.
Tax Code races for Mischief Racing and is trained by Shelly Crowe. Tax Code earned $13,920 and paid $4.20 on the $2 win.
Isaias Enriquez broke the ice for all-time Emerald Downs leading trainer Frank Lucarelli getting his 1st win of the season with Summerofthesamurai. "Sam" and Enriquez stalked the pace and pulled away for a 2 length win. Janero Rose with Carlos Montalvo ran an even 2nd as the 1-1 favorite, Low Dose and Alex Cruz were 3rd while Confidence Builder ran 4th. Summerofsamurai is owned by Carl Petroff, Dan Minardo and Russ Nakagawa and ran the 6-furlongs in 1:11.62. Sam returned $4.60 at the 7-5 2nd favorite.
Race 2
A field of 5 went 3/4's mile and Devil's Off Duty went wire to wire for jockey Luis Negron to win easily by 5 lengths as the 6-5 betting choice. Danny Zuko and Kevin Orozco ran an even 2nd at 6-1, 9-2 Hadlees Honor with Javier Matias was 3rd while Thirsty Kiss capped the superfecta. Devil's Off Duty became the 1st 2-time winner of the meet and is trained by Debbie Peery and owned by Kenneth and Vicky Jo Ellison and stopped the clock in a time of 1:10.56.
The betting public was not fooled again with the 6-5 favorite winning the 5 1/2-furlong run by more than 4 lengths when Langst0n Road and Silvio Amador cruised to them win in a time of 1:03.84. 2nd pick Uncle Pete with Kevin Orozco just got up for 2nd getting by 3rd place Time'er Too with Rigo Sarmiento and Withee at 13-1 completed the top 4. Langston Road is owned by Cherie Wright and BDW Racing and trained by Blaine Wright. The 13-1 Withee helped the superfecta pay-out to $80.60 on the $1 bet.
Race 4
8-starters broke from the gate at the midway point of the card from the 6-furlong pole. The bettors were split on this one with 2nd favorite at 4-1 Table Bay with Silvio Amador up getting his 2nd win of the day held off the 5-2 favorite J C's Legend by a head. Isaiah Enriquez just missing his 2nd win of the day. Supermax and Carlos Montalvo ran 3rd while Amara Mike was 4th. Table Bay is trained by David Martinez and owned by Oak Crest Farm their 2nd win of the season. Oak Crest also bred Table Bay by Atta Boy Roy out of Cape Grace by Abraaj. The Silvio Amador daily double paid $27.10 on the $1 bet.
6 starters in this 5 1/2-furlong allowance race and another betting favorite takes the win. Jose Zunino stalked perfectly with 8-5 Our Lyla Grace and pulled away for a handy 2 1/2 length win in a time of 1:04.08. Cause She's a Lady and Kevin Radke were a clear 2nd, Miss Bella and Silvio Amador ran 3rd while Brilliant Bird was 4th. Tom Wenzel was the winning conditioner for the Code Four Stable. The 8-5 winner to the 5-2 2nd placer actually paid a decent 10-1 on the $1 exacta.
Race 6
Seven 3-year-olds went 6-furlongs in the 6th race and 7-2 Royal Halo pulled away for an easy win to give both Isaias Enriquez and trainer Frank Lucarelli their 2nd wins on the day. Mister Midas and Luis Negron ran 2nd while Deshambeau was 3rd with Kevin Radke and Ice Tower completed the top 4 finish. Royal Halo is owned by Steven Zerda and stopped the clock in 1:09.99. The top 3 finishers paid a nice $137.60 on the 50-cent trifecta.
In the finale 7 broke from the gate going 5 1/2 furlongs and Above the Stars went gate to wire for Alexis Valdes as the 7-5 favorite. Above the Stars is owned by Remmah Racing and trained by Jorge Rosales and ran the 5 1/2 in 1:04.54. Running 2nd was Miss Accelerate with Kevin Radke, the show horse was Scatalicious and Luis Negron in the saddle while GG Rules ran 4th and Fly Patti Fly completed the Super Hi-5. Above the Stars completed 1 lucky ticket in the 20-cent Jackpot Pick 6 and paid $3,146.50.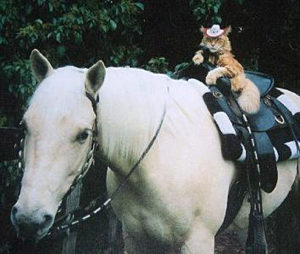 Larry's Round-Up
The Great Outdoor Give-Away
The Emerald Downs Promotion department got fans ready for summer giving away plenty of outdoor fun stuff including gift cards to anti-gravity outdoor chairs to a brand new outdoor gas grill.
The Emerald Crew giving away prizes!
Inquiries
Last week we wrote a piece on the confusion the newly added "Stewards Review" brought to the Inquiry and Objection process and urged the Stewards to drop the review and either call an Inquiry or not so there is no confusion for when they are looking at a race. You can go back and red our take in last Wednesday's report. But it seems they have decided to drop the Stewards Review and go back to the old system.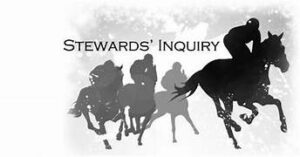 There were 2 Inquiries called on Monday and both times the Inquiry lit up, the Stewards reviewed the issue they initially saw during the race and in both cases deemed the issue as either mutual contact or not worthy of a change. It was a very straight forward process and no one should have not been informed of what they were reviewing. They also dropped the picture of the Stewards reviewing the video from the Stewards perch. We also agree with this move.
We did see one complaint that the video of the incidents were not being replayed while the Stewards were considering their final decision. We could go either way with that because it doesn't really matter when it's in the hands of the Stewards their final call is going to be the final word. But when the decision was made there were all angles of the replay and track announcer Bill Downes explained the Stewards decision. 
Tons of credit to the Stewards for changing a confusing system back to a very basic and easy to understand system. Of course like all referees,, umpires and any sports officials we may not agree with their final decision but making it easy to understand gives the credibility back to those having to make these final decisions. Hats off to the Stewards and WHRC, great work!
From the Saddle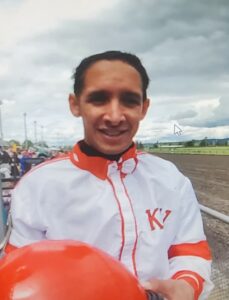 It was another big week for Luis Negron who led the Jock's room with 5 wins this week, highlighted with a triple on Sunday and taking the Sunday feature race. Negron finished the week with a 5-4-4-1 record for a win percent of 22% and top 4 finish rate of 61%. Negron also edges to the top of the Jockey standings with 14 wins, 2 more than 2nd place Kevin Radke.
Radke had another solid week winning another feature race on Saturday and finishing the weekend with a 4-4-5-4 record from 24 rides. He is currently winning at 19% and is #1 in earnings with more than $182,000.
Silvio Amador is making noise as one of the new riders here at Emerald Silvio is off to a great start with a total of 9 wins currently in 3rd place and rode 4 winners this past weekend finishing with a 4-3-1-3 record and a win rate of 27% and top 4 finish of 73%. 3-time defending Champ Alex Cruz is starting to get back into prime riding form and won 3 races this weekend including 2 on Monday. Cruz is tied with Alexis Valdes who also had 3 wins this week, Cruz and Valdes are tied for 4th with 8 wins each.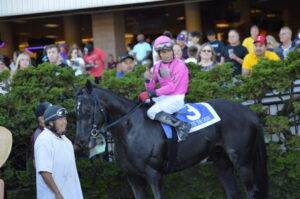 Javier Matias had a great week winning on the longest shot of the season so far with 30-1 Lafonda on Sunday. Then on Monday he won a pair including on You're the Cause, the 55-1 longshot he won with in last year's Muckleshoot Derby and then took the Sunday feature race and finished the weekend with a 3-1-2-1 record from 12 rides. Isaias Enriquez also a former Emerald riding champion broke through this weekend with 3 wins himself from 12 rides and was close with a pair of 2nd to add to that total.
Kevin Orozco got a win but keeps adding to his 2nd place total with a season record of 2-8-5 he can't wait to start turning more of those runners-up into picture opportunities. Jose Zunino also scored a victory from only 6 rides, the journeyman starting to get back into the swing himself.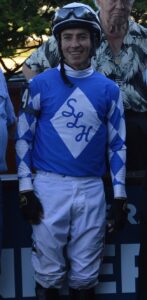 In other jockey notes, Carlos Montalvo has been hitting the winners circle but got shut out this week but finished with 3 places and 5 shows and a 4th you must have Carlos in your superfecta's. Alex Anaya continues to hit the board with a 2nd and 4th from just 3 rides and he usually is at big odds so look for Anaya in your exotic bets, Jennifer Whitaker, the all time leading female rider at Emerald is still looking for her 1st win and did run 2nd on R B Eye on Monday. Rigo Sarmiento continues to ride hard and has some trainers loyalty but has not been able to break into the win column yet and is getting only a scattering of chances and had a place and a show from 5 rides this week. Christina Rodriguez hit the top 3 for the 1st time this season with a 3rd place finish. Christina has had only 4 mounts.
Finally, Jake Samuels is back riding races. Samuels came back well into the season last year after his wife Kassie got off to a fast start but then broke her leg in an accident. Jake came back and finished strong. This year neither began the year but Jake was back in the saddle this past weekend so let's see if he can pick up where he left off last season. Don't sleep on this guy. 
From the Barn
Where to start with these trainers? How about the 3 wins from 3 starts a perfect 100% win rate and that was Shelly Crowe. Crowe won the feature on Saturday with Tax Code then took the 1st on Monday with Gunnhild and 4-year-old 1st time starter Unbridled Scholar showed her pedigree as the niece of Stryker PHD with an impressive off the pace win in a Maiden Special. Shelly is an impressive 3-2-1 from 6 starts for a 100% trifecta finish rate early in the season.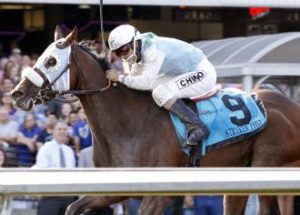 We also had a trainer Hall of Fame siting with Sharon Ross in the winners circle for Unbridled Scholar. Sharon and her husband Larry Ross long time NW trainers with multiple Longacres Mile wins with Chum Salmon and Stryker. Sharon told ESN that Unbridled ended up at her farm while she recovered from a minor injury which delayed the start of her career. Ross said she doesn't miss the day-to-day grind of training but moments like this are sure fun to be part of.
All-time leading trainer at Emerald Downs Frank Lucarelli got his first wins of the year with a pair on Saturday and then ran 2nd 3 times and showed twice. Luke is now 2-5-3 from 20 starts. Jorge Rosales scored 2 wins from 7 starts, David Martinez remains red hot with 2 more wins and a 4-2-1 record from 18 starts.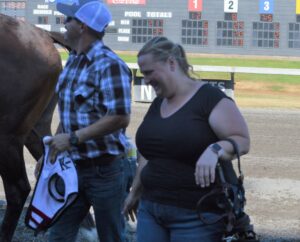 She wasn't 3-3 but 2-2 is pretty dang good too and that's what Debbie Peery did with Devil's Off Duty, the 1st 2-time winner of the meet and winning the feature on Sunday with Smiling Goodbye. Another Debbie had a great week too, Debbie Van Horne went 1-1-1 from 3 starts with her big win with You're the Cause on Monday.
The ladies were delivering this weekend, taking Crowe, Peery and Van Horne's and adding Tena Bridwell who was 1-1 with a win and Kay Cooper who had a 2nd and a 3rd from 2 starts that is a combined 7-2-2 record from 11 starts or a 64% win percent and a 100% top 3. Let's add Jill Sorrano who remains hot as well with a 1-1-1 record from 4 starts and these ladies combined for an 8-3-3 record from 15 starts or a win percent of 53% and top 3 finish of 93% and for the weekend they won 31% of the 26 total races.
Other conditioners made their marks as well Ryland Harwood started 2 and got his 1st win of the season with 30-1 Lafonda and also ran 2nd in Mondaqy's get-away race with a 12-1 shot. Alexis Silva-Martinez go his 1st win ever as a trainer in the 2nd race on Monday, Blaine Wright got a win and then caught the 2nditis bug with 4 places, Vince Gibson won the feature on Monday, Jose Navarro, Luciano Medina and Tom Wenzel got their pictures taken this past weekend and long time Emerald veteran got his 1st victory in the final race of the week and is now 1-5-5 for the season. 
And we can't finish before we talk about the laser focused leading trainer Justin Evans who tripled over the weekend and extended his win lead to 10 wins from 33 starts and an overall record of 10-3-7. Evans 1st year at Emerald and he is proving to be a huge force. Monday was also Evans' twins, Anderson and Addison's birthday. They got a chance to talk with Emerald Downs' Joe Withee in the paddock!
From the Owners Box
Justin Evans also leads the Owners standings with 4 wins and takes a 1 win lead over long time Champ John Parker who has 3 for the season as does Remmah Racing who got their 3rd win this weekend. Oak Crest Farms is off to a fast start with 2 wins now from 4 starts and a 2nd. Luciano Medina picked up his 2nd win this weekend and Lusk Racing got their 2nd win in the feature race on Monday.
Also checking in with 2 wins on the year are Stable H M A, Scott Herbertsonand Kenneth and Vicky Jo Elison.
But the winner with the most excitement was Mona Hour and her family. The Hour's are the proud owners of Stryker PHD, a 2-time Longacres Mile Champion and Mona and her late husband James had bred Unbridled Scholar who is the niece of Stryker. Unbridled was ready to go last year as a 3-year-old but had a minor injury and they wanted to be careful and take their time. Unbridled Scholar did not disappoint with a thrilling off the pace win in Monday's 4th race. 
She is 1-1 in her career and the ownership group was ecstatic with the win. 
ESN talks with Shawn Hour part Owner of Unbridled Scholar
www.elisportsnetwork.com