8/18/2023
The 2nd to last Friday night racing card had a total of 7 races with 43 starters for an average of 6 per race. The total handle was $645,807 for an average per race handle of $92,260. 2 betting favorites won and there were 3 of 7 winners 9-2 or higher with the biggest odds winning at 7-1.
Despite no massive longshots the 50-cent pick 5 returned $5,158.70. The Jackpot Pick 6 was starting over after a single winner on Mile day paid more than 15k and 4 of 6 winnersw got back $44 with a carry-over of $592 to Saturday. The Pick 4's all paid well the 1st one was the smallest of $190 the 2nd-5th race middle pick 4 was $880 and the final pick 4 of 4th-7th races paid $498.95.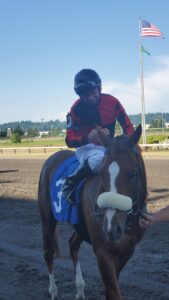 Two jockey's doubled with Isaias Enriquez winning the 2nd race on Coastrando at 7-2 and with one of the favorites in the 4th on Reign of Fire at 8-5. Silvio Amador took the 5th and 6th races with 9-2 Smoken Shadow in the 5th and 2-1 Executive Chef in the Feature. That Amador daily double paid $27.70.
Alex Cruz won the opener, Alex Anaya after a rough week last week got a win and Kevin Radke the wiley vet found the winner's circle in the final race. With the win Cruz extended his lead in the rider standings over Luis Negron to 5 now up 52-47. Radke pushed hit total to 38 in 3rd place while Amador just 2 behind Radke with 36.

7 different trainers and owners won on Friday night. Blaine Wright took the feature and ran 2nd with Executive Chef and Brady Boy. The Wright exacta paid $7.30.
6th Race Feature Race "The Muckleshoot Casino Purse"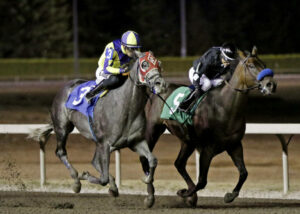 A field of 7 broke from the Emerald Downs starting gates on Friday night going 6 1/2-furlongs in the Muckleshoot Casino feature race and the top two favorites were both trained by Blaine Wright and in the end came down to his two entries. 1st choice Brady Boy at 7-5 with Kevin Radke was the early speed and caught a flyer out of the gate to quickly build up a length lead. 
2-1 Executive Chef with Silvio Amador broke from the 3 hole in between horses in a line of 3. Amador let Overly Fast with Carlos Montalvo and Holiday Hustle pressure but did not get caught up in a cat and mouse game and they both would fade with Overly Fast handing on for 4th. 
Meantime, Brady Boy was setting fractions of 22.03 and 43.93 picking up the pace in the 2nd quarter to lead by 3. Amador sat patiently and as the duo broke free from the rest of the pack Amador took aim to the outside of Brady Boy and began to close the 1 1/2-length deficit at the top of the stretch. It looked like Executive Chef was going to easily cruise past Braby Boy but BB dug in and fought back begrudgingly giving in just before the finish line to lose by a neck. Muncey and Jennifer Whitaker ran on late to be a clear 3rd at 7-1 with 7-2 Overly Fast 4th.
Amador had this measured perfectly and they stopped the timer in a final time of 1:15.95. The Gray gelding is owned by John and Janene Maryanski and Gerald Schneider and trained by Blaine Wright. Executive Chef is now 3-3-1 from 8 career starts and earned $13,920 pushing his career total to $89,720.
Feature Race Replay
Alex Cruz won the finale on Sunday and began the week with a win on the 9-5 favorite with California Halo. Cruz and Halo sat just off the lead swung wide into the stretch and ran down Vandulie and Kevin Radke to win by a 1/2 length. Percy's Sis and Luis Negron were 3rd and Yougottawantit and Silvio Amador 4th. California Halo ran the 6-furlongs in 1:13.14 and races for Lusk Racing and trained by Vince Gibson.
2nd Race
Coastrando got a perfectly timed ride from his pilot Isaias Enriquez along the rail to get up by just a head for the win in the 2nd race if 5 going 6-furlongs. Coastrando and Enriquez sat 2nd last early and made their way up the rail engaging Big Fashion and Kevin Radke at about the 1/8th pole. The two would go head and head with Coastrando just easing out to a lead at the wire winning by a head in a final time of 1:10.83. Slice of Pie with Alexis Valdes was 3rd and Big Mama Thornton with Silvio Amador 4th. All 5 were 5-2 to 7-2 so a very even betting race. Coastrando races for Marina Cruz and is trained by Hilario Perez. The 7-2 to 3-1 to 3-1 to 5-2 dime-superfecta paid $19.10 or $191.00 on a $1 bet.
8 went 5 1/2-furlongs in the 3rd and 5-1 General Crook with Alex Anaya took a ground saving trip along the rail after a swift break from the 8 hole and able to cross over. Conrad Meadows with Franciso Diaz-Lopez went straight to the lead and quickly built a 3-length advantage3-2 favorite Victor Aly with Alex Cruz sat just behind and elected to stay to the outside of Conrad Meadows. Turning for home Conrad Meadows drifted wide taking Victor Aly with him while Anaya and General Crook had the run of rail and burst to the lead holding off Victor Aly for a 1/2 length win. Conrad Meadows at 10-1 held 3rd and 20-1 Termi Valentino and Alexis Valdes got up for 4th. General Crook ran the 5 1/2 in 1:05.70 and races for Roys Mansur and trained by Edward Kereluk.
4th Race
Isaias Enriquez picked up his 2nd win on the card with a clear 2 1/2-length win in 1:10.77 for 6-furlongs. 8-5 Reign of Fire sat just off the front speed took control at the quarter pole and drew off for the win. 8-1 Your Royal Coil ran a solid 2nd with Silvio Amador up while 9-1 In the Vault and Luis Negron closed from last to get 3rd while early speed 3-1 You Go Girl and Kevin Orozco capped off the superfecta holding on to 4th. The 2nd Pick 3 paid $100.20. Reign of Fire is owned by Rancho Viejo and Jerry Carmody and trained by Rigoberto Velasquez.
5 horses were again well matched with the favorite at 8-5 and the longshot at 5-1. The winner was 9-2 Smoken Shadow and Silvio Amador with a front running effort going 6 1/2-furlongs. Smoken Shadow set fractions of 21.96 and 44.40 and finished in a time of 1:15.66 winning by more than a length. 5-2 Napoletano and Luis Negron ran a good 2nd with 5-1 Corn Pop and Alex Cruz taking 3rd and Tig with Kevin Radke at 7-2 running 4th. Smoken Shadow is owned by Kenneth and Vicky Jo Elison and trained by Debbie Peery. The 10-cent super without the favorite paid $17.10 or $171 on the $1 wager.
 7th Race
Kevin Radke rallied 7-1 Dennard rallied from 4th to win going away by 3 lengths covering the 5 1/2-furlongs in 1:03.73. Dennard is owned by Silvester Juarez and trained by Charlie Essex. 2-1 Jt's A.T.M. with Alexis Valdes was the early speed and held well for 2nd, Six Blessings at 5-1 with Silvio Amador ran 3rd, 10-1 Bob's Sniper and Neptali Ortiz was 4th and rounding out the Super Hi-5 was 9-5 Khaiky's Command and Alex Cruz. The Super Hi-5 paid $611.90, the $1 superfecta $412.70.
www.elisportsnetwork.com