8/25/2023
The 15th Power Rankings of the season and the ole veteran comes out firing. Kevin Radke led all riders with 6 wins over the 3 day week double over the next most a 3-way tie for 2nd with 3 wins. Plus Wilfen Orantes makes his 1st appearance in the top 10!
There were no Thoroughbred stakes wins this week but we give a special nod to each winning quarter horse winner.
Overall, a lot of movement in the Power Rankings so let's get to this week's rankings!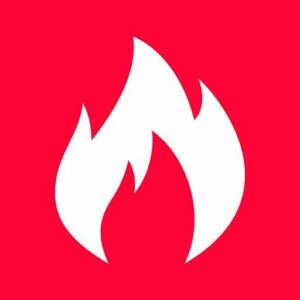 The Red Hot Mover of the Week!
#1 Kevin Radke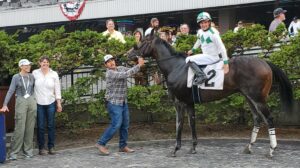 Kevin Radke is 11 behind front runner Alex Cruz in the jockey standings and is a longshot at best to make a run in the final 9 days of racing. He's now 6 behind #2 Luis Negron but more importantly he has put some distance back on Silvio Amador for 3rd. Amador made a big move for Radke's 3rd position but now Radke has sprinted ahead and has a 6 win cushion. Radke scored in his 6 wins in trifecta style with 1 win on Friday, 2 on Saturday and tripled on Sunday and finished 6-5-4-2 for a 29% win rate and blistering 81% top 4 finish. Radke is our RED HOT MOVER of the week!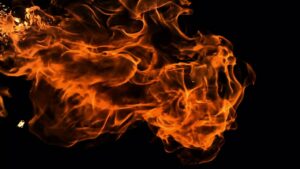 #2 Silvio Amador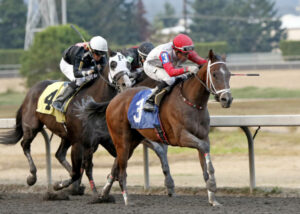 Silvio Amador was one of three riders with a triple but also backed it up with solid under finishes going 3-4-1-3 from 15 rides. Amador won at a 20% rate and a hearty 73% superfecta finish. We didn't have a Blazer of the week last week but this week Amador jumps from #9 all the way to #2 and is our BLAZER of the week!
Alex Cruz is sharply focused on finishing the deal and winning his 4th straight riding title. Luis Negron had the lead for more than half the season but Cruz has come back and caught him and continues to add to that lead now up by 5 over Negron and gained 1 more win over Negron this past week with 3 wins. Cruz went 3-5-6-3 from 23 rides for a 13% win but always in the hunt with a 74% top for finish.
#4 Isaias Enriquez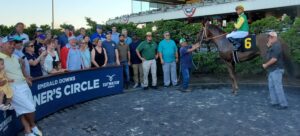 It was all or nothing for our 3rd jockey with 3 wins from last week as Enriquez only had 7 rides all weekend but won on 3 of them for a tremendous 43% win clip. But that was also his top 4 finish rate, 43% as he went 3-0-0-0. But winning is the most important thing and he did it well sending him up the PR's.
This whole season could be a lot different with a break going one way or another and Negron has been stacking up the 2nd place finishes just missing on many races. He got 2 but finished 2-4-4-4 from 20 starts for 10% win rate and 70% top 4 finish. Negron is close and we just think he's gonna blow up here and we're not convinced this jockey title race is over. Watch out. 
#6 Carlos Montalvo
You can never count out Carlos Montalvo another big time veteran that knows how to get his share of wins each week. He rode 10 times and picked up 2 wins for a 20% win rate. His under finishes were down a bit at 40% but Carlos will get his wins and capable of a 7 win week which he has done this season.
#7 Francisco Diaz-Lopez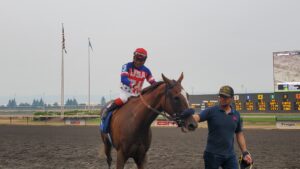 Talk about taking advantage of your chances! Fracinsco Diaz-Lopez has 3 rides and got his own trifecta with a win, place and show for a 33% win and 100% trifecta finish!
Despite all of Zunino's success in the big races it has not resulted in a large number of mounts. He got just 5 this week but still found a win and showed and ran 4th for a 1-0-1-1 from 5 start week. 20% win rate and 60% top 4.
#9 Alexis Valdes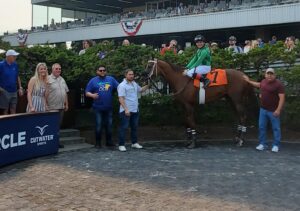 Alexis Valdes is a grinder and he is going to get his wins the old fashioned way of taking any mount he can get and getting the most out of them. Valdes went 1-3-2-3 from 14 rides a 7% win rate and 64% top 4 finish.
#10 Wilfren Orantes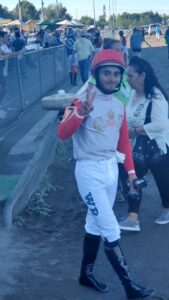 It wasn't Wilfren Orantes' 1st ever win but it was his 1st win ever at Emerald Downs and 1st win of 2023. Orantes is just getting started and won on a 30-1 shot in his only ride of the week. Congrats to Wilfren! 
Extra Notes: Congrats to the two quarter horse stakes winning riders last Sunday. Jaime Lopez won the $30,000 John Deere Challenge and Cordarelton Benn took the $40,000 Bank of America Stakes.
www.elisportsnetwork.com