8/27/2023
(Auburn, WA) Saturday night shined a spotlight on the most under-the-radar story of the season. Brand new Owner/Trainer Luciano Medina Gabriel is having a season. He won 2 races Saturday and by the way finished 2nd and 3rd with his other 2 starts to tie Justin Evans for the lead in the Owner's face for most wins of 15. Gabriel also solely owns or most of all of his horses. We are hoping to catch up with Luciano soon and do a feature piece on his incredible rookie season.
Meantime, Saturday night had 7 races on the card with a total of 47 starters for an average of 6.7 per race. No jockey's doubled but Gabriel and Frank Lucarelli each had  2 winners. Gabriel also doubled as an owner and Dawn Spillman got her 2nd win of the weekend.
The race for the riding Championship did not change. Alex Cruz seeking his historic 4th straight riding title came into the night with a 4 win lead over Luis Negron 55-51. Both picked up wins on Saturday night so Cruz still leads by 4 56-52. Silvio Amador continues to chase Kevin Radke for 3rd in the standings and pulled within 3 getting his 40th win of the season. Isaias Enriquez is solidly in 6th place getting his 27th win of the season. Kevin Orozco got his 2nd win of the week taking the feature race, Jose Zunino took the finale for his 16th win and Neptali Ortiz was a winner picking up his 11th win of the year.

Cruz leads the purse earnings standings with 837k, Radke is 2nd with 755k and Negron 3rd at 712k the only 3 over $700,000. Amador is 4th followed by Carlos Montalvo, Enriquez, Alexis Valdes, Zunino, Orozco and Rocco Bowen rounds out the top 10.
Speaking of Bowen who has ridden on and off over the season compiling a 18-20-18 record from 100 mounts has been gone the past few weekends and has been riding mainly at Thistledowns. He is back on Sunday and expected to continue to split time between the tracks for the final few weekends of the Emerald Downs season.
Veteran trainer Frank Lucarelli picked up a pair of wins on Saturday getting his 19th and 20thn victories of the season. He is currently 4th in both wins and earnings in the trainer standings. Top trainer Justin Evans retains a large lead with 38 wins, 10 more than 2nd place Jorge Rosales with 28 and Blaine Wright sits 3rd with 26. Only Rosales found the winners circle on Saturday with 1-9 favorite Tennessee Moon to cut Evans' lead to 10.
Luciano Medina Gabriel captured 2 wins and now has a 16-6-7 record from 53 starts winning at an eye-popping 30% clip and 55% top 3 finish. Leading female trainer Candi Cryderman picked up a win her 14th of the year and Hilario Perez also finding success in his 1st season of training winning for the 9th time.
Leading trainers by earnings has Blaine Wright at the top with 481k, Evans 2nd at 463k, Tom Wenzel 3rd with 391k, Lucarelli 4th with 341k and Rosales 5th with 255k in earnings.
The Owner's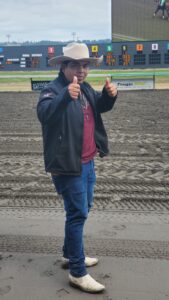 Luciano Medina Gabriel also picked up 2 wins as an owner and now has tied Justin Evans for the Owner's lead. Defending Champion John Parker got a win on Saturday and is sitting right behind with 12. Remember, ownership is exact so for instance Justin Evans is part of other ownership groups but for the standings the count is the exact ownership of a horse so even though Evans has many other wins as part of a group his sole ownership has 15 which is tied with Gabriel.
Dawn Spillman picked up her 2nd win of the weekend and she is now 6-2-2 from 19 starts. Other winning owners on Saturday included Sergio Perez, Aaron Bresko/Mike Hill and Frank Sample.
The top 5 leading money earners are John Parker with 166k about $500 behind is Gabriel at 165k, Evans is 3rd at 158k, George Todaro with just 6 wins and 17 starts is 4th at 146 and the only other owner over the 100k mark is the Oak Crest Stable at 108k from just 4 wins on the season.
The Betting Window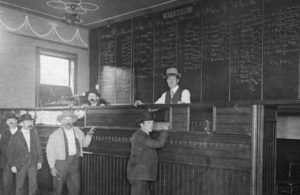 The total handle on Saturday was $713,519 or an average of $101,931 per race. The favorites got off to a fast start winning the 1st 4 races including 1-9 Tennessee Moon in the 4th race. The 1st 50-cent pick 4 paid $13.35. The best pay-out of the 1st 4 races was in the 1st with the 3-2 favorite winning followed by a 12-1 to 5-2 and 7-2 rounding out the superfecta. The $1 exacta  paid 17-1, $18.60, the $1 trifecta paid $78 or 77-1 and the $1 superfecta returned $171.40 or 170-1. Larsen Bay also paid $9.60 on the $2 place.
The 4th race actually had some value even with the 1-9 winning paying $2.20, $2.10 and $2.10. But  that meant the rest of the field was up for grabs with the 2nd favorite at 11-1. There was an 11-1, 12-1, 14-1, 16-1, 19-1 and 69-1 left and the top 4 were 1-9 to 11-1 to 12-1 to 16-1. The 50-cent trifecta paid $16.70 or $167 on a $5 trifecta and the 10-cent superfecta returned $12.36 or $123.60 on the $1 bet.
So you could single the 1-9 for 1st, select the next 2 favorites 11-1 and 12-1 for 2nd, next 3 favorites 11-1, 12-1 and 14-1 for 3rd and all for 4th for a cost of $1.60 for the 10-cent bet or $16 for the $1 bet. The $1 bet gets you back $123.60 for a $107.60 profit. You could take the 1-9 1st the next 2 favorites 2nd to all to all for a $40 bet to win the $123.60 as well and had the 69-1 shot even finished 4th you would have seen the pay-off jump up. So there are ways to get value even with an overwhelming favorite winning.
The big betting news of the day was with an 8-5 to 6-5 to 1-9 to lead off the Jack-pot Pick 6 followed by a 9-2 winner, 5-2 and 3-1 there were multiple winning tickets that actually paid more than you would likely expect of $391.80 which means there is a carryover to Sunday of $4,155.
The 5th race saw the longest shot of the day winning at 9-2 combined with a 5-1 2nd, 2-1 3rd and 5-2 4th. This paid the highest $1 exacta of the day of $45 along with the highest 50-cent trifecta $80.15 and largest dime-super of $68.35 or $683.50 for the $1 bet. The 2nd pick 4 of the day was good for just $25.25.
In the final race 3-1 was the winner followed by 6-1 then odds on ran 3rd followed by 8-1 and 8-1 and the Super Hi-5 paid $333.55. Again, multiple winners in the pick 6 so the carryover to Sunday. The 50-cent pick 5 paid a solid $327.40 with a 6-5 to 1-9 to lead it off.
Winners left no Doubt!!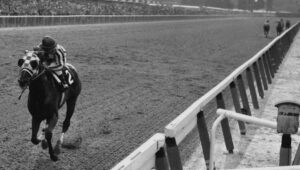 In the 1st race Barbarian and Silvio Amador blew away the competition with the largest winning margin of the season of 12 3/4 lengths. Amador took the lead early in the 1 mile race and was out by 6 at the top of the stretch ultimately stretching  that out more than double blitzing the rest of the field.
This set the tone for the night with zero photo finishes for 1st. In fact 2 races the winner won by 1 1/4-lengths and those were the closest finishes. Baby Frankie in the 2nd and Emerald Sea in the 5th both won by the 1.25 lengths. Shelby Shortstop won by 7.25 in the 3rd, Tennessee Moon by 5.25 in the 4th, in the 6th Nan Elizabeth by 3 and in the finale Raven's Quest by 4 plus the 12.75 by Barbarian.
The total amount of winning margin for the night was 34.75 lengths or an average per race of just under 5 lengths.
Barbarian draws away by 12 3/4's lengths!
6th Race Feature Race "The Muckleshoot Casino Purse"
6 broke from the gates at 6-furlongs in the feature race and dropping straight to back was 2nd choice Nan Elizabeth with Kevin Orozco up. Orozco allowed the front speed to go at it early on as Miss Bella and Ms Dynamic battled setting fractions of 21.63 and 44.56. Orozco and Nan trailed at one point by more than 10 lengths.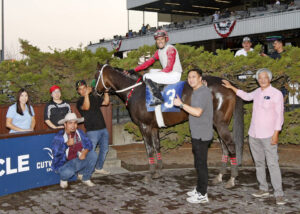 As the heated battle took its toll on the front runners the patient ones lined up to take their shot at the top of the stretch with Nan Elizabeth widest of all but roared past the entire field and pulled away with a 3 length win in an impressive turn of foot in the stretch. Nan Elizabeth stopped the clock in 1:10.45 and handed owner trainer Luciano Medina Gabriel his 15th win as an owner and trainer.
Silvery Orb and Jose Zunino also closed from the back to take 2nd, Zippen Sevenz and Kevin Radke took 3rd and 8-1 Stepup with Alex Anaya ran 4th. In fact the order of finish was the exact opposite of how they broke so last was 1st, 5th was 2nd, 4th finished 3rd, 3rd took 4th 2nd was 2nd last and front speed faded to last.
Nan Elizabeth is now 6-3-3 from 22 lifetime starts and picked up the $14,500 portion of the winners share of the pot to push the 5-year-old mare's lifetime earnings to $91,660.
Nan Elizabeth runs down the competition in the Saturday night feature
1st Race
3-2 Barbarian win by nearly 13 lengths for jockey Silvio Amador. Larsen Bay and Jennifer Whitaker were 2nd followed by Ididntseethatcomin with Luis Negron and Two Princes with Francisco Diaz-Lopez running 4th. Barbarian ran the 1-mile in a time of 1:37.09 and races for Sergio Perez and trained by Hilario Perez.
2nd Race
Owner-Trainer Luciano Medina Gabriel had 2 in this race and finished 1-2 with Baby Frankie the 8-5 favorite getting the win with Neptali Ortiz. Bel Regazzo and Silvio Amador ran 2nd, Wear the Crown with Kevin Radke 3rd and capping the superfecta was Orczy with Alex Cruz. Baby Frankie ran the 1 mile and 70 yards in 1:41.87. The all Gabriel exacta paid $6.70.
3rd Race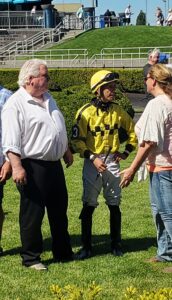 Shelby Shortstop also had an easy time on the lead winning by 7 1/4-lengths with Luis Negron in the saddle covering the 5 1/2-furlongs in 1:05.86 for owner John Parker and trainer Candi Cryderman. Shelby Shortstop is a Washington bred by Coast Guard out of Val de Saire by Harbor the Gold and was bred by Pat and Mullan Chinn. Running 2nd was Speightful Cat with Alex Cruz, Silvio Amador brought Rockit a Day home 3rd and finishing 4th was Shilshole Bay and Alexis Valdes.
4th Race
It was no contest for Tennessee Moon the 1-9 shot won by more than 5 lengths with Alex Cruz aboard running the 6-furlongs in 1:10.35. Owner Dawn Spillman got her 2nd win of the week with Tennessee Moon trained by Jorge Rosales. Lassie Cat and Luis Negron ran 2nd, 3rd went to Nomik Lackee and Neptali Ortiz and finishing 4th was Out of Stars and Isaias Enriquez. Tennessee Moon was claimed by John Parker for $5,000 and goes to trainer Candi Cryderman.
5th Race
Emerald Sea at 9-2 got the win for Isaias Enriquez paying the high $2 win of the night at $11.20. Emerald Sea won by just more than a length over My Legal Bet and Alexis Valdes, taking 3rd was Classic Leah and Alex Cruz with Pearl River Delta and Kevin Radke finishing 4th. Emerald Sea races for Aaron Bresko and Mike Hill and is trained by recent Hall of Fame inductee Frank Lucarelli running the 6 1/2-furlongs in 1:17.89. Emerald Sea is a Washington bred by Tizbud out of Out to Sea by Broken Vow and was bred by Bar C Racing Stables. Emerald Sea was claimed for $12,500 by the Weatherman Stable and will be trained by Rigoberto Velasquez.
7th Race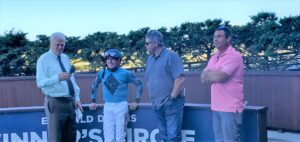 Raven's Quest came off the pace to win easy by 4 lengths for Jose Zunino covering the 6-furlongs in 1:11.43. Raven's Quest races for Frank Sample and is trained by Frank Lucarelli. Raven's Quest is a Washington bred by Coast Guard out of Chattolanee by Rock Hard Ten. Frank Sample was also the breeder. Running 2nd in the finale was Itstequilatalkin with Isaias Enriquez, 3rd went to Square Fun and Alexis Valdes, Another Ten and Carlos Montalvo took 4th with Secret Hottie and Kevin Radke completing the Super Hi-5.
www.elisportsnetwork.com