9/6/2023
Centralia 3, Olympic 0 (25-9, 25-14 25-23)
(Centralia, WA) The Centralia Tigers are off to a fast start winning their opening 2 matches by a combined 6-0, straight sets in both. Last night the Olympic Trojans came to town and Tiger coach Marti Smith said she wanted her team to focus on serving and boy did they do that coming up with 23 aces on the night.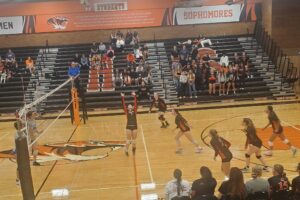 The dominant serving led to an easy 25-9 win in the opening set and in the 2nd set they cruised again to a rather easy victory 25-14. The Tigers got big efforts from seniors Lauren Wasson, Heaven Jacobson, Selah Calkins, Makayla Chavez and Gracie Schofield. The experience of the seniors is really leading this group early on so far.
As the Tigers got to the 3rd set they were ready to put a bow on a quick match as they extended their lead to 24-14. Just 1 point is all that was needed and Olympic coach Keith Peden decided to put in Maleah Nicholson to serve and she would need to hit 10 straight points to push the set into overtime. Highly unlikely. But then Nicholson started to get on a roll with 1-2-3 points. The Trojan JV team in the stands began to get loud urging the varsity squad on to pull off the miracle. 

Then she hit 4 and 5 points to make it 24-19 but still only halfway there and she did hit 4 aces during her run but big help from her teammates Jillian Bazzell, Nola Rivaldi, Kailee Thompson and Naomi Lipski. Nicholson hit point #6 and then Smith took a time out to get the Tigers re-set and remind them to focus.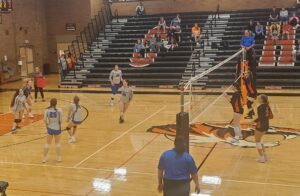 But the momentum was rolling fast as Nicholson hit points 7-8 and 9 and it was now 24-23 and the Trojans needed just 1 more to push it to OT. Nicholson again hit the serve and during yet another good rally the Trojans got called for a double hit and the match point went to Centralia escaping with the 25-23 set win to close out the match.
Despite the 9 point run Smith was happy with the Tigers play but quickly pointed out there is still a lot of work to be done. She says losing focus is easy to do when things are going your way, the hard part is regaining that focus and she says this was a great lesson to be learned and still get the result you hope for.
Sophomore Mckenna Smith caught our eye with great work in the middle of the floor and solid all around play as our Thorbeckes MVP of the game. Centralia improves to 2-0 and will host their annual Centralia Invitational on Saturday. It was Olympic's 1st match and they drop to 0-1 and the Trojans will host Stadium Thursday night.
ESN talks with the Thorbeckes MVP Mckenna Smith
ESN talks with Centralia Head Coach Marti Smith
Video Highlights
The Tigers close out the 2nd set
Olympic's Maleah Nicholson hits her 9th straight point
Centralia closes out the match
www.elisportsnetwork.com