9/12/2023
Curtis 3, Lake Stevens 1 (25-20, 23-25, 25-22, 25-16)
(University Place, WA) The Lake Stevens Vikings came into the match with Curtis after just missing a state championship in 2022. Both teams the Vikings actually met in the quarterfinals in Yakima last year with Lake Stevens pulling off a 3-2 win including 15-13 in the 5th and deciding set. Lake Stevens would go n to beat Puyallup in the semi-finals and and then dropped 0-3 to a red hot Graham-Kapowsin for the big trophy.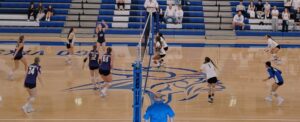 Curtis meantime, rallied through the consolation bracket and faced off with league rival Olympia in the 5th/6th place match and got the win for the 5th place trophy.
Both teams lost quite a bit to graduation and talking with Lake Stevens coach Kyle Hoglund he says this year's version of the Lake Stevens hasd a ton of talent but lacking at the varsity level of experience with just 3 seniors on the team. But says the talent is strong and facing teams like they have so far in non-league play is important to the development for a run this year. Lake Stevens was 1-1 coming into the match at Curtis beating Arlington always a tough 3A team and then losing to North Creek who also trophied last year in the 4A tournament taking 8th place.

Curtis has just 1 senior on their squad and head coach Taylor Bautista says she does have several returners but they also are young and facing teams the quality of Lake Stevens is key for their development.
The match got underway and both teams struggled stringing points together with a lot ofg unforced errors of serves into the net, long or wide. Lake Stevens really did struggle with that throughout the match giving away quite a few more free points to Curtis than Curtis gave back. This definitely could have been the difference in those tight sets. Curtis's Ariana Medchill was the first to break free scoring a triple to push the Curtis lead to 11-6. Lake Stevens did find their groove with Katelyn Eichert hitting a 3 spot to tie the set at 14.  But Curtis' Elaina Duong answered with 3 of her own and Curtis was able to keep Lake Stevens down by 3-4 points to pull away for a 20-5 win.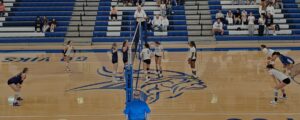 In the 2nd set it looked like Curtis was maintaining that one step ahead pace building a 14-8 lead. Katelyn Eichert hit another triple though and the defense of Lake Stevens got stingy with some great digs from Libero Alyss Kelly and Katelyn's younger sister sophomore Laura Eichert at 6′ tall winding up and delivering some huge kill shots. Lake Stevens stormed past Curtis with a late 24-21 lead. Curtis' Avery Cukjati was at the service line and pulled within 24-23 and was one point away from pushing it to OT. But Jayci Scrivens made sure it didn't go any further putting it away with a huge stroke to the hardwood for the set clincher and the match was tied 1-1.
The 3rd set again Lake Stevens plagued with unforced serve errors did not help their cause as they fell behind 19-12 and then 24-18. During this run  Elaina Duaong made and incredible dig to save a point and Medchill delivered several key shots. Lake Stevens would not give in though and rallied late sending Alyss Kelly to the service line trailing 24-19 and she reeled off 3 straight points to make it 24-22 before Curtis was able to clinch the win to go up 2-1.
The 4th set you could see maybe the Lake Stevens team hit the wall so to speak as Curtis again stretched the early lead  with a huge run from Asia Williams at the service line hitting 7 straight points with 2 aces for a 9-2 lead. This was a deficit Lake Stevens could not climb out of and dropped 25-16 to end the match with a 3-1 win for Curtis. It was Curtis' 1st set loss of the season. Lake Stevens will also clean up these mistakes that are handing points to their opponent. This match could have flipped their way at any time.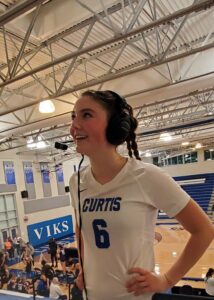 Curtis for their part, also never gave in and when challenged rose each time. This young team with only 1 senior Sam Harris, who had a solid night along with Selana Morales, Avery, Cukjati, Kate Harris and off the bench Mia Nelson and Kayla Baker. But our MVP discussion came down to Medchill and Duong with the nod going to Medchill.
If we were going to select an MVP for Lake Stevens the Eichert's would both be in the discussion along with Scrivens with Aslyss Kelly not far out. Olivia Gonzales and Mia Turner both had good performances as well.
Curtis is now 3-0 and will take on Olympia on Thursday and then travel to Lynden on Saturday in a non-league clash and will also be on the Eli Sports Network Saturday afternoon if you can't make the trip up in time. Lake Stevens has a pair of non-conference games coming up, on Thursday they host Lakeside and on Saturday travel to Lake Washington.
ESN Post Game Show and Interview with MVP Ariana Medchill
Video Highlights
Curtis and Lake Stevens Defense is highlighted early in the match with back-to-back Blocks
Lake Stevens evens the match at 1-1
Curtis' Elaina Duong with an amazing dig
Lake Stevens makes a late run led by this thundering kill shot
Curtis puts away the match with great plays like this from Mia Nelson
www.elisportsnetwork.com