9/26/2023
North Thurston 3, Peninsula 0 (25-23, 25-22, 25-23)
(Lacey, WA) It may have been a 3-0 sweep but this match could have turned on a dime as the host North Thurston Rams made just a couple of more plays in each set to defeat the Peninsula Seahawks in a showdown of undefeated teams.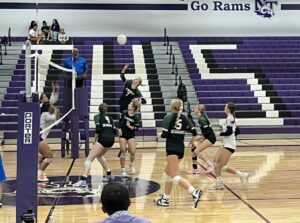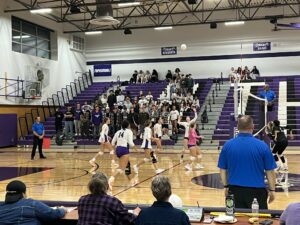 North Thurston got things going in the 1st set and led 23-19 but the Seahawks would not give in and in fact outscored the Rams 4-2 in the final 6 points but the Rams were able to secure the win. The Rams pushed it to 24-20 when the Hawks ran off 3 straight points and were 1 away from pushing it to OT when the Rams came up with a big kill shot to secure the 25-23 win.
The 2nd was back and forth to the point of 20-20. Which side would get the edge? The Rams would scoring 5 of the last 7 points for the 25-22 victory forcing a must win for the Seahawks in set 3 to continue the match. The Hawks came out and were aggressive and looked like they would indeed push this to a 4th set going up 21-15.

North Thurston's Samantha Humphrey would then reel off 4 straight to make it 21-19 when the Seahawks came up with a big block at the net to make it 22-19. The Rams answered with a point to make it 22-20. Addison Conner then struck for 3 points to give the Rams their first lead in this set 23-22. The Seahawks bounced back to even it at 23. North Thurston's Abigail Losey then killed a return shot to push the score to match point and the Ram's would finish it off with Chloe Dixon serving and Alexis Meyer coming up with a big block for the match winner.
North Thurston remains unbeaten at 6-0 and 4-0 in league play while the Seahawks drop to 4-1 overall and 3-1 in league play. The Rams will travel to Yelm on Friday night while Peninsula hosts River Ridge on Thursday. 
Our Education as a career MVP was North Thurston's Sydnee Hertzog.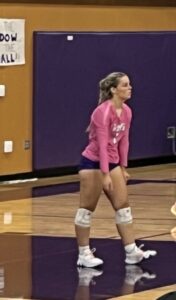 Link to watch game replay on the NFHS Network (this is a subscription stream): Peninsula at North Thurston
ESN Post Game Show
Video Highlights
Peninsula comes up with a big point
North Thurston clinches set 1
The Rams secure the 3rd set win for the match
www.elisportsnetwork.com