10/3/2023
Let's take a look at where we stand in class 4A at the midway point of the High School football season. Ultimately 16 teams will advance to the 4A State football tournament. Last year the State Champion was Lake Stevens and the runner-up Kennedy Catholic. The Semi-finalists were Graham-Kapowsin and Emerald Ridge.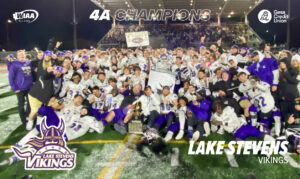 Let's take a look at the likely contenders at this point of the season. We take a look at the current standings and the RPI but remember the RPI is very early and is meant to be a full season measurement. We also have listed every league and their current standings below. Many leagues also crossover with each other to share their allocations to the state tournament and allow more schools to have a chance to qualify. We do not know how each league is set up so we are looking at all leagues with a general overview. Let's get started!
In the Big 9, Moses Lake is 5-0 overall and 2-0 in league play with an RPI of 3 while Eastmont is 5-0 and 3-0 with an RPI 0f 4. West Valley of Yakima sits in 3rd with a 2-1 league mark and 4-1 overall with an RPI of 20. In the Greater Spokane League a combined 4a and 3a league with only 3 4a schools has Gonzaga Prep in control with a 4-0 league mark and 4-1 overall with an RPI of 19. The Bullpups advanced to the quarterfinals last year beating Kamiakin in the opening round 40-27 and then dropping to Lake Stevens 42-17 in the quarters. Sunnyside got in the dance last year but was ousted in the 1st round by Chiawana. Sunnyside is 1-1 and 2-3 overall with a 23 RPI but have work to do to try and get back to postseason.
In the 4-team Greater St Helens league none of the teams have played a league game yet but Skyview is unbeaten at 5-0 and got to the play-offs last year losing in the opening round to Graham-Kapowsin 42-28. They have an RPI of 5. Battle Ground is surprising folks with an undefeated mark as well of 5-0 and an RPI of 7. The Tigers will get tested again this week with a game against 3A Lakes and then their final 3 weeks is their league schedule. Camas missed the play-offs last year but look like they are ready to make another Papermaker run with a 4-1 overall record and an RPI of 13. The final 3 weeks of this 4-team league will certainly sort out whose going to the play-offs.

There are 9 teams in the Kingco 4A and 5 are still alive. On top of the league right now is Eastlake at 5-0 and 3-0 in league play and the #1 RPI. Then a trifecta of teams that anyone of them could advance with Bothell, Mt Si and Woodinville all 4-1 overall but Bothell is 2-0 in league while the other 2 are 2-1. Bothell's RPI is 6, Woodinville 8 and Mt Si 16. Then there is Skyline sitting in 5th and even though they are 1-2 in league and 3-2 overall their RPI is 12 and should not be counted out yet. A long ashot is North Creek is 0-2 in league but 2-2 overall with an RPI of 21. North Creek was on of the 3 teams to advance to state last year losing in the opening round to Lake Stevens. Eastlake was also ousted in the opening round 21-9 by Emerald Ridge and Skyline advanced to the quarters beating Federal Way in the opening round but dropping to Kennedy Catholic in the quarters,
The Mid-Columbia conference has yet to sort itself out with 3 teams at 3-1 in league play or better and all 4 with top 20 RPI's. Chiawana and Richland are both on top of the league with 4-1 records but Chiawana with the advantage with the 27-14 head-to-head win over the Bombers. Chiawana lost their opener to Kamiakin. Kamiakin is 3-1 in league play and all 3 are in the top 20 of the RPI with Chiawana at 9, Kamiakin 17 and Richland 18. Last year Chiawana, Kamiakin and Richland all advanced with Chiawana getting to the quarters before dropping to Emerald Ridge 40-37. Kennedy Catholic eliminated Richland and Gonzaga Prep knocked out Kamiakin in the 1st round.
State Runner-Up Kennedy Catholic is back in position in the NPSL 4A with a 3-0 league mark and 4-1 overall with an RPI of 11. If you look at the standings it does look like the NPSL is not correct and there are some mistakes in these standings we have asked for clarification but we believe we are correct with K-C. It appears the surprising Decatur Gators is also off they are listed as 3-1 in league play and appear to be 2-1 with their lone loss to K-C. But this is still quite a stunning turn-around for the Gators and they are 4-1 on the season with an RPI of 23.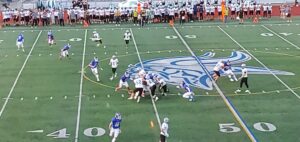 The SPSL 4A was well represented last year with 2 teams in the semi-finals but both fell short. Graham-Kapowsin who were Champs in 2021 lost to Lake Stevens 42-28 in their effort to get back to the big game. Emerald Ridge made their best run in school history getting to the semi's but were knocked out by the same 42-28 score. Both teams are focused on getting back to the dance. Graham-Kapowsin is one of 2 undefeated teams with Curtis surging. These two teams will square off this Friday night in one of the biggest games if not the biggest in the state this week. G-K is 5-0 and they are all league games as are the Vikings. Curtis sits with the #2 RPI while the Eagles are at #9. Emerald Ridge is 4-1 and have lost to Curtis in the only head-to-head of the top 3 teams so far. The Jags RPI is 15. The surprising Bethel Bison are sitting in 4th at 3-2 ready to make their run and the other qualifier last year was Sumner who has a 2-3 record with losses to the top 3, all competitive games. The Spartans could easily run the table and finish 6-3 and let the upper end beat each other up, don't count out Sumner just yet.
This brings us to the home of the defending State Champions the Lake Stevens Vikings in the Wesco 4a with only 5 teams. Lake Stevens is 1-0 in league and 4-1 overall with their only loss against West Linn of Oregon. The Viks have a current RPI of 14. Glacier Peak is also 1-0 in league and 3-2 overall with losses to 2 tough non-league opponents in Camas and Ferndale. These two teams meet at the end of the season which may be for all the marbles. 
That is the quick look at all the 4A leagues and certainly a team not mentioned could still make a run. Do remember the standings are tabulated through the arbiter network which the officials enter the final score. Sometimes the scores are accidently entered incorrectly and not all the mistakes are noticed right away. The WIAA is encouraging each AD to check their scores and standings to make sure they are correct.
Also remember there is always a lot of hoot and hollerin' about the RPI standings but these standings are meant to be a season long measurement so look for big changes and swings still to come, this is where they are right now based on the criteria fed into the computers that spit out the rankings. 
Looks to us like there is a lot to be excited about for the stretch run of the football season so buckle up and enjoy the ride!
*Note the standings are as presented there may be some mistakes but the standings are part of the WIAA's effort to launch a statewide standings, schedules and results website. It was launched this last summer and they continue to work on it but there are some mistakes that we have noticed and have passed on to the WIAA. Overall, it is a huge step in the right direction of trying to once and for collect all the basic information on one site.
GSL 3A/4A
WIAA
League
Overall
Team Name
CL
RPI
W
L
T
W
L
T

 Gonzaga Prep

4A
19
4
0
0
4
1
0

 Mt Spokane

3A
4
4
0
0
4
0
0

 Ridgeline

3A
19
3
2
0
3
2
0

 Mead

3A
29
2
2
0
2
3
0

 Central Valley

4A
34
2
2
0
2
3
0

 University

3A
46
2
2
0
2
2
0

 Lewis and Clark

4A
41
2
3
0
2
3
0

 Ferris

3A
64
1
4
0
1
4
0

 Cheney

3A
77
0
5
0
0
5
0
South Puget Sound 4A
WIAA
League
Overall
Team Name
CL
RPI
W
L
T
W
L
T

 Graham Kapowsin

4A
9
5
0
0
5
0
0

 Curtis

4A
2
5
0
0
5
0
0

 Emerald Ridge

4A
15
4
1
0
4
1
0

 Bethel

4A
30
3
2
0
3
2
0

 Bellarmine

4A
29
2
3
0
2
3
0

 Puyallup

4A
37
2
3
0
2
3
0

 Sumner

4A
24
2
3
0
2
3
0

 Olympia

4A
37
1
4
0
1
4
0

 South Kitsap

4A
46
1
4
0
1
4
0

 Rogers (Puyallup)

4A
47
0
5
0
0
5
0
www.elisportsnetwork.com