10/6/2023
Skyview 56, Kentwood 49
(Kent, WA) The Skyview Storm are more than halfway through the regular season and have yet to play a GSHL 4A league game. Why? Because there are only 4 teams so none of the teams have played each other yet. Now through 6 weeks Skyview is 6-0 along with Battle Ground while Camas sits at 5-1 and Union is 2-4. In the measurement of the state RPI this little league has a lot of fire power with Battle Ground as the #6 RPI team, Skyview at #7 and Camas at #11. Heck even 2-4 Union is #27.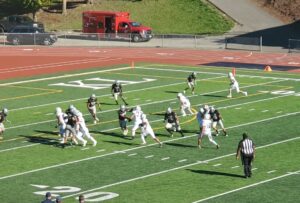 Having only 3 league games puts tons of pressure on each team that you better be ready when it's time to kick it off. Playing 6 non-league games is taxing on programs especially coaches who have to make decisions such as when do I take players out and not risk injury in a non-league contest? When do I keep players in despite the score one way or another because they need the work in a live game situation.
Saturday was the last day the Storm needed to consider all those outside factors as they traveled up to Kent to face Kentwood at French Field. Skyview had little trouble with a beat-up Conks squad and pretty much did whatever they wanted on their way to a 49-0 lead at halftime. 

Skyview will be laser focused on their league opener at Camas on Friday. Battle Ground and Union play each other on Friday as well. In week 2 of the 3 week league schedule Skyview hosts Battle Ground and Camas is at Union and in the final week Skyview is at home against Union while Camas goes to Battle Ground.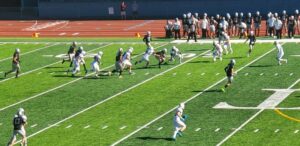 Kentwood will try to get healed up as they get ready to face 1st place Decatur on Saturday. Following their showdown with the Gators they will host Federal Way and Kentridge.
For a full re-cap of the game click on the ESN Postgame show below plus a couple of video highlights. Our "Education as a Career" MVP went to Skyview's Gavin Packer. 
To watch the full replay of the broadcast on the NFHS (Subscription) Network click on the link: Skyview at Kentwood Football 10/7/2023
ESN full Postgame Show
Video Highlights
Skyview with a zippy 25 yard TD strike
Skyview's Kennedy finds Packer for 6
www.elisportsnetwork.com