10/10/2023
Tumwater 3, Black Hills 0 (25-23, 25-19, 25-20)
(Tumwater, WA) The Tumwater T-Birds came into this match at Black Hills with a 7-0 undefeated league win streak including a win over the Wolves in their 1st go-round back on September 14 3-0.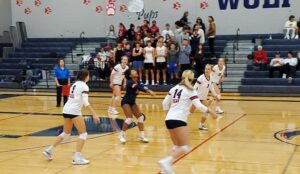 The Wolves came out firing in the 1st set taking an 11-6 lead behind the efforts of Claire Johnson and Anneliese Dale each connecting for 2 service points along with a couple of kill shots from Ashley Harris. The T-Birds McKayla Clary answered with a nice triple to get the T-Birds back within 13-11. The Wolves stretched it back to a 20-15 lead with another double point serve from Claire Johnson. 
Tumwater made their move trailing 16-20 when Brooklynn Hayes stepped to the service line and reeled off 6 straight points with 1 ace to give the T-Birds their 1st lead in the game. That burst was good enough to hold off the Wolves 25-23 to take a 1-0 lead.

In the 2nd set the two teams would not let the other get too far in front with no more than a 2 point lead at anytime to a 20-18 score with the T-Birds leading. It was at this point that Briana Zavala served 3 straight points and pushed the T-Bird lead to 23-19 and scored the final 2 for the 25-19 win.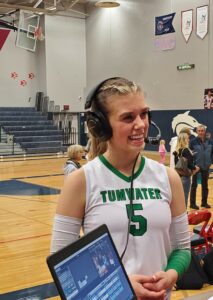 The 3rd set was a must win for  the Wolves but the T-Birds got started early building a 16-12 lead keeping Black Hills at arms length while creeping closer to closing out the match. Tumwater stretched it to 20-15 when Ashely Harris closed the gap to 1 point scoring 4 in a row and helping her own cause with a pair of pounding kill shots. The T-Birds McKayla Clary then returned the favor with a run of 3 to make it 24-20 when the T-Birds closed it out and for the 3-0 win.
Our Thorbeckes MVP went to the T-Birds' Brooklynn Hayes for her big service run in the 1st set and her all-around play as the Libero. Tumwater is now 8-0 and 10-1 overall and will host WF West on Thursday. Black Hills drops to 6-2 and 7-4 and travels to Aberdeen  for a huge match with the Bobcats with 2nd place on the line.
To watch the full replay on the NFHS (subscription) Network click on the link: Tumwater at Black Hills Volleyball 10/10/23
ESN Post Game Show
Interview with MVP Brooklyn Hayes
Black Hill's Ashley Harris with a couple points
Great rally between Tumwater and Black Hills in the 3rd set
Standings
Evergreen 2A
www.elisportsnetwork.com