10/17/2023
Puyallup 3, Curtis 1 (25-16, 14-25, 25-15, 25-21)
(Puyallup, WA) The Puyallup Vikings knocked off the Curtis Vikings in a 4 set showdown at Puyallup High School on Monday night. A large crowd was on hand to see two of the top teams not only in the SPSL but in the state do battle and the home team Viks pulled it out in 4 sets.
The match was a bit different than other "showdowns" as each of the first 3 sets were not close. Each team put together a strong run in the middle of the set to pull away from the other for comfortable wins. Puyallup took sets 1 and 3 25-16 and 25-15 while Curtis won set 2 25-14.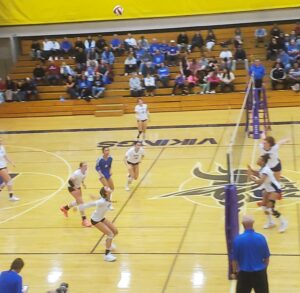 In the must win set for Curtis in the 4th they began fast with a 5-2 advantage only to see Puyallup even it at 5 and so now it was a race to 20. Curtis would surge to a 16-12 lead and it appeared the same pattern would follow but Puyallup had other ideas. Led by senior Dani Brown she fired off 3 straight points with an ace and a big kill from Rylie Hangca. The set would get knotted up at 17-17 when Puyallup would sprint to the finish outscoring Curtis 8-4 clinching the win and the Division title.

Puyallup had strong performances from libero Samantha Pirillis, Reese Sheppard, Rebecca Wilber along with Hangca and Brown. But none bigger than Brown who had to change out of her #12 jersey after getting some blood on it and finished wearing Rilyn Kerlee's #11 jersey. Brown was named our Education as a Career MVP award.
Curtis has been banged up all year and still are not 100% but got great work from Avery Cukjati, Kate Harris, Sam Harris, Elaina Duong, Ariana Medchill and Peyton Ensign. Ensign started on the bench this season with injuries and is beginning to round into form and put in a strong performance on Monday night.
Puyallup improved to 6-0 in division play and 11-1 overall while Curtis drops to 5-2 in divisional play and 11-3 for the season. Puyallup will finish up with matches against Sumner, South Kitsap and Graham-Kapowsin. Curtis has G-K, Tahoma, Bellarmine and Emerald Ridge left on their regular season schedule.
To watch the replay of this match on the NFHS (Subscription) Network click on this link: Curtis at Puyallup Volleyball 10/16/2023
ESN Post Game Show
Video Highlights
Puyallup's Reese Sheppard sets up Dani Brown perfectly
A big rally goes Puyallup's way
Curtis closes out set 2 strong
Curtis pulls within 1 late in the 4th set
Dani Brown's block nearly seals the win
www.elisportsnetwork.com