10/23/2023
(Renton, WA) There will be 2 new Final 4 soccer locations beginning this season for Fall Soccer. The only location not changing is Sparks Stadium in Puyallup which will host the 4A and 3A girls final 4. 
The other 2 sites will be new to the soccer final 4 which had begun changing in the Spring of 2022 when the 1A and 2a boys final 4's in the Spring were moved from long time host Sumner to Tumwater. Then last Fall, the B boys and girls final 4's that had also been at Sumner in the Fall was moved to Renton. Renton then hosted the 1A and 2A tournaments last Spring. Shoreline had been the longtime host of the 1A and 2A girls final 4's in the Fall and both Renton and Shoreline had made a bid with 3 other locations for the tournaments.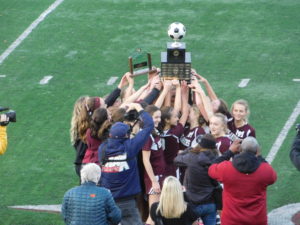 The WIAA Executive Board received 5 bids to host. The bidding process is a competitive process where each location puts in their cost to host and other things like what and how they can provide for each team competing. The board approved Puyallup to remain the host of the 3A, 4A girls tournament and then gave the 1A, 2A girls final 4 to Mt Tahoma in Tacoma and the B girls and boys final 4's to Federal Way. This was to begin in 2024 through 2027.
However, Shoreline and Renton that were denied in their bids asked to be let out of this season and both Mt Tahoma and Federal Way informed the WIAA they could start this season so the board voted to move the B girls and boys to begin this year at Federal Way's newly renovated Memorial Stadium and the 1A and 2A girls to Mt Tahoma Stadium on George Nordi field.

The Fall State Final 4 Tournaments will be held on Friday and Saturday, November 17 and 18. The Semi-Finals on Friday with the 3rd place and Championship matches contested on Saturday.
The 2 locations for the Spring Championships for the 1A and 2A boys and the 3A and 4A boys has not yet been determined for 2024-2028. Last Spring the 3A and 4A boys were at Sparks Stadium in Puyallup and the 2A and 1A boys played at Renton Memorial Stadium.
www.elisportsnetwork.com