11/3/2023
(Tumwater, WA) The District 4 2A Volleyball Tournament began on Thursday with 6 matches taking place that advanced 4 of the 8 teams to the Semi-finals and 2 teams into the consolation bracket and 2 teams went home.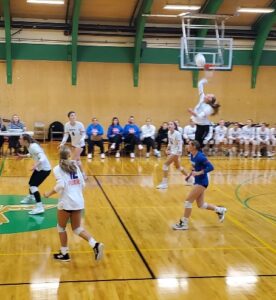 In the 4pm matches the north #1 Tumwater beat the south #4 Washougal 3-0 top advance to the Semi-final. In the other 4pm match #2 south Ridgefield also swept beating #3 north Aberdeen 3-0 but they did have to work for it as the Bobcats pressed the Spudders in a 25-23, 25-19 and 25-23 match. So Ridgefield will be the visiting team on Saturday in the Tumwater main gym at 11am. Winner to the district Championship and loser out.
In the 6pm games, it was the south #1 face the south #5 Mark Morris. The Monarchs got into the district tournament defeating Centralia on Tuesday in a pigtail game. The very tough Rapids dispatched the Monarchs in 3 straight to advance to the semi-finals. The north #2 Black Hills had all they wanted and more in battling the south #3 RA Long winning 3-2. Every time the Wolves thought they had pulled away enough the Lumberjills came storming back but lost in the 5th set. The scores were 25-17, 26-28, 25-17, 15-25 and 15-10. Columbia River will now face Black Hills in the semi-finals at 11am in the auxiliary gym at Tumwater on Saturday.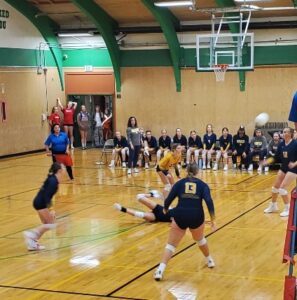 In the final 2 matches that began at 8pm, both were winner to the consolation bracket and loser out. In the main gym Aberdeen and Washougal battled back and forth splitting the first 2 matches with Aberdeen going up 2-1 and the Panthers striking back to tie it at 2-2. The Bobcats persevered in the 5th set to stay alive advancing in the consolation bracket.

Mark Morris came our firing and RA Long looked tired from that 3-2 loss to Black Hills but the Jills soon got their momentum back and came from behind to win the opener and went on to a 3-0 sweep ending the Monarchs season while advancing to the consolation game on Saturday.
The schedule for Saturday at Tumwater is:
11am (Semi-Finals)
Main Gym
Ridgefield vs Tumwater
Aux Gym
Black Hills vs Columbia River
1pm (Winner to State/Loser Out)
Main Gym
Aberdeen vs loser of Black Hills/Columbia River
Aux Gym
RA Long vs loser of Ridgefield/Tumwater
3pm (District Championship both to State)
Winners of Ridgefield/Tumwater vs Black Hills/Columbia River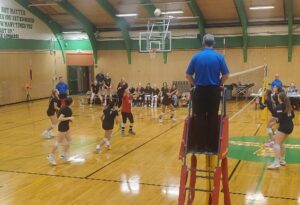 All matches will be available on the NFHS network. The main gym will be on the automated pixellot camera and the 2 matches in the auxiliary gym will be through the Eli Sports and NFHS networks. There won't be announcing on either stream and in the Aux gym. Both will have either a scorestrip or a picture of the scoreboard. This is a subscription service and find the link to watch click on our broadcast page and follow the links. ESN Broadcast Page Link
www.elisportsnetwork.com