The winners of each week will be posted here and we'll add a little description as to how they won and their winning picks.
Week 13 Another week, Another Tie-Breaker! Cliff Nichols edges Lee Stockwell in the tie-breaker!
So easy to say I should have picked this team or that team in the end both Cliff and Lee had at least one of those but they also had many that most others did not with 12 correct picks out of a full field of 16 games. Both Cliff and Lee got off to a great start as one of the few who had Green Bay over Detroit. Cliff then went on a rampage hitting the 1st 8 selections in a row with being in the minority on the Atlanta win over New Orleans and Indy upsetting Tampa Bay.
Lee was just 1 behind by pickiing the Saints but made up for it taking the Giants over New England and he and Cliff were even at 8. Both kept up their against the grain picks but both lost with Carolina had either decided against the Panthers there was the chance to avoid the tie-breaker. Both went with the majority missing Cleveland but then Lee was the only one to pick the Raiders who got beat by KC so Lee fell behind by 1. They both had Philly and Baltimore but Lee was 1 of 2 who were on the Chicago Bears bandwagon and that tied Lee and Cliff with 12 wins each. It came down to the total points tie-breaker and Lee went with 483 total points while Cliff was at 515. Both were well under the 661 total points scored this week as most people may have forgotten all 32 teams played this week with no bye weeks. So Cliff Nichols gets his 2nd win of the season while Lee Stockwell just missed.
Two other things, Bob Kickner was the other one with the Bears and there were 6 with 10 correct. Professor DW, however had his best day since opening day just missing with 11 wins for 3rd on the week. Back to the regular schedule this week with the deadline on Saturday night at 12 midnight. No Thursday night pick this week. You can still win and get in the exclusive post-season tournament!

Week 12 Price is Right rule gets Coach Hamrick! Lorilynn Mohney wins in a Tie-Breaker
Ouch!! The Price is Right Tie-Breaker crushes Kevin Hamrick who had 10 right but guessed 528 total points for his tie-breaker. Lorilynn Mohney also got 10 right but guessed 390 total points scored by all the teams. Remember you can't go over and the final total was 525 total points. Kevin was over and despite missing by just 3 points Lorilynn's 390 guess is under and she wins.
Both missed on Washington and Seattle, Hamrick had the Chargers for his 3rd loss and Mohney had Kansas City for her 3rd loss. Not to rub salt into the wound but Hamrick a Seahawks fan can look straight to Jason Myers missed field goal to win the game as also costing him this weeks pool. Had Myers hit the field goal Hamrick and Mohney would still be ties with 11 winners but the total points would have been 528!
Mohney wins the $24 in $2 bills and an Eli Sports Network T-Shirt because Prof DW stunk it up once again! Mohney also earns an entry into the Porfessor's exclusive Post Season Tournament. You can still get in there are 7 weeks remaining. Remember if you have won you can win again but you only get 1 entry into the post season but will prevent someone from getting in so far we have 8 in the tournament with a possible total of 15.
This week starts early got to have your picks in by Wednesday night at midnight so we get the Thanksgiving day games in!
Week 11 Gary West wins with 1st time entry! Denver wins it for West!
1st time winner Gary West takes week 10 by taking the right gambles at the right time. Three were tied for 1st going into Monday night's game but Gary was one of 2 with Denver selected to upset the Bills. That also made him the only one with double digit wins with 10 out of 13 correct. A couple of others that he nailed were Houston and Tampa Bay. He lost some ground with Green Bay but was on the right side of Indy and San Fran which had many on both sides of those picks. 
Scoring was up this week too with a total of 610 points scored. West earns a place in the Prof DW Post Season "exclusive" Tournament so keep trying you must be a weekly winner to earn your way in with cash and prizes of up to $150. West wins the $24 in $2 bills weekly jackpot and he also defeated Prof DW who had 8 correct winners and was close on the total points with 572. Lee Stockwell was closest to the point total with 577 but Stockwell and the Prof need to pick more winners!
Good luck in week 11 and remember next week  in week 12 we have an early deadline as we will include all the Thanksgiving Day games. 
Week 10 Three-way tie goes down to tie-breaker and results in 3rd 2-time Winner!
It came down to the tiebreaker in week 9 with 3 competitors all tied with 9 correct out of 13. In fact there were 5 with 8 winners going into Monday Night's game with Kevin Hamrick, David Walick and Brian Perman all with 8 winners and the Chargers while Paige Davila and Cliff Nichols were with the Jets. Had the Jets won Cliff would have edged Paige with his total points guess under the 540 scored. Paige was over and would have taken 2nd.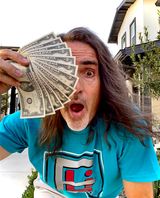 So it came down to the the tiebreaker for the 3 that had 9 winners. First let's see where one of them may have been able to tilt the balance. The only one with a chance was Dave as all 3 missed on Miami and Atlanta. Kevin and Brian also had New England for identical selections. Dave's 3rd miss was the Rams at Green Bay which was the underdog had he gone with the favorite Dave would have been the only one with 10 wins.
But the trio all had 9 wins so it was up to the tie-breaker. The total points scored was 540 by the 26 teams. First no one was under, had anyone used the Price is Right strategy of 1 would have won as you can't go over, unless all of them are over and in that case it is who is closest. Dave guess 652, Kevin was closer at 628 but it was Brian's 589 that gives him his 2nd win of the season.
The Professor had a better week but still fell short with just 8 wins and had his worst points guess of the year at 624. So Brian wins the 12 $2 bills and another Eli T-Shirt. Since he already has his exclusive entry into post-season he does prevent both Kevin and Dave from getting in reducing the final pool of participants by 1. Through 9 weeks 6 have qualified for the post season tournament. Congrats Brian the Professor looks forward to your 2nd victory picture!
Week 9 Winner Darin Arthur wins in the tie-breaker for his 2nd win of the year! Edges out Cody Farris
With a full slate of games this week the pickers had their best week of the year with 10 in double digits. Darin Arthur and Cody Farris each had 11 going into Monday night's game but both had selected Detroit so it came down to the tie-breaker. But Sydney Timothy McConnell had 10 and had the Raiders. Even if it had been a 3-way tie though Darin had the tie-breaker of total points scored by all 30 teams. Darin guessed 555, Cody had 485 and Sydney Timothy was below that. The total points was 674 as point scoring was up quite a bit this week and we remind you the tie-breaker is the total points scored by all teams. 
Darin's picks of Carolina, New Orleans and Tennessee is what separated him but he almost got caught with one of only 2 picks for Arizona over Baltimore. Cody also had Carolina and New Orleans but had Atlanta over the Titans but made it up against Darin with Baltimore over Arizona and it came down to the tie-breaker. This is Darin's 2ns win which means he's already qualified for the post-season tournament and his win means there will be 1 less in the winner's only post-season tournament. The pool is down to a max of 16 from 18 with 2 2-time winners so far. 
Darin and virtually everyone else smoked the Professor who was awful this week with just 8 correct and with idiotic picks like Green Bay, Giants and Washington it wasn't a real challenge to knock off Professor DW which could stand for dim wit. And his guess of 561 was better than both our winners but still his worst of the year. 
Congrats Darin and we hope everyone keeps playing for your chance to win and it's FREE! 
Week 8 Winner Cliff Nichols! Tough week of picking except for Cliff who roared through his entry
#7 is lucky for Cliff Nichols who is our winner this week! It was a tough week of picking but Cliff clinched his big win as the LONE person to select Minnesota over the 49ers on Monday night Football. Cliff was equally perceptive as 1 of only 2 to pick New England over Buffalo. Nichols ended up with 8 correct out of 12 and also found himself on the right side of several split games picking off Baltimore, the Giants and Pittsburgh.
Cliff easily defeated the Professor who had an embarrassing 4 correct. The only thing the Professor did right was be the closest to the tie breaker total points which he seems to be very good at, now it would be nice if he could pick a winner. The total points scored with only 12 games was 509, the Prof guessed 456 and the 12 games seemed to throw the pickers off a bit with some really high guesses and low guesses all over the board. But for Cliff being too low was no issue with the outright win! Congrats Cliff and he is now the 6th winner to gain entry into our exclusive post-season tournament.
Week 7 Winner Hal Bowes advances to the Post Season Tournament, locks in with 11 winners!
Hal Bowes is the 5th person to qualify for the Post-Season tournament correctly selecting 11 of 14 games. The only games he missed were Seattle, San Fran and Philadelphia and everyone missed the 49ers and Eagles, no one selected the upset in either of those games. Hal separated himself by picking the winners of the most split decisions by our pickers this week sweeping the difficult Washington, Minnesota and Houston games. Had either of the 10 win pickers been able to tie him he still would have won with his tie-breaker guess of 424 total points and was under the others were over the final 524 total points.
The Professor finished with a paltry 8 winners and his score prediction was 101 over at 625 so Bowes gets his 12 $2 bills and an Eli Sports T-Shirt or polo shirt. Just a reminder you must win a weekly contest to advance to the Prof DW post season tournament and once you qualify you can keep playing the weekly contests but you only get 1 entry. However, if you win a 2nd time that knocks out one of the available post season entries. Congrats Hal!
Week 6 Winner our 1st 2-time Winner Congrats Katie King!!
Katie King was the only one to get into double digits with 10 of 13 correct beating a trio at 9 wins in Darin Arthur, last week's winner and Kariann Sullivan. The 3rd to have 9 correct was none other than Professor DW who loses again. However, the Professor's 565 total points tie-break was just 5 off of the 570 total. So the Professor remains dialed in on selecting the total points. 
This week if the Professor had hit 10 to tie Katie, Katie had a big surprise because she also out "Price is Righted" the Professor with a guess of 567 so she would have won the tie-breaker anyway. Darin Arthur also had a great guess of 555 but would have needed 11 wins to beat Katie. Kariann was looking for a low scoring week with a tie-breaker guess of 416. 
Katie wins another T-Shirt and of course the 12 $2-bills and since she already qualified for the post-season tournament she does not get a 2nd entry but she has eliminated one of the positions so now instead of 18 competitors there can only be as many as 17. This is why you want to keep entering after you win a weekly contest. Congrats Katie!
Week 5 Down to the wire and to the Tie-Breaker! Darin Arthur slips past Chris Bell for the win!
Darin Arthur wins week 3 although his betrayal of the Seahawks nearly cost him. Arthur expertly selected 12 winners out of the 1st 14 games. On games pretty much split on selections he was on the right side of Baltimore over Cleveland, Jacksonville over Atlanta and Minnesota over Carolina and then was one of a few taking Tampa Bay over New Orleans. He did go wrong with Miami and Pittsburgh leaving him with 12 right going into Monday night but was one of only two to pick the Giants over Seattle and we know how that ended.
Meantime, Chris Bell got off to a slow start missing early on Atlanta and Miami. Then was the lone person to take Washington and nearly pulled it off. But he made up a bunch of ground with underdog picks of Baltimore, Tennessee and most of all one of only 5 to take Houston to get to 11 on Sunday. His Monday night pick was Seattle and Chris tied Darin each with 12 wins. So it came down to the tie breaker and the total points scored in the 15 games was 646. Darin guessed 555 and Chris guessed 777. So remember we have the "Price is Right" rule, you can't go over so Darin Arthur held on for the win in a thrilling week 4 contest.
Professor DW was much better this week hitting 11 but had he hit 12 he would have lost the tie-breaker as well with a guess of 675. So Darin Arthur wins the 12 $2 bills and an Eli Sports shirt and best of all has now qualified for the exclusive Prof DW Postseason Tournament. The only way you can get in is to win a weekly challenge. Those who have won can keep playing but they only get 1 entry to the Postseason tournament so now their strategy is to block out additional competition. 
Congrats Darin!! and great work Chris it came down to the tie-breaker!
Week 4 Down to the Wire, Katie King wins it on the final game of the week! The Professor disappoints again.
Week 3 was very competitive with many pickers agreeing on a lot but it was those who went their own way that got into position to win. It came down to Katie King and Cliff Nichols. Both had 10 correct going into the Monday night double header. Both had picked Philadelphia who won easy so both had 11 with the LA Rams at Cincinnati. Katie went with the Bengals and Cliff took the upset with the Rams. The Bengals won 19-16 giving the weeks win to Katie.
Had they tied Cliff would have won the tie breaker guessing a total of 469 points would be scored in all 15 games with Katie being careful not to go over with a guess of 237. The total was 664. Katie's picks of Cleveland, the Chargers, Pittsburgh and HOUSTON is what separated her from the core of the pickers. Cliff was the only one to have Indy over Baltimore and also had Cleveland and Pittsburgh to make it close but the Rams fell short. 
Professor DW was disappointing with a sad 8 correct but was nearly on the money with the total score guess of 660 missing by 4 points, too bad he can't pick winners like he can guess total points! 
Katie wins the 12 $2 bills and gets the bonus prize of an Eli Sports Network T-Shirt or Polo Shirt plus she is now qualified for the Prof DW Post Season Tournament. Be sure to get signed up for next week's the new entry form should be up by Tuesday afternoon.
Week 3 Brian Permann wins with 10 correct and hands Prof DW his 1st loss to win bonus prize!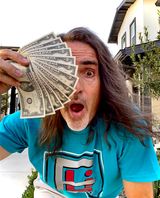 Week 2 so a big uptick in contestants and Brian Permann squeaked out a win hitting 10 of 15. Permann went against the grain on several picks that made the difference. Permann began with Atlanta, then had Indianapolis got bailed out with the Arizona collapse and finished strong by sweeping Monday night with New Orleans and Pittsburgh.
Permann wins the 12 $2 bills and either a T-Shirt or Polo Shirt and joins Dave Pavletich in the exclusive post-season tournament. To get in the post season tournament you must be a weekly winner. You can only qualify for 1 post season entry but you may win multiple weekly contests.
Week 1 Dave Pavletich of Centralia 6 of 15 wins by tie-breaker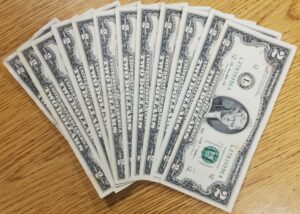 Believe it or not it came down to Monday Night Football for our 1st winner to be determined. We had just 4 entries but it ended in an unbelievable 4-way tie! The winner was determined by the tie-breaker point total guess. The 1st entrants were not all that successful in selecting as it was a 4-way tie with just 6 correct. Going into Monday night Pavletich had just 5 correct while the others already had 6 but Pavletich was the only one to select the NY Jets to win Monday night football to tie him with the other 3. 
So it came down to tie-breakers and Pavletich predicted a total of 432 points would be scored by all 30 teams over Sunday and Monday. He was the closest without going over as a total of 607 points were scored. The other predictions were 240, 310 and 690. Although 690 was closer we have the "Price is Right" rule, you can't go over so the win goes to Pavletich. 
However, none of our contestants were close to Professor DW's expert picks hitting 10 of 15 or 67% and his tie-breaker prediction was closest of all but was also over at 667. So no Bonus prize in week 1 but congrats to Dave Pavletich for being the inaugural winner of Professor DW's Football Challenge!
www.elisportsnetwork.com