7/12/17
Summer is here and that means in the world of sports teams and non-profit organizations and causes it's fundraising season! There are tons of great causes that need help with a few bucks or a lot of money. Some groups need and survive off the generosity of people willing to share their hard earned money for important causes. The new fad is to simply throw up a Go-Fund-Me page and ask for help. But many rely on the tried and true standard, host some kind of event where people get to participate in something while donating to the cause, a true win-win situation.
One of the more popular fundraisers are golf tournaments. Usually a scramble which allows the hackers and duffers to play and only having to make a few good shots over the course of 18-holes. There are normally other opportunities to give to the fundraiser with closest to the pin competitions, longest drive and more. But most of those contests are either for a donated prize or a 50/50 split of the cash collected for that contest in which a large majority donate back their half as well.
The Visiting Nurses Foundation is upping ante big time at their annual fundraiser golf tournament in July by offering a chance to win a MILLION DOLLARS! Yes, $1,000,000 clams, 1(m) Washington's did we mention 1-Million Dollars! I think you get the point.
Visiting Nurses Foundation Executive Director Jenny Collins told us that their annual golf tournament has been a huge success and they raise well over $30,000 each year and this year's tournament on July 21st is already full. Last year they tried the Million Dollar shoot-out the night before to get revved for the tournament and to have something for people who don't get a chance to golf in the tournament to participate and it was a great success. This year's Shootout is again the night before on Thursday the 20th from 5-8pm and expectations for this year are even higher with more people understanding the Shootout event.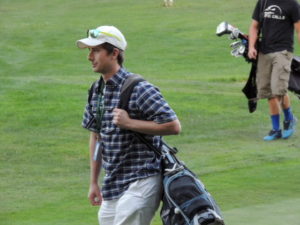 Last year Chronicle sports reporter Matt Baide was the winner when he dropped one onto the green just 20 feet from the hole. Logan Boone and Shane O'Rourke were the other competitors both checked up short of the green. Baide didn't win the Million Dollars but took home a nice prize package for being closest to the pin.
Visiting Nurses funds home health care and hospice organizations to help cover costs from medical equipment to uncovered programs and care. Currently Visiting Nurses serves 8 counties including Lewis, Thurston, Mason, Clallam, Jefferson, Adams, Grant and Lincoln counties. Collins says the organization runs 3 thrift stores which is their main fundraiser and also pays for all the operations of the foundation. She says the extra fundraisers like the golf tournament 100% of all the money raised goes to help people.
So how can you win this $1,000,000? It's simple, on Thursday, July 2oth Visiting Nurses they will be hosting the shoot-out at Riverside Golf course in Chehalis. They will also be hosting a Centralia-Chehalis Business after hours but all are invited to attend this event.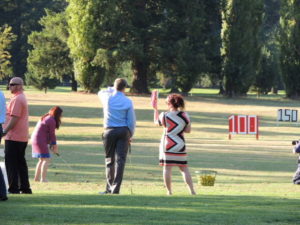 For a $10 donation you will get 3 shots on the driving range to be 1 of 3 closest to the flag. Individuals may only qualify once for the final 3 so even if you have 2 or more balls closest, you will only get one chance at the big prize. The qualifying time begins at 5pm and runs to 8pm. After the qualifying closes, the top 3 qualifiers will then get their chance at the million dollars on hole #6. If you knock it in with a hole in one you take home a MILLION BUCKS! but you only get 1 chance at it.
This is not as a long of shot as you might think, hole #6 at Riverside is about 145 yards long. You will hit over a pond and with bunkers to the left and right onto the largest green on the course that slopes slightly toward the tee box. Now if no one walks away with the big prize the finalist closest to the hole will win a round of golf for four. Plus a random participant will win a $50 gift certificate from Riverside golf.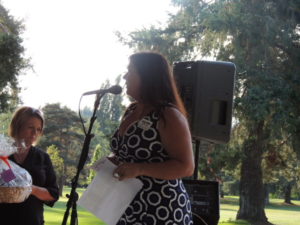 Collins says there is no limit on the number of times you can try to qualify. This sets up a possible strategy for people who are not great at hitting a golf ball by going together with one of your friends that is decent and combine your money to give that person multiple tries at qualifying. Again, a reminder only 1 finalist position per person.
Collins also wanted to thank the major sponsor of this event Pacific Sports Spa. Collins says their support pays for the insurance that will cover the Grand Prize if someone knocks in a hole-in-one. For more information on the Million Dollar Shoot-out contact Collins at 360-623-1560 or go on line for details and to register if you like by clicking here. 
Link to Riverside Golf Course Click Here
www.elisportsnetwork.com