7/17/17
(Auburn, WA) Emerald Downs featured a "slew" of Stakes races on Sunday capped with the Mt Rainier Stakes that set up to be an instant classic with the re-newal of the Barkley vs Mach One Rules rivalry but did have a bit of the excitement thwarted when 2 of the top contenders scratched. The 3 Stakes leading up to the final Longacres Mile Prep, The Emerald Express, The Angie C and The Boeing added to the anticipation of this day. Below are a re-cap stories for each race and pictures from the day.
The Emerald Express
7 2-year-old colts and geldings went postward with 6 of them having a race under their belts including 2 winners and 3 with 2nd place finishes. The other 2 were a 1st time starter and one that finished 4th. The 1st time starter, He's Not Grey with Juan Gutierrez aboard was overlooked and went off at 11-1 while the 4th place finisher, Bullet Drill with Kevin Orozco was dismissed at 32-1. Neither one of these surprised anyone but what did surprise most was how they finished 1-2 coming from behind.
As the gates opened Elliott Bay another outsider set the pace with Brown Tiger, Sippin Fire and Rosie's Reward all battling on the front end while He's Not Grey and Bullett Drill settled behind the pack with favorite Vicente's Shadow. While wheeling for the stretch He's Not Grey had the inside position on Vicente's Shadow and Bullet Drill went exceptionally wide.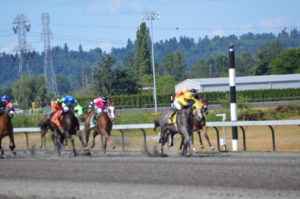 At the 8th pole He's Not Grey kicked it in and swarmed over the top while Bullet Drill was rolling further out and the 2 cruised past the entire field to finish 1-2 while favorite Vicinte's Shadow only beat one. Brown Tiger held on for 3rd and Sippin Fire 4th. Elliott Bay ended up 5th while Rosie's Reward stopped and finished last. He's Not Grey stopped the clock in a time of 1:05.06 for the 5 and half furlong event.
He's Not Grey is owned by John Parker and trained by Candi Tollett and is the 2nd maiden to break a maiden in consecutive years. Last year it was Karula in the Angie C that won at first asking at 31-1. Even though not that high of odds, He's Not Grey returned $24.80 on the $2 win, a healthy return and big number to begin the All-Stakes Pick 4.
Bullet Drill would have been closer had he not had to take such a wide trip but still would have been tough to get by this winner who just exploded in the final 8th. It doesn't look like Bullet Drill will be a maiden long especially as the distance gets longer he is going to love any added distance in the future. Bullet Drill returned $24.40 on the $2 place. The 11-1 to 32-1 $1 exacta paid $283.10, the 50-cent trifecta with Brown Tiger was a signer for $936.60 and the 10-cent Superfecta with Sippin Fire finishing 4th returned a whopping $571.14.
It appeared the huge pay-offs from this day last year were back and more big pay-offs were on the way.
The Angie C
It was the 2-year-olds girls turn next in the Angie C also with a 1st time starter but in this field of 9 there were 5 last out winners and three with 2 starts. This time experience counted as the 1st time starter Goldie's Darlin struggled and eased in her first outing clearly way over her head. At the other end were 2 entries that faced off in their previous race and both already had 2 races under their belts. Bella Mia, trained by leading trainer Blaine Wright went right to the front under the urging of veteran rider Julian Couton. Couton and Mia set the pace and quickly opened up a length and half on the field that appeared to be filled with early speed but no one else sent.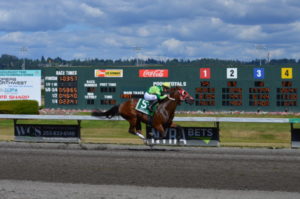 Couton slowed the front end down from a 22:41 quarter to a 46:4 half which left plenty in the tank for a 3 length win. Faith Flys Again who had finished 3rd in her debut and 2nd 5 lengths behind Bella Mia in her 2nd again was the runner-up. Javier Matias put her in the stalking position but did not get any help as the 6-5 morning line favorite My Aunt Mo who flashed tremendous speed in her debut win at Hastings, broke slow and last in this one.
The eventual favorite Philly Baby also flashed good speed in her debut win but Jose Zunino and most thought breaking from the rail she would press again but instead took back trying to rate leaving Bella Mia alone on the lead. This was not what Matias and trainer David Martinez wanted knowing what Bella Mia can do when left alone and all they could do was repeat the last race and firmly held 2nd.
After breaking slow My Aunt Mo with David Perez recovered nicely to run on for 3rd while Philly Baby experienced traffic trouble had to check in mid-stretch and finished 4th. Manny's Way, a 30-1 longshot with Kevin Orozco was the closest to putting pressure on Bella Mia faded to 5th while Sea N Redd was 6th, C I M Sweet 7th and Come Find Me 8th.
The winning connections Owners John and Janene Maryanski picked up a check for $27,225. Bella Mia finished the 5 and half furlongs in a time of 1:05.06. The 3-1 3rd choice returned $8 and wasn't the big longshot Karula was last year but still continued the tradition of non-favorites winning. After this running only 9 of the 22 runnings of the Angie C has the favorite won. Despite running 2nd at 6-1 in their last, Faith Flys Again did not instill much faith in the bettors going off at a juicy 35-1 and paid $22 to place. The $1 exacta was surprisingly paltry $59.
The Boeing Stakes
Last year Guinevere's Finale won finding a hole along the rail to win by nearly a length and set the record for the highest $2 win for the Boeing Stakes returning $48.20. That mark would stand and in fact out of the 9 starters only the longest shot on the board B C Z Middleton at 23-1 was the only one with a chance to break that mark but finished 5th.
It also clearly showed there were 2 levels in this race the 3 most favored Profound Moment at 2-1, Citizen Kitty at 3-1 and Psycho Sister at 3-1 were in 1 group while the betting public was split with the next level with 4 entries between 8-1 and 14-1 while My Heart Goes On was 19-1 followed B C Z Middleton.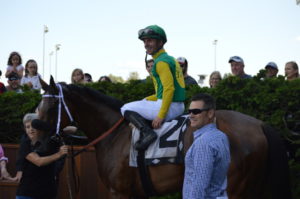 The finish was a mix with 2nd favorite Citizen Kitty and Julien Couton coming from off the pace to blow by the early front speed to win going away by more than 4 lengths. Couton in the last race was benefitted when no one sent with his ride Bella Mia and he was able to set the pace. In the Boeing he benefitted from a decent pace in front and settled in a stalking positing in 6th place early on.
Longshot My Heart Goes On was on the lead and bunched right behind were the other 2 favorites Psycho Sister and Profound Moment along with the Emerald Racing Club's McDove. McDove with her 200+ owners were hoping her first shot at a Stakes would surprise many but instead it turned into a nightmare and she stopped badly on the far turn to finish last. It was later determined McDove bled but is otherwise ok.
As the pack turned for home Citizen Kitty had begun to make progress while Princess Katie and Princess Kennedy both from far back also swung into position and as they hit the stretch Citizen Kitty had first run and made the most of it with a dominating win. The Princesses both took similar routes angling to the outside and finished strong with the Hastings invader Princess Katie with David Lopez taking 2nd 3/4's of a length in front of the fast closing Princess Kennedy with Rocco Bowen while Psycho Sister weakened to 4th.
Citizen Kitty is owned by the Highlander Racing Stable and trained by Jeff Metz. The winner's share was $27,500 and CK ran the mile in 1:36.84. Couton picked up his 2nd straight Stakes win. She was the 2nd favorite and returned $8.40 while Princess Katie was 11-1 and Princess Kennedy 14-1. The 3 finishers combined for a healthy 50-cent trifecta that returned $227.20 and even with the 3rd favorite finishing 4th the 10-cent superfecta was $325.88.
The Mt Rainier Stakes
The build up to the Mt Rainier Stakes began when the nominations came out and the anticipation remained high all the way to race day when the wind somewhat got knocked out of the sails. The race promised to be an instant classic with 6 of the 10 entries looking like legitimate cases could be built for any one of them to win and from a bettors point of view was the most interesting in the 4 Stakes series.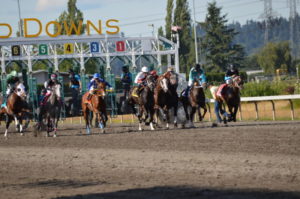 The marquee match-up was another showdown between Barkley and Mach One Rules which has been the Northwest's version of Affirmed vs Alydar. But added to the entries was Prime Engine who has beaten both Barkley and Mach One Rules. Then 2-time Longacres Mile winner Stryker Phd was back and after closing nicely in the debut losing to all 3 and settling for 5th looked primed to fire at the much further distance of a mile and a 16th. Then throw in Togrammashousewego who had finished 3rd in his last 2 and also a closer and invader Bistraya coming off 2 strong outings in Stakes races at Hastings. The other 4, Please Be Me, Dedicated To You, Papa Frank and Moon King were outsiders for sure and would have to step up their games considerably.
But on Sunday morning the field lost a significant entry when Prime Engine scratched due to a slight fever. Trainer Mike Puhich doesn't think it's anything serious but was not going to take a chance and pulled his starter. With the scratch of the likely pace horse now change the whole dimension of the race and those who want to close from off the pace like Stryker Phd may not get a frantic frontend like they had hoped.
The other shoe to fall came just moments before the race when Stryker Phd was doing his usual pre-race routine of hanging well back of the other horses as to not get him stirred up prior to loading. Stryker was balking well behind the gate this time and suddenly it was announced he was scratched at the gate. The race was delayed as they took him back to the barn. This now took 2 of the 6 serious contenders out of the picture but did leave the familiar Barkley vs Mach One Rules showdown.
The last time these 2 met were in the 6 and half furlong Budweiser where Mach One Rules got his first win in 6 match-ups over Barkley. Barkley had a rough trip in that race to the point trainer Howard Belvoir claimed an objection in that race believing Mach One Rules had drifted into the path of Barkley. The stewards did not believe it caused any change in the placings and let the finish stand. Barkely settled for 4th, the first time he was not either 1st or 2nd.
When the gates opened for the Mt Rainier it was the outsiders who shot for the lead with Moon King, Please Be Me and Dedicated To You all went for the lead. Mach One Rules sat in 5th, Barkley in 6th and Bistraya 7th while Togrammashousewego was closer than usual in 4th. This stayed pretty close to the same until they hit the far turn and then the Mach One Rules released the brakes under the riding of Isaias Enriquez and when turning for home the race had quickly changed with the top 4 all dropping out of it and Mach One Rules leading.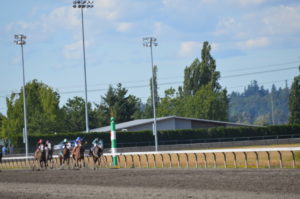 Bistraya and Barkley both moved behind Mach One while Papa Frank fell in behind the front 3. Bistray looked he might get past Mach One Rules when Enriquez got into Mach One Rules who then pulled away keeping Bistraya and Barkley at bay for a 2-length win. Bistraya with David Lopez ran his hear out but could not bridge the gap and settled for 2nd finished more than 3 lengths in front of a tiring Barkley who was clearly 3rd best and Papa Frank held 4th.
Mach One Rules now has finally beaten Barkley without any other drama and has positioned himself as the local horse to beat in the 82nd running of the Longacres Mile. The owners R.E.V Racing were of course thrilled to collect the winners share of $27,500 but have their eye set on the bigger prize set to run on August 13. Trainer Frank Lucarelli knew there was more in his horse and thinks Isaiah Enriquez who now has ridden him his last 3 races with a 2nd and now 2 wins in a row fits MOR like a glove and should be a very serious contender in the Mile.
In the Barkley camp no doubt disappointment and regular rider Javier Matias did everything right and had him in position to make a run but the tank was simply empty and he finished for the 1st time in his career in 3rd place with an even effort.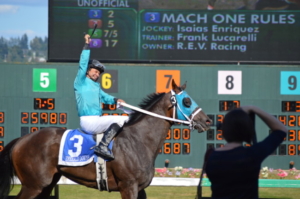 For the bettors, Mach One Rules as the 2nd favorite was bet down much further than most thought due to the 2 huge scratches in this race but with the other non-favorites winning the other 3 Stakes races the 50-cent special Pick 4 still returned a healthy $526.20. But the other prices were more in line with what happens when 3 of the top 4 betting interests finish 1-2-3.
It's hard to say after watching such an impressive performance that the Mt Rainier was a disappointment because it certainly was not but it did lose some intrigue with the outside forces. We can only hope the Mile has as much build-up and as many storylines going into the race only next time we hope they all get a chance to play out.
Full Day Photo Gallery
This slideshow requires JavaScript.