7/15/17
(Auburn, WA) Emerald Downs track officials experimented with a multiple stakes race day in July last year and it went over big so the new tradition continues in 2017 and it's this Sunday. The track is also hosting it's annual food truck to add to the festivities. The day of Stakes races will be topped off with the Mt Rainier Stakes with a real throwdown featuring Mach One Rules, Barkley, Stryker PHD and more!
The Stakes races will all be back to back from race 5 through 8. The track will be offering a special All Stakes Pick 4 (50-cent minimum bet) along with the regular menu of wagers. There's a total of $200,000 in purse money up for grabs and the 4 races will feature our first look at the 2-year-old stakes and the 3-year-old and older both for the boys and girls.
Owner Oak Crest Farms with trainer David Martinez and jockey Javier Matias had quite a day last year winning 2 of the 4 stakes both at huge odds.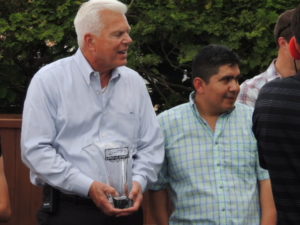 Karula made her career debut in the Angie C at 31-1 and blew away the competition winning by 11 lengths leaving the other 10 in the dust. Up next was the Boeing Handicap Guinevere's Finale found room at the fence at the top of the stretch and got up to win by nearly a length at 23-1. The Oak Crest Farm Daily Double returned $520.
That was just one of the huge pay-offs on this day last year as bettors found a bonanza of huge pay-offs all day. Here are some of the totals we wrote about in a story last year:
"How about this stat for you, 400 tickets were cashed on Sunday that returned more than $280 and not one of the bets were more than $1. Here is what paid:
$1-Exacta paid $670 had 109 winners, $1-Exacta paid $286 with 173 winners
50-cent Trifecta paid $3,456 had 15 winners, 50-cent Trifecta paid $2,772 had 12 winners
10-cent Superfecta paid $3,095 had 12 winners, 10-cent Superfecta paid $1,177 with 18 winners
$1 Daily Double paid $520 with 7 winners
50-cent Pick 3 paid $713 with 5 winners, 50-cent Pick 3 paid $1,034 with 10 winners
50-cent Pick 4 paid $3,432 had 5 winners, 50-cent Pick 4 paid $592 with 34 winners"
Here is a link to last year's full story
Below is a preview of each of this year's Stakes Races that will be run on Sunday.
Race 5 The Emerald Express ($50,000 Purse)
2016 Winner: So Lucky with Rocco Bowen up, trained by Howard Belvoir and owned by Pegasus Too and the Rising Star Stable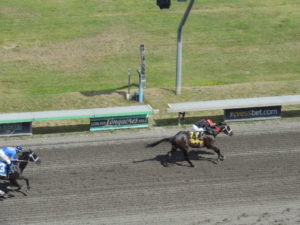 The Emerald Express is for 2-year-old colts and geldings going 5 and half furlongs. Of the 7 starters all have run just once while the 7th will make his career debut in a Stake.
The morning line favorite at 5-2 is Sippin Fire with Javier Matias and will carry 120. Sippin Fire won her career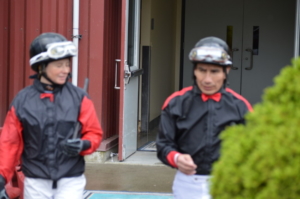 debut and is one of three winners running in this race. Fire beat 2nd favorite Brown Tiger by a head in a maiden special weight 5-furlong sprint on July 2nd. Fire ran the race in a time of :57.1 and both earned a solid 56 beyer in their debuts.
Julian Couton will ride Brown Tiger for the 2nd time on Sunday and has been made the 2nd favorite at 3-1 and will carry 118. The 7-2 3rd choice is Rosie's Reward with Rocco Bowen at 120. Rosie's Reward won her debut at a maiden claiming level of $25,000 as the heavy favorite. Couton had ridden Rosie in her debut win but sticks with Brown Tiger in this one.
The 4-1 4th choice may not stay the 4th choice after her win in her MSW win. Vicente's Shadow with Eswan Flores won going away after starting 6th, improving to 4th trailing by 4 and half lengths and then blowing by the competition to win it by a length shocking the bettors at nearly 12-1. Shadow flew by Elliott Bay who ran a solid 2nd in that race. Bullet Drill ran 4th behind the 2 and will no doubt like the extra furlong in his 2nd start as he too was closing late. The final entrant is He's Not Gray a first time starter with Juan Gutierrez aboard at 6-1.
Race 6 The Angie C ($50,000 Purse)
2016 Winner: Karula with Javier Matias up, trained by David Martinez and owned by Oak Crest Farms
The Angie C is the flip side of the Express but for 2-year-old fillies and mares also going 5 and half furlongs. 9 are set to start with only one making her career debut while several others have already run twice.
The overwhelming morning line favorite no one at Emerald has seen and ships in from Hastings Park after blitzing a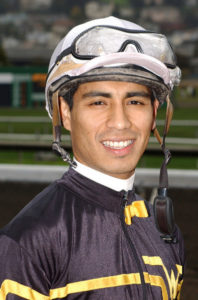 group of 2-year-olds on the bullring with a length and half win at odds on. My Aunt Mo put up a 61 beyer in her one and only start and looks to take on the Emerald group in Stake 2 of 4. My Aunt Mo comes in as the 6-5 favorite and jockey David Lopez will travel down with Mo to take the ride.
Leading the Emerald charge looks to be Philly Baby with Jose Zunino. Philly Baby will break from the 1 hole but the speed she showed this shouldn't be an issue. My Aunt Mo's race was only 3 and half furlongs to Philly Baby's 4 and half yet both put up 22:3 quarter times and Philly Baby drew off to win by 5 but only get a 49 beyer.
Bella Mia may be the one to benefit the most from a speed dual between the top 2 picks and sit just behind to take first run. Bella Mia ran an even 4th in her debut but exploded in her 2nd start under Julien Couton to win the Maiden Special Weight by 5 lengths at nearly 6-1. She is posted as the 9-2 3rd choice in the Angie C.
Sea N Redd with Erick Lopez could provide some additional company on the front end winning her MSW on the engine while Manny's Way came from just off the pace to win her debut at Maiden Claiming $25k also with Erick Lopez. Erick Lopez sticks with Sea N Redd while apprentice Kevin Orozco gets the ride on Manny's Way.
The other runners are all maidens looking for their first career win and include C I M Sweet with Rocco Bowen, Faith Flys Again Javier Matias up and Come Find Me with Juan Gutierrez. Goldie's Darlins with Isaiah Enriquez will make her career debut in the Angie C.
Race 7 The Boeing ($50,000 Purse)
2016 Winner: Guinever's Finale with Javier Matias up, trained by David Martinez and owned by Oak Crest Stable
This will be the 21st running of the Boeing it's for 3-year-old and up fillies and mares going a mile. Guinevere's Finale won it last year at 23-1 and early on the fabulous Bud Klokstad filly Ropersandwranglers won this race back-to-back in 1997 and 98 the only 2-time winner.
In the 2017 version has 9 entries and there is no chance for a horse to repeat as Champion but jockey Javier Matias could as he takes the ride on the M-L favorite Profound Moment. Profound Moment comes from the powerful Mike Puhich barn from his principal owner Dr Mark Dedomenico and is coming off an impressive win in the Washington State Legislator's purse. Profound Moment runs just like her name either very profound or disappointing. She has 7 career starts with 4 wins. The other 3 races out of the top 3. She has no place or show finishes.
Citizen Kitty ran 2nd to Moment in the Leg Stakes and has been installed as the 3-1 2nd choice. But the distance could be an issue for her as she has just 1 off the board finish around 2 turns in her 22 career starts. If the top 2 falter and there are several reasons why that could happen a slew of entries could take advantage including 2 shippers. The 7-2 3rd choice is from Emerald's all-time leading trainer Tim McCanna coming in from Golden Gate. Psycho Sister has run 4 times in Auburn but only has 3 show finishes for her work but comes in after a short lay-off after running 4 straight mile races but her last win was in November.
The other invader Princess Katie comes from the barn of Robert Gilker from Hastings and David Lopez will ride. Katie is trying to pull off what she did last summer when she came down to win the Irish Day Handicap in her one and only run at EmD. She did have her first start of the bullring on June 17th with a well beaten 6th place finish but may be primed for her best effort on Sunday.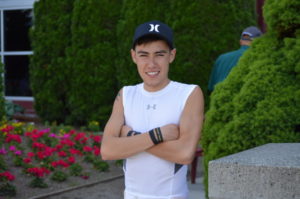 The sentimental pick in the Boeing is from the outside post McDove. McDove will have more than 200 owners rooting for her as she is one of the Emerald Racing Club's 2 horses. McDove has been off since June 3rd and has a 3rd and a 2nd to her credit this year, missing by just a head in last. Regular rider Matias gets off to ride the favorite but the large ERC contingent should be pleased to get red hot Kevin Orozco to handle the riding chores. McDove will certainly get backing from her built in rooting section and the 8-1 morning line may be high but still likely to get a good price in this contentious field.
Other set to go in the Boeing are 2015 Angie C Stakes winner My Heart Goes On with Eswan Flores, Princess Kennedy and Rocco Bowen, Jose Zunino rides BCZ Middleton and Protective Shield with Juan Gutierrez.
Race 8 The Mt Rainier  ($50,000 Purse)
2016 Winner: O B Harbor with Jose Zunino up, trained by Chris Stenslie and owned by One Horse Will Do Corp
The capper of the 4-Stake bonanza is the 21st running of the Mt Rainier Stakes for 3-year-olds and up going a mile and a 16th. This is truly the highlight of the day with a fascinating line-up of 10 starters which are sure to split bettor opinions into many corners. This is setting up to be a real Royal Rumble. Last year O B Harbor dominated with a front running win over 2 longshots while 6-5 co-favorite Stryker PHD took 4th.
OB is not back but 8-year-old Stryker PHD is and this year with a race under his belt with a hard charging 5th place finish in the Budweiser. Super apprentice Kevin Orozko will get his 2nd chance to ride the 2-time Longacres Mile winner but the 8-year old will still have to contend with the 4 horses that finished in front of him in the Bud. Stryker comes in as an 8-1 outsider.
This year the Emerald version of Affirmed vs Alydar continues with Barkley and Mack One Rules except in this case Alydar finally beat Affirmed in the Budweiser when Mach One Rules finally got the win over Barkely. A nifty ride by Isaiah Enriquez caused some traffic trouble for Barkley in the stretch and Mach One won it while Barkley settled for 4th. Barkley's trainer Howard Belvoir wasn't as impressed with the nifty ride and called an objection but the stewards ruled no interference and let the finish stand. Despite beating Barkley for the 1st time in 6 tries Mach One will be the 3rd choice in the morning line at 7-2.
Barkley comes in after winning his 1st 6 races and suffered his 1st loss in last years Emerald Derby by a head but has struggled a bit in 2017 with 3 starts and just 1 win in the Governors Handicap. He lost his season debut to the 2nd pick in the Mt Rainier Prime Engine. The front running Prime Engine then stopped in his 2nd out for a 4th place finish and came back with a strong effort in the Bud but could not hold off Mach One. Julien Couton will be the 3rd to get aboard Prime Engine this season. Javier Matias is the only jockey Barkley has ever known in all 10 career starts.
Maybe the one forgotten in the discussion of the big 4 is Toogrammashousewego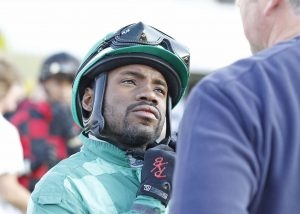 who has finished 3rd in the Bud and the Governor's but his closing style has been crying for more distance. Leading rider Rocco Bowen may get what he needs as they stretch the extra 16th of a mile. Also likely to be overlooked is another Hastings invader Bistraya from trainer Robert Gilker with David Lopez aboard. Bistraya has run a solid 2nd and 3rd in 2 Hastings Stakes this season including a runner-up in the Johnny Longden on June 4th.
That makes 6 of the 10 so far with a realistic angle at winning this race. The other 4 include Dedicated to You who is listed as a 20-1 outsider but finished 2nd in this race last year at even worse odds of 24-1. Eswan Flores will again be aboard. Please Be Me with Jose Zunino and Papa Frank with Eliska Kubinova will both have to step up to Stakes level competition while the final entry is another shipper and attracts former Emerald regular rider Kevin Krigger. Krigger will ride Moon King who had been thought to have a ton of potential breaking his maiden at Keeneland and running in Stakes races at Pimilco and Hastings. Moon King is coming off a win in an optional claimer at Northlands Park in Alberta.
The Mt Rainier is shaping up to be one of the most intriguing races of the year and should be a bettors paradise with good chances at big pay-offs. This is the kind of race that gets you excited to simply watch and see who wins, it will no doubt be a great moment to wrap up the 2nd year of a Superfecta of Stakes races at Emerald Downs.