8/12/17
(Auburn, WA) On Sunday the Super Bowl of NW Horse Racing takes place at Emerald Downs with the 82nd running of the Longacres Mile. A full field of 12 will battle for $200,000. The massive 11-race card will also feature the Emerald Distaff where 10 fillies and mares go a mile and an eighth with $65,000 on the line.
The day can be summed up in many ways but one certain way is 3. In the Mile, 8-year-old Stryker Phd is shooting for his 3rd Mile win which would be a first in history. Owner's Jim and Mona Hour also going for their 3rd Mile victory.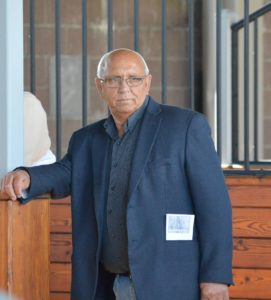 Trainer Howard Belvoir will send out fan favorite Barkley seeking his 3rd Mile victory as a trainer also winning with Wasserman and Assessment and would also be his 3rd winner with a 1-word name.
Hall of Fame Trainer Jerry Hollendorfer is shipping in Point Piper as the 9-2 3rd choice in the morning line. If Point Piper can defend his title it would also give Hollendorfer his 3rd Mile win as he also won the big race in 2004 with Adreamisborn which was Russell Baze's 3rd Mile win.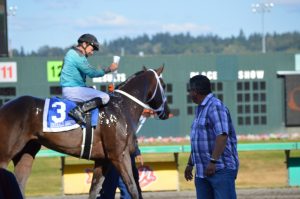 The morning line favorite is Mach One Rules and after a frustrating head-to-head battle with Barkley over the past year and a half he has gotten the better of Barkley in the last 2 Stakes races in the Mt Rainier and Budweiser. If Mach One Rules wins it will be the 1st Mile Championship for long time trainer Frank Lucarelli but here's where the 3 angle comes in, it will be Mach One Rules 3rd straight Stakes win and 3rd straight win over his arch nemesis Barkley.
The 3 angle continues in the Distaff with the trainers. Hollendorfer has already won 3 Distaff's and will try for his 4th with the M-L favorite Plastered. It will take a reversal of history for the other 3's to come into play as conditioner's Doris Harwood and Tom Wenzel each have 2 Distaff Titles and both have entries in Sundays race.
However, both are longer shots with Harwood's Little Dancer at 8-1 and Wenzel's Princess Kennedy at 15-1. The Distaff has had 13 winners pay 5-2 or less in the 21 runnings of the race and only 7 times did the winner pay double digits of $10 or more with the longest shot Ignite the Passion in 1999 paying $37 until last year when Perhaps a Pie upset the field of 8 at 20-1 returning $42.40.
Wenzel won it in back-to-back fashion with Stopshoppingdebbie in 2014 which also holds the record for the lowest pay-out of $2.40 and then Lady Rosberg in 2015 that returned just $2.60. Harwood won the Distaff last in 2011 with Hard Way Ten for Herman Sarkowsky at 11-1. Her first win was in 2009 for Northwest Farms when Elusive Horizon was a 3-2 favorite.
Longacres Mile Starters and Preview
1 Bistraya A Perez 12-1
Shipper from Hastings who ran 2nd to Mach One Rules in last out. Closer so the 1 hole should not bother him should have time to find a lane to close.
2 Point Piper J Couton 9-2
Defending Champion will look for a pace to run at question is on the rider as Couton is named but he did not ride Friday or Saturday.
3 Gold Rush Dancer E Roman 4-1
Been running limited in So Cal for Vann Belvoir but hasn't won for more than a year now. Does attract hot rider from Del Mar to come up to ride.
4 Black Sona D Martin 30-1
Just broke his maiden in March and was claimed for 16k in June seems well above his talent level.
5 Papa Frank J Zunino 30-1
Did run on to be 4th in the Mt Rainier Stakes, should stalk could have a shot at a piece of the pie.
6 Seattle Serenade W Antongeorgi III 8-1
Been off since late June but coming off 2 solid wins in NoCal would not be a shocker.
7 Dedicated To You L Camacho-Flores 30-1
Finished 7th last year in the Mile and in 2 starts since gives no indication he will improve on that finish.
8 Stryker Phd K Orozco 12-1
The 8-year-old is going to try and make history but concern is he only has 1 race in him this year at EmD after a strange late gate scratch in the Mt Rainier. He will need a pace to launch from far back.
9 Mach One Rules I Enriquez 7-2
Mach One can not be coming into this race better and Enriquez may have been the answer after taking over the riding chores 3 races ago he has 2nd by a neck and 2 wins. Should be close to the pace and get first run think someone will have to pass him late to get the win.
10 Chief of Staff R Bowen 6-1
Last seen at Churchill Downs on Derby Day finished 9th in a grade 2 and hasn't won since July of 16. But picks up EmD's leading rider can't simply dismiss.
11 Barkley J Matias 5-1
Last year everything went right for the horse with the big white blaze on his nose but this year it's been more difficult. I won't say he's struggling because he is certainly competitive in all of his races this year with a 1st, 2nd, 3rd and 4th but he will really have to fire his best in this one to take it all.
12 Togrammashousewego E Flores 20-1
After a pair 3rd's in Stakes came up with a dud in the last when there was some chatter he might step up, appears to be going the wrong way.
Emerald Distaff Starters and Preview
1 Pyscho Sister E Flores 15-1
Does have a run over this surface but finished 4th and that his her 3rd 4th place finish in a row. Going to need to have her best effort in this one.
2 Top Quality K Orozco 9-2
One of 2 Blaine Wright trained entries and this one ran an even 5th in the Oaks. Stalker will have to find some closing punch to impact this bunch.
3 Citizen Kitty J Couton 7-2
Biggest question is who rides since Couton took off his rides Friday and Saturday unsure if he will be available for this one. If he doesn't ride whoever gets on should be grateful as she is coming off a dominating win in the Boeing at a mile the extra 1/8th doesn't look like it will bother her.
4 Victress A Perez 6-1
Hastings shipper coming off a Stakes win up north and will let the pace set up in front of her. She will be coming late she has to be concerned with not getting too far behind.
5 Blazinbeauty I Enriquez 8-1
Enriquez would love to win trainer Frank Lucarelli a Mile with Mach One Rules but neither have won this race either so they certainly won't be disappointed if they can pick up the 1st half of the EmD Stakes Daily Double. Blazin will have to find her kick has been running evenly in last 4.
6 Little Dancer W Antongeorgi III 8-1
Lightly raced filly with 3 wins from 5 lifetime starts and all 3 wins at boxcar odds. Look for her to be close to the front speed and try to take first run at the top of the stretch.
7 Reginella J Zunino 20-1
Has never really run a bad race and had a nice 3rd in the Oaks but has been running steadily since November a bit concerned she may be ready for a break.
8 Chronologic'sghost A Sanguinetti 10-1
Shipping up from NoCal after a brief rest. Last in action saw a lot of even efforts so maybe the break will wake her up here. Sanguinetti has won this race back in 2013 with E Z Kitty so she knows how to win this thing.
9 Plastered E Roman 3-1
Comes in from Del Mar and was a beaten favorite in last. Did finish 3rd in a Stakes at Santa Anita and the hot DM jock Roman comes along to ride is the one to beat.
10 Princess Kennedy R Bowen 15-1
The Princess has struggled this year with just 1 in the money finish a 3rd place in the Boeing but was also 7 lengths behind the winner. Last win was the Oaks in 2016 more than a year ago the closer would be a huge surprise here.