8/13/17
(Auburn, WA) Sunday was Mile Day at Emerald Downs the Super Bowl of NW Horse Racing and the 11-race card was supported with the Distaff and 2 other overnight Stakes for a great day of racing.
Below is each Stakes race for the day with a story and pictures for all 4 races.
The 82nd Longacres Mile
The morning line favorite was Mach One Rules at 7-2 and the 6th favorite was Seattle Serenade at 8-1 so you could see there was no clear favorite in this race and those 6 horses didn't even include 2 time Champion Stryker Phd who came in as a 12-1 outsider.
As race time approached the public would settle on Gold Rush Dancer and Mack One Rules as 3-1 co-favorites and those 2 would not disappoint. Gold Rush Dancer was expected to lay off the pace and stalk figuring Seattle Serenade would be on the lead.
Serenade broke 8th and never really got going finishing a far back 7th place. Instead it was 82-1 shot Dedicated to You who jumped to the lead out of the gate with Leonel Camacho-Flores and he quickly took a length and a half lead.
Evin Roman on Gold Rush Dancer had the inside position and no other front speed would go so he took over the lead in the first turn and set the tone. Chief of Staff with leading Emerald rider Rocco Bowen aboard was close up 3rd early on while Mach One Rule the other favorite bided his time in the stalking position just off the front runners.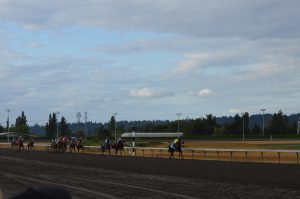 As they worked themselves up the backstretch Gold Rush Dancer was in total control setting fractions of 22-4, 45-4 and then pulled away to a 3-length lead at the quarter pole and simply did not give anyone else a chance pulling away to a convincing 4 and 3/4 length win stopping the timer at 1:33-4.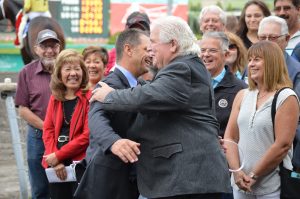 Owner John Parker with Trainer Vann Belvoir both celebrated their 1st Mile victory and the $110,000 check that came with it. Belvoir did win a Mile as a rider back in 1994 when the race was run at Yakima Meadows.
Belvoir said he was a little surprised to have the lead that early in the race but when saw no one really scrambled for the lead he thought his rider Roman made the winning move on the 1st turn.
Parker who is a huge supporter of Horse racing at Emerald Downs and the sport in general was humbled with the victory. He first thanked everyone for being at the track and then all the other entries that make the Mile such a headline event.
Mach One Rules battled a determined Dedicated to You and got the head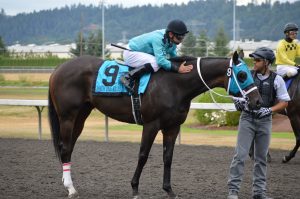 down for 2nd place collecting $40,000. Mach One Rules with Isaias Enriquez ran his race but simply could not match the winner. Dedicated to You really is the other winner in this race pocketing $30,000 for 3rd which is more than winner's share of most other Stakes races at Emerald Downs.
Fan favorites Barkley and Stryker Phd also each ran credible races with Barkley finishing 4th just 1 3/4 behind Mach One Rules and the 2-time Mile Champion Stryker Phd was 6th. Last year's Mile winner Point Piper finished in-between for 5th place.
The rest of the field finished with Seattle Serenade 7th, Papa Frank 8th, Chief of Staff faded to 9th, Bistraya 10th, Togrammashousewego 11th and Black Sona 12th.
Photo Gallery
The Emerald Distaff
Tradition in the Emerald Distaff is chalk with 13 of the 22 runnings paying less than  5-2 on the win with 4 of those odds on and 11 o0f them 3-2 or less. That boded well for Plastered and Citizen Kitty although at 3-1 and 7-2 respectively there was no huge favorite set to go in this one.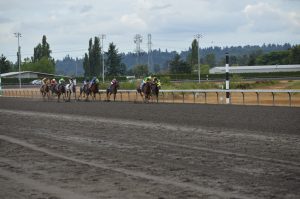 Plastered ended up being the favorite at 3-2 and Citizen Kitty 5-2 but it would Citizen Kitty who put on the show. Citizen Kitty with Julien Couton ran her usual stalking trip  and then had more than enough room to angle off the rail as they turned for home and simply wore down Little Dancer who could not hold off the full scale attack. Citizen Kitty posted a speedy time for the mile and 1/8th with a 1:47-4.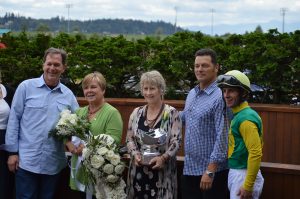 Citizen Kitty bankrolled nearly $36k for the Highlander Racing Stable and trainer Jeff Metz. This was back-to-back Stakes wins for Metz who won the King County overnight Stakes with a 37-1 stunning longshot.
Metz said Citizen Kitty has been working up to this race and Couton had her placed perfectly. He knew at the top of the stretch if she had any juice left she was going to win. Metz was a little concerned with the mile and 1/8th distance but Kitty proved to be up for the challenge and won impressively.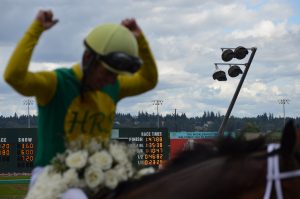 Little Dancer was trying to pull a similar upset as she was let go at 16-1 and held a 1/2 length lead at the top of the stretch. William Antongeorgi III got all he could out of Little Dancer and they settled for the 2nd place money and was clearly 2nd best with more than a 3 length cushion over closer Top Quality with Kevin Orozco. Top Quality went off at 12-1. Little Dancer earned $13,000 for 2nd and Top Quality got almost 10k for 3rd. Plastered ran an even race just had no kick and settled for 4th.
The rest of the field saw Chronological's Ghost in 5th, Victress 6th, Blazinbeauty 7th, early front runner Pyscho Sister 8th, Reginella 9th and Princess Kennedy 10th.
Photo Gallery
The King County Overnight
The was the fillies and mares overnighter and a field of 9 broke from the gate in the 6 and half furlong event. Profound Moment was installed as the 5-2 m-l favorite but Jerre to Carrie with 4 straight wins and Stakes winner Risque's Legacy would dispute who should be the favorite.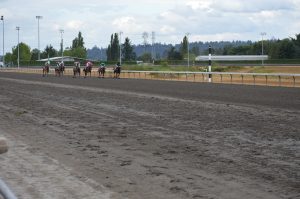 But in the end B C Z Middleton couldn't care less who the favorite was as he pulled his way to victory along the rail at 37-1! Jose Zunino rode a perfect race and had B C Z in perfect position turning for home when the rail opened up and Zunino pushed him through and got the win in a 3-horse blanket finish.
B C Z Middleton's owners William Bush and Rebecca Turcott were not able to be at the track to celebrate with Zunino and trainer Jeff Metz but were no doubt pleased with the nearly $14,000 1st place check.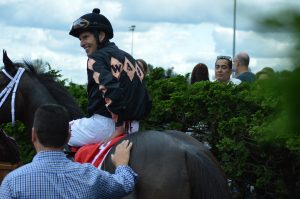 Metz says he never surprised when B C Z wins and says she always tries hard and rarely gets respect and when she wins she indeed usually rewards her backers well and in this case a $77 win return.
The exotics paid well as you would think but they nearly blew up the board as My Heart Goes On at 44-1 almost snagged 2nd place from the eventual favorite Profound Moment. The 50-cent Trifecta returned $1,079.60
The Pete Pedersen Overnight
The 6 and a half furlong sprint for 3-year-olds and up ended up with a field of 7. Emmett Park with Kevin Orozco started as the 2-1 favorite and was coming off a win by a head in a optional 40k claimer on July 2nd.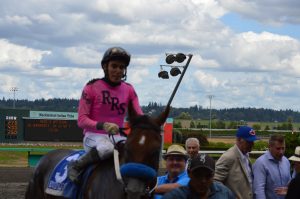 The public also believe Emmett Park was the one to beat making him odds on at 4-5. Down the backstretch jockey Kevin Orozco had his backers concerned laying last more than 10 lengths behind. As they turned for home front runner Candy Ruby was holding sway and Emmett Park wheeled to the outside but was still in last when he unleashed a mighty closing kick to win going away by 3/4's of a length.
Owner Peter Redekop and trainer Blaine Wright were pleased with the outcome but there was a huge sigh of relief when Emmett Park and Orozco fast the line 1st covering the 6 and 1/2 furlongs in 1:14-4.
Candy Ruby held on for 2nd and Blame It On Royce another Wright trainee was 3rd.