9/5/17
Centralia 5, WF West 4
By Dave Weber
(Chehalis, WA)    Alayna Miller scored two goals but the key statistic in Centralia High School's  5-4 season-opening girls soccer win over host W.F. West may have been Tiger goalkeeper Courtney Leifer-Carlson's nine saves.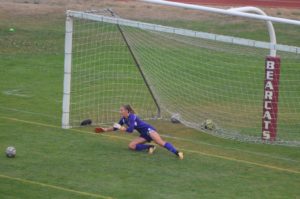 The game pitted two  2A Evergreen conference rivals but was contested for the non-league Rotary Cup and won't count in the EvCo standings.
The Bearcats, who got strong play from several freshmen and sophomores, scored first on a blast by frosh Lauren Turnow just three minutes into her career.
But Centralia scored the next three goals — the first two by Miller, the third by Anastasia Ulrigg — to go up 3-1.
WF West cut the deficit to 3-2 at the half on a penalty kick by Megan Wilks but got no closer as Leifer-Carlson turned away shot after shot.
The teams alternated scores in the second half, with Mia Martin and Clarissa Kaut scoring for Centralia while both Wilks and Turnow added goals for WF West.
Our Pacific Sports Spa Players of the Game went to Centralia's Courtney Leifer-Carlson and the Bearcats Lauren Tornow. The ProActive Physical Therapy Play of the Game goes to Carissa Kaut for her goal in the 74th sealing the Tiger win.
Photo Gallery
This slideshow requires JavaScript.