9/7/17
Smoke from 2 major forest fires in Washington State combined with stagnant air pushed the air quality all-over the state to unhealthy levels. This forced the cancellation of most outdoor sports games or matches and practices either cancelled or moved indoors. This of course limited much of what the football teams could get done as we enter week #2.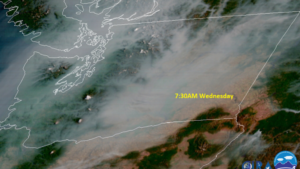 Tuesday seemed to be the worst day with virtually all soccer and tennis matches cancelled. Mountain View soccer did try to play at Mark Morris but after a half of JV play they decided to cancel and re-schedule. Centralia at WF West did get played and AD Jeff Johnson said they decided to play with the agreement from both coaches and with the agreement that if conditions got worse or players complained about having a hard time to suspend the match at that time. The match was played and Centralia did win it 5-4.
The wind has shifted and is blowing the smoke into Oregon now causing issues in several areas south of  Portland. ESN contacted several Athletics Directors today and so far no one anticipates any further cancellations including our soccer match tonight with Rogers (Puyallup) at Olympia. District Athletic Director Jeff Carpenter in an e-mail confirmed that tonight's match is on due to improved air quality and unless there is a drastic change it will be played.
Other AD's have messaged us that all games and events are still on. The Evergreen School District issued this statement on their website, "Air quality has improved. All outdoor school day activities will resume. Athletes with documented breathing issues will need parent/guardian permission to practice or play in after school sports."
There is one change that we know of so far and that is the Winlock football team with now host Santiam, Oregon on Saturday at 5pm instead of playing Friday night at Santiam. All AD's did say that they will error on the side of safety for students and keep a close eye on the air quality numbers but for now get set for a full schedule of sports this weekend.